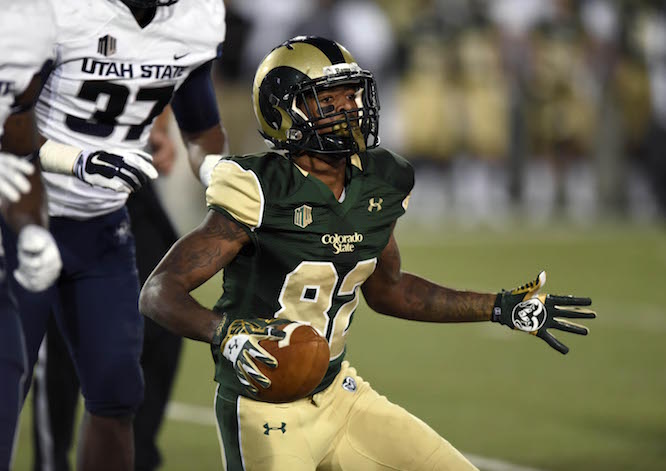 Read this story on CSURAMS.com
A pair of Colorado State football players were drafted on Saturday, marking the third year in a row that the Rams have had multiple NFL Draft picks in the same season. The last time that happened was from 1999-2001. All-America wide receiver Rashard Higgins was taken by the Cleveland Browns in the fifth round (172nd pick) while linebacker Cory James was taken a round later (194th overall) by the Oakland Raiders.
CSU also had three players sign free agent contracts as of Saturday evening – Sam Carlson (Tennessee Titans), DeAndre Elliott (Seattle Seahawks) and Kivon Cartwright (Tampa Bay Buccaneers).
Rashard Higgins
All-America wide receiver Rashard Higgins, who holds eight Colorado State school records, was drafted by the Cleveland Browns on Saturday afternoon, being selected in the fifth round (172nd overall pick).
In 2014, Higgins was named a consensus All-American and was one of three finalists for the prestigious Biletnikoff Award – given annually to the nation's most outstanding receiver. During his three-year collegiate career, the wide receiver established CSU records for career receptions (239), receiving yards (3,649) and touchdown catches (31), in addition to five other school records. As a sophomore in 2014, he led the nation with 1,750 receiving yards and 17 touchdowns.
"Rashard Higgins was a joy to coach," said CSU head coach Mike Bobo. "He was everything you want in a football player, and was a great ambassador for Colorado State on and off the field. Rashard will be successful at the next level!"
ESPN's Todd McShay called Higgins the best route-runner in the Draft, adding, "He can catch the ball and make plays after the catch."
Higgins chose to forego his senior season, becoming the first player in CSU history to become a draft pick after declaring early.
Cory James
James made an immediate impression on Rams fans, recording 7.5 sacks and earning Freshman All-America honors by the Football Writers Association of America in 2012. He concluded his career with 24.0 sacks – fourth-most in CSU history – and 52 games played – first. He had 240 tackles, four forced fumbles and was a 2015 All-Mountain West defender while splitting time at linebacker and defensive end.
"I'm very proud of Cory James," Bobo said. "He is a talented player who can play in the NFL. Cory has great explosion off the line of scrimmage and is not afraid."
On ESPN, analysts said James should see immediate time on special teams, praising him for his versatility, speed, aggressiveness and ability to tackle. James ran a 4.59 40-yard dash during his pro day.
Other Draft notes:
In its history, CSU has had 103 players drafted, including six selections in the past three years after having six over the previous nine years, including zero in 2011 and 2012.
Higgins is the 10th former Ram to play for the Cleveland organization, including the third to be drafted by Cleveland (Terry Nugent in 1984, Selwyn Jones in 1992).
Higgins is the first CSU receiver drafted since David Anderson in 2007 (sixth round by Houston). Anderson spent six years in the league.
James is the sixth former Ram to be drafted by the Raiders, and the 15th player to play for the organization overall, including Bob Kruse, who played for the Raiders in Super Bowl II.
James is CSU's first defensive Draft pick since 2004 when DB Dexter Wynn (sixth round by Philadelphia) and LB Andre Sommersell (seventh round by Oakland) were drafted.
Additional #NextLevelRams
As of Saturday evening, three additional Rams had signed free-agent deals. Local product Sam Carlson (Tennessee) started all 26 games over the past two seasons, leading an offensive line that ranked among the nation's best for tackles for loss allowed (4.62 per game; 11th), sacks allowed (1.17 per game; 22nd), third-down conversions (46.0 percent, 20th), fourth-down conversions (58.8 percent, 36th), first downs (23.15 per game, 33rd) and red-zone offense (87 percent, 44th). As a junior in 2014, CSU surpassed 500 yards of offense five times and set a school record averaging 480.9 yards per game.
Cartwright (Tampa Bay), a powerful tight end from Pueblo, Colo., finished his standout career with 75 receptions for 1,136 career yards and 11 touchdowns. He was a two-time All-Mountain West Honorable Mention, including in 2013 when he recorded 462 yards and six scores, and 2015, returning for a sixth year of eligibility via an NCAA waiver to record 279 yards and two touchdowns.
Elliott (Seattle) started 11 games at cornerback in 2015, tying for the team lead with two interceptions, in addition to 32 tackles, four breakups and a blocked kick. For his career, he played in 47 games and totaled 124 tackles, two fumble recoveries, 27 passes defended and seven interceptions – one of which was returned 76 yards for a touchdown.