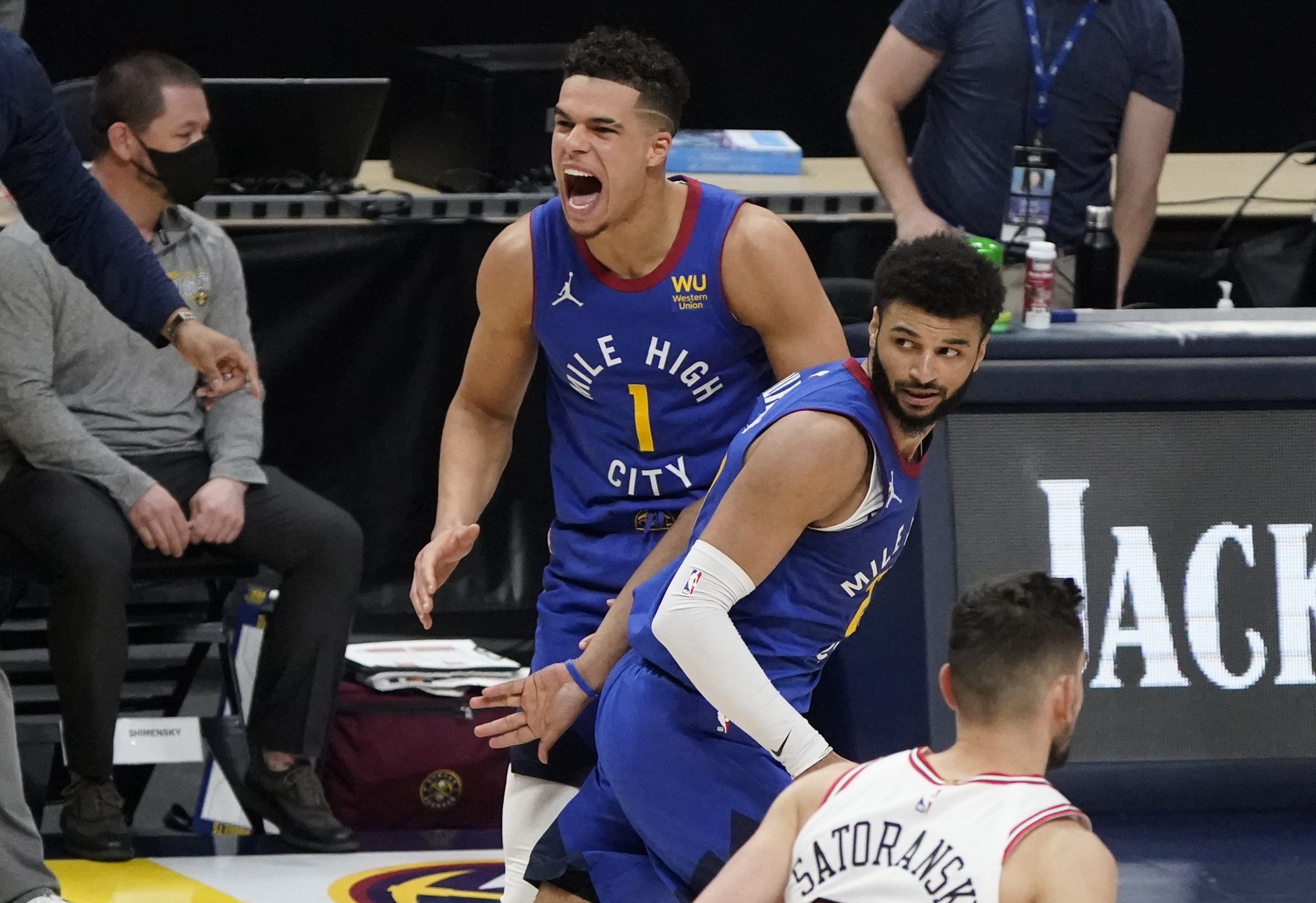 It was almost a blow out win for the Nuggets. They had a 25-point lead in the third quarter over the 76ers. They saw that lead slowly slip away, however, as Philly got within 6 with 20 seconds left to go. Denver had a dominating first half performance behind Michael Porter Jr, who scored 20 of his 27 points, but something keeps happening to the Nuggets in third quarters.
"This has been a recurring issue with us," Michael Malone said. "I'm getting tired of watching us build big leads, play the right way and then just for some reason relax, come up for air and allowed that game to become a lot more interesting than it should have." 
Despite Philly's late 10-2 fourth quarter run, Denver was able to close it out 104-95 against the top team in the eastern conference. Jamal Murray scored 30 points on 12 of 24 shooting and 5 of 11 from long range. He also added 6 rebounds and 4 assists. 
This was the first time in over a year that Ball Arena had fans back in the stands and what a good way to welcome them back. 
"We miss you guys so much," Murray said in his post game interview to the fans on the court. "You guys bring a whole different type of energy to the game."
The Nuggets were rolling in the first putting up a season high 44 points in one quarter. They were clicking on both ends of the floor and pushing the pace early. They shot 67 percent from the field, 70 percent from the three-point line and out-rebounded Philly 13-4. This particular quarter is what the Nuggets are trying to emulate on a nightly basis. 
"I think that first quarter was one of our best quarters that we've had," Malone said. "Anytime you can score 44 and hold your opponent to just 22 that's always a good thing so now the challenge is, can we sustain that and can we do it for four quarters instead of it being just one quarter but when we defend and we rebound that ignites our break."
Malone was also impressed with the ball movement and how his teams' passing came without any hesitation. It just flowed and the past two games have displayed a different level of Nuggets basketball with the addition of Aaron Gordon.
"He just opens it up for all of us," Porter Jr said of Gordon's presence on the floor. "Teams don't really know right now who to put on who… He's such a good transition player. He's so athletic and he can step out and shoot it and he can pass so he has the whole package. He makes it easier on all of us."
Although Gordon only scored 6 points in his second game as a Denver Nugget, he impacted the game in more ways than just scoring. He helped guard the Sixers two best players, in Tobias Harris and Ben Simmons. He held Harris to just 12 points on 6 of 13 shooting and Simmons to just 11 points on 4 of 7 shooting. He was also a plus 19 in the game. 
"We love him out there," Porter Jr said of Gordon. "Just defensively we're so long and versatile and we can just run the floor with so many different weapons. It feels like I'm just looking at my twin out there." 
Nikola Jokić put up his 42nd double-double of the season, leading the NBA in that category. He scored a quiet 21 points on 8 of 14 shooting, grabbed 10 boards and also had 5 assists. 
The Nuggets are on a 3-game winning streak (two of those at home) and have won four of their last 5 games. Even more impressive, they've won 12 of their last 15.
They head to Los Angeles to take on the Clippers on Thursday and then come back to Denver to play 5 in a row.