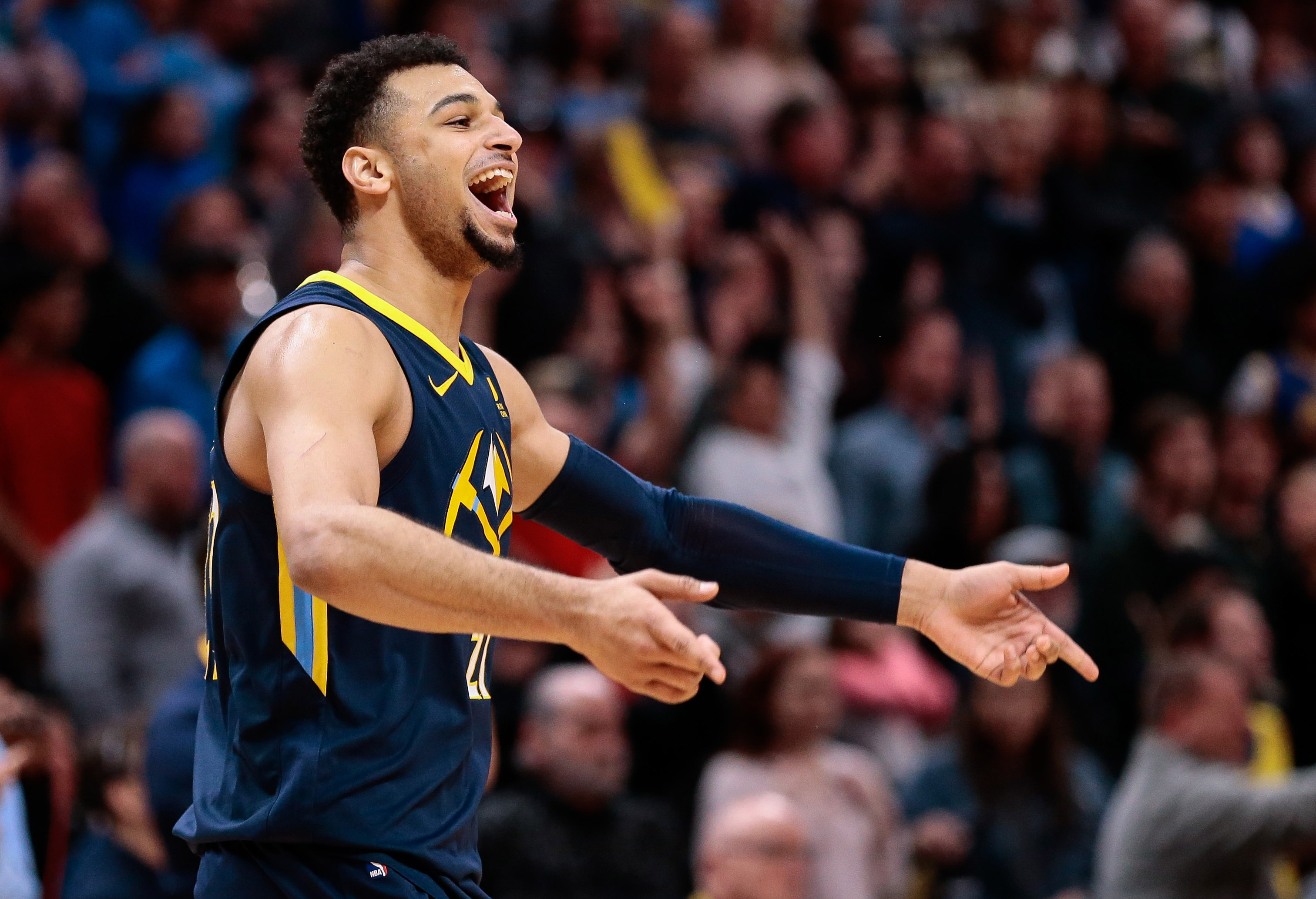 A league source has confirmed to Mile High Sports that Jamal Murray has agreed to a five-year max contract extension worth $170 million in total.
Shams Charania of The Athletic was first on the report.
The Nuggets locking up Murray to a max contract extension this offseason likely meant that they felt a max contract offer sheet would have been out there for him in restricted free agency in 2020. Instead of letting the uncertainty of his contract status loom over his season, Denver got the deal done with Murray early and quickly.
Murray is coming off a season in which he averaged 18.2 points, 4.2 rebounds, and 4.8 assists for the Nuggets, who finished with 54 wins and as the second seed in the brutal Western Conference.
Alongside Denver's first-team All-NBA center Nikola Jokic, Murray helped carry the Nuggets past the San Antonio Spurs in seven games to win Denver's first playoff series in a decade. Denver eventually fell just one win short of the Western Conference Finals after losing in seven games to the Portland Trail Blazers. Throughout the playoffs, Murray played 36.3 minutes per game and averaged 21.3 points, 4.4 rebounds and 4.7 assists.
Denver agreeing to a max contract extension with Murray so early in free agency points to the fact that the Nuggets view Murray, who is still just 22 years old, as a foundational piece as they build towards a NBA Championship; as a second superstar to pair with Jokic.
On one hand, Murray just turned 22-years-old in late February and put together a historically-productive season for his age. His relationships with his teammates are fantastic and has helped build the strong culture that now exists in Denver. His relationship with Nuggets' head coach is outstanding and, clearly, the front office believes he can elevate Denver into title contention.
Still, that does not mean there are not holes in his game. Now that Murray is going to be paid like a max contract player, the raised expectations come with the money. His defense has been glaring issue since his arrival into the league and his decision making still leaves a lot to be desired. He has not been able to consistently score at a high level and has been prone to cold streaks.
Even with all of that being said, Murray has already proven that he can take his game to new heights. Murray's progression as a facilitator has been immense as has his ability to play off of Jokic.
Murray may not be worth a full max contract right now, but  the Nuggets are betting that he can become worth the deal sooner rather than later. If Murray can continue to take strides forward with his game, he can live up to his max extension and then some. If not, the deal will likely look like an overpay.
While the rest of the Western Conference has been stockpiling talent in order to take advantage of the Warriors being dethroned and decimated by injuries, the Nuggets have taken a different approach. First, they picked up Paul Millsap's $30 million team option and now have made a $170 million investment into their starting point guard. Instead of looking outside of their own roster for improvements, they are betting on internal growth.
Denver committing $200 million to keeping their core together is a gamble, but it has been a bet that Tim Connelly has been willing to take at all levels. Whether it is practicing patience with Michael Porter Jr. and his rehabilitation to not trading away any part of their young core, the Nuggets have put patience and internal development above all else. It has been that mentality that has allowed for their ascension to near the top of the Western Conference. Patience has become part of their identity as an organization.
Murray is now under team control for a total of six years and Jokic is under control for the next four years. They will only have approximately $20 million in cap space in 2020 and that does not include Paul Millsap or Mason Plumlee, who will be unrestricted free agents, or Malik Beasley, Juancho Hernangomez, or Torrey Craig, all of whom could be restricted free agents.
The Nuggets are now all-in on their core of Jamal Murray and Nikola Jokic.