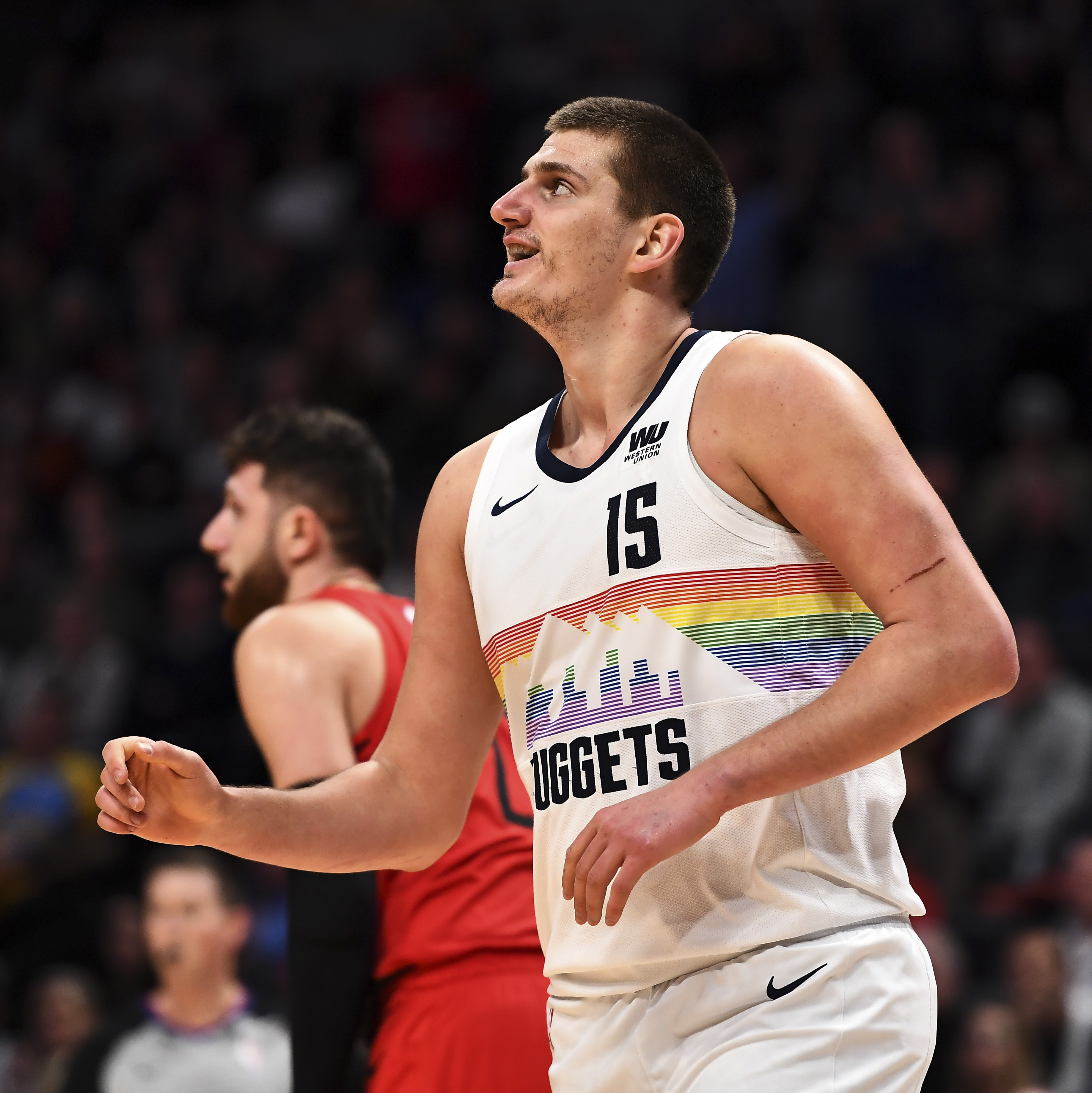 Forgive me. I'm a little late for the party.
I might have just arrived, though.
If you know me or my writing, you probably know how I've weighed in on the Denver Nuggets over the years. I've been accused of, perhaps accurately, being a Nuggets homer – or at least, giving the Denver Five the benefit of the doubt more often than not. For the most part, I've believed in the Nuggets a little more than the next guy.
And you know what? The next guy has typically been more right than me. The Nuggets have regularly made a fool of yours truly.
This season, however, I'm not sold. I'm still not entirely sold, but Sunday night's 116-113 win over the Portland Trailblazers went a long way to flinging me onto the bandwagon.
This year, despite the hype, I've been cautiously optimistic about the Denver Nuggets. I appreciated, but was not convinced by, Sir Charles Barkley, who famously said on TNT back in December: "I'm all in on the Denver Nuggets. I told you that a month ago. And not only that…the Joker should be the front-runner for the MVP." Too often, the national media has dismissed Denver in favor of traditional powers and indisputable and proven stars. Then again, the last time they were "wrong" was 2009, when a Chauncey Billups-Carmelo Anthony led Nuggets advanced to the Western Conference Finals. Since then, the Nuggets have never summoned the ability to shut anyone up.
Now, the challenge in Denver is to prove someone like Barkley "right."
Oh, I know, if you're reading in Denver, you've known this all along. Local coverage of the team gushes over Jokic nightly – perhaps rightfully so, as his statistics (19.2 ppg, 10.2 rpg, 7.5 apg) paired with the Nuggets record (a whopping Western Conference leading 29-13) would indicate that something special is taking place in Denver.
Okay, okay, okay. There's no doubt, this certainly beats bouncing around .500 and worrying about whether the Nuggets can somehow grab the No. 7 seed in the West by April. And Jokic has moved from a pleasantly surprising talent (remember, he was the "other" guy in the Emmanuel Mudiay draft), to statistical anomaly, to a triple-double machine, to…
MVP?
That was the loud acronym that echoed down from the cheap(est) seats inside Pepsi Center Sunday night. The chant filled The Can more than once – appropriately so, given that The Joker would eventually pour in 40 points, 10 rebounds and 8 assists in a winning effort.
Prior to this truly All-Star-caliber performance, cautiously optimistic (see pessimistic) me thought, "An MVP does not shoot once in any game (ever) unless said MVP is hurt in the first three possessions."
Cautiously optimistic me thought, "An MVP does not lose nine straight games to a James Harden-led Rockets team." Harden is a star – that's indisputable – but any opposing star should be able to steal one from time to time. The last time Denver beat the Rockets was during Jokic's rookie year when he played just 21 minutes and averaged 10 points per game.
Cautiously optimistic me said, "The analytics guys can have their stats; give me the guy who wants the ball – needs the ball – and sinks the ball down the stretch. That's the guy I want, not the guy a computer tells me is tops." Jokic is basketball nerd's dream. The data is the stuff they dream of. But can he – does he – take over a game in the waning moments? That's what I've always wondered. As impressive as Jokic has been statistically, until recently, he hasn't been that guy.
And let me make one thing clear: I'm not saying Jokic isn't, or hasn't been, an excellent player. He has been. What he can do at his size and position is unbelievable. I've just wondered if he's a bona fide star or an incredibly nice "piece" on a team still in need of a Harden, a Kyrie, a Steph, a KD, a Kawhi, a LeBron.
There's no shame in not being included on that particular list. Those types don't grow on trees. It's just that those guys tend to be the ones who appear year after year in the conference and NBA finals. It's a nice notion that a really good "team" can win a championship in the NBA. That's true to some extent. But the reality is that those good teams always have at least one or two superstars.
No star? No title. Sorry, that's just the facts in the NBA.
Have the Nuggets, a very nice team clear down to the end of the bench, been involved in an interesting experiment, trying desperately to show that team (see "starless") basketball can, indeed, win a title? Or have they patiently been waiting to see if one or more of their young talents can grow into the star required to win it all?
Either way, Jokic might be on his way to becoming the one piece every champion seemingly needs – a star.
As the clock wound down against Portland, I incorrectly said more than once: "Just wait, Damian Lillard will be taking this game over."
It was one of those too-close-for-comfort, back-and-forth games. It was also the second night of a back-to-back for the Nuggets. It was a game a time-tested NBA star seizes.
But Lillard, contrary to my belief, wasn't that star.
It's not that Lillard wasn't good enough. He was. It's just that Jokic was better.
Forget about The Joker's 40 points. But don't forget about his last nine. Of the Nuggets' final 13 points, Jokic had nine of them. He was simply everywhere, grabbing rebounds, getting fouled, demanding the ball. Simply put, he took over the game. That is what an NBA star – an MVP candidate – does.
I will stop short of offering a tired cliché with regard to Jokic's performance against the Trail Blazers – "a star was born." According to the mathematicians, Jokic the star was born long ago.
But I will say that stars do what Jokic did last night. Triple-doubles are nice, but doubling down during crunch time is what separates the very good from the great.
Against Portland, Jokic was great. Was he great enough to be called an MVP?
The home crowd certainly thought so. Give me a win on Tuesday against Golden State, and maybe another against James Harden's Rockets on February 1, and I might even agree with them.