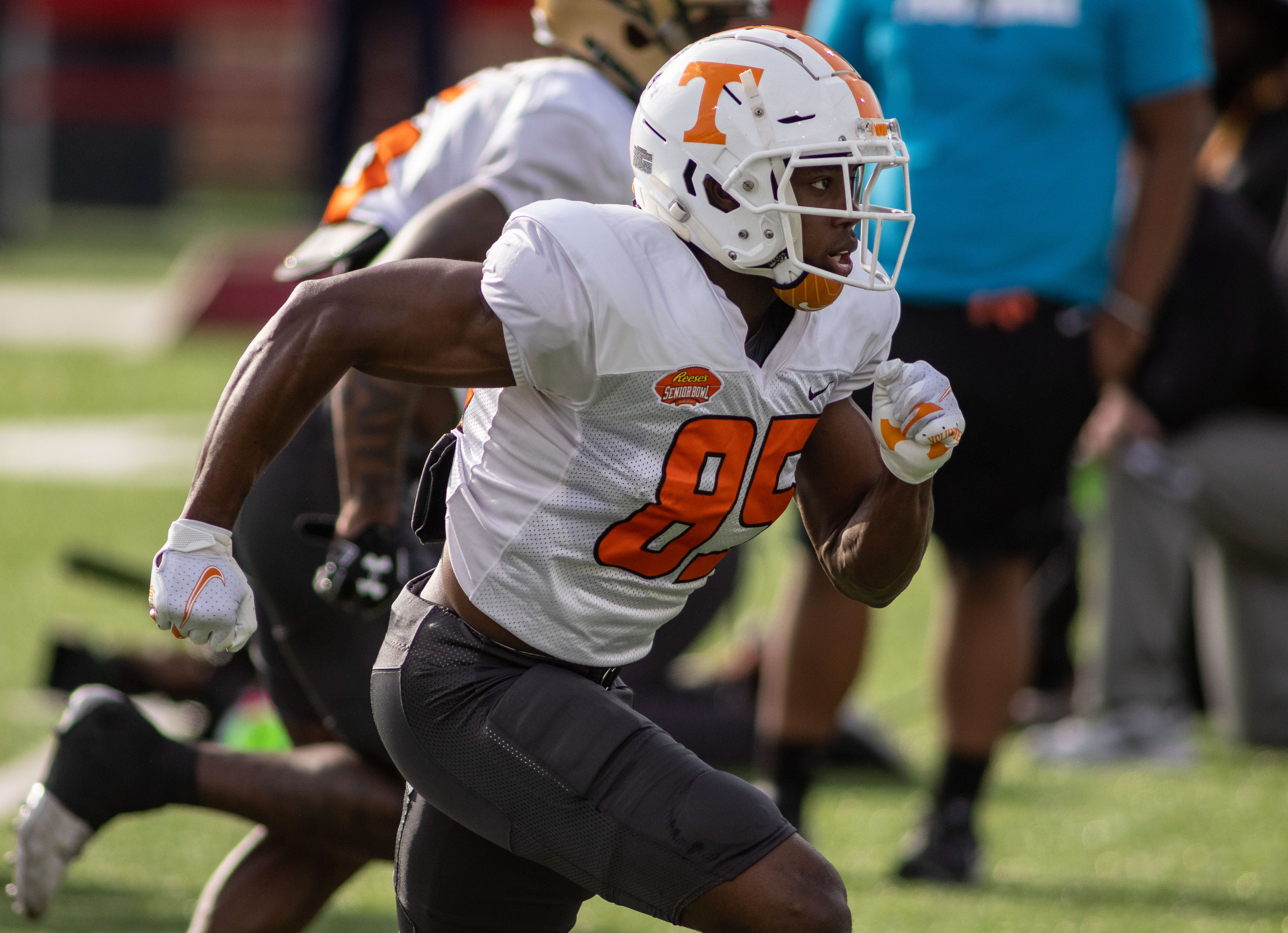 Everyone has their "guys" and these specific players are some of mine because of their value in the draft, matched with their potential ceiling.
I would argue these players could come in and contribute on day one to a talented Broncos roster. They could be absolute steals.
Josh Palmer, WR, Tennessee
When quarterback play is low quality and inconsistent it makes evaluating wide receiver talent challenging. That might be the reason Josh Palmer is not as highly touted as some of the other wide receivers in this draft class.
Palmer fits the size profile to find success in the NFL (5-foot-11, 210 pounds) and he knows how to use his size to his advantage. He is physically strong and positions body perfectly to shield off defenders.
His most underappreciated trait is his ability to control his body near the boundary. In his career he has a number of catches down the sideline or in the corner of the endzone and each of them are impressive in their own right.
JG to Josh Palmer….TOUCHDOWN TENNESSEE!!

HELLUVA CATCH BY PALMER!!#Vols pic.twitter.com/6uhzh6KajE

— James O'Saile (@JamesOSaile) November 10, 2019
Palmer has really great hands and regularly makes catches outside of the frame of his body. His hands are strong and can win contested ball situations with regularity.
Though he requires some coaching on his route running, Palmer understands how to exit a break, providing a big target for his quarterback to throw at.
In the Senior Bowl, Palmer has some very impressive reps in one-on-one drills. He showed veteran savvy and upstaged a number of talented cornerbacks on his way to making a positive impression on the coaches and scouts present.
Wide receiver may not be a large need for the Broncos in the NFL Draft on April 29th but if you can get a regularly contributing pass-catcher with No. 3 wide receiver potential on Day 3, it should always be a consideration.
Noah Gray, TE, Duke
Tight end may not be considered a position of need for Denver but that is a debatable point. Noah Fant is entrenched as the de-facto top option of the group but with Nick Vannett no longer with the team and Albert Okweugbunam coming off a season-ending injury, a tight end might be a reasonable investment later on in the draft.
That is where Noah Gray comes in.
Another prospect that benefited from a nice Senior Bowl showing, Gray showed enough to jump onto the NFL Draft radar.
Standing at 6-foot-4, 240 pounds, he looks every part NFL tight end, and he uses his size to his advantage, making plays with his hands down the field. He adjusts well to off-target throws and is able to make something out of nothing in the passing game.
#Duke TE Noah Gray with perhaps the catch of the Senior Bowl here.

📽: @BillyM_91

— Devin Jackson (@RealD_Jackson) January 28, 2021
Gray has an affinity for finding the soft spot in coverage, hunkering down and giving his quarterback an easy pass-and-catch option.
This would be a project pick for the Denver Broncos with absolutely no risk attached and, as a likely day 3 choice, Gray has a lot of raw ability that can be shaped into an NFL caliber tight end.
Robert Rochell, CB, Central Arkansas
Robert Rochell is the definition of a freak athlete.
UCA corner Robert Rochell (@scootaa11) is one of the best athletes in the draft. 6'0 with 32 inch arms, track speed, and he does stuff like this without much effort…pic.twitter.com/7pxzRCGQbK

— Bobby Belt (@BobbyBeltTX) January 27, 2021
At his Pro Day he posted a 43.5-inch vertical leap and broad jumped 11 feet and one inch. To put a cherry on top, he ran a 4.39 40-yard dash.
If those numbers don't impress you, nobody's will.
Rochell uses his athleticism and verticality to contest passes, disrupt receivers' ability to high point footballs and his closing speed is elite. His ability to keep the ball in front of him allows him to run to the ball in a hurry and he does not shy away from contact.
His 10 interceptions in his collegiate career demonstrates an ability to track the ball in the air and make plays, which is a huge positive when assessing his overall game.
There is versatility to his game, which should be a draw for Fangio and the defense he likes to play, and he also offers speed on the special teams unit where he is a fantastic gunner and may even possess some return ability.
Rochell could go anywhere from the late Day 2 to the midday on Day 3 range of the draft, which would make him a prime value for Denver. It is a no-brainer pick.