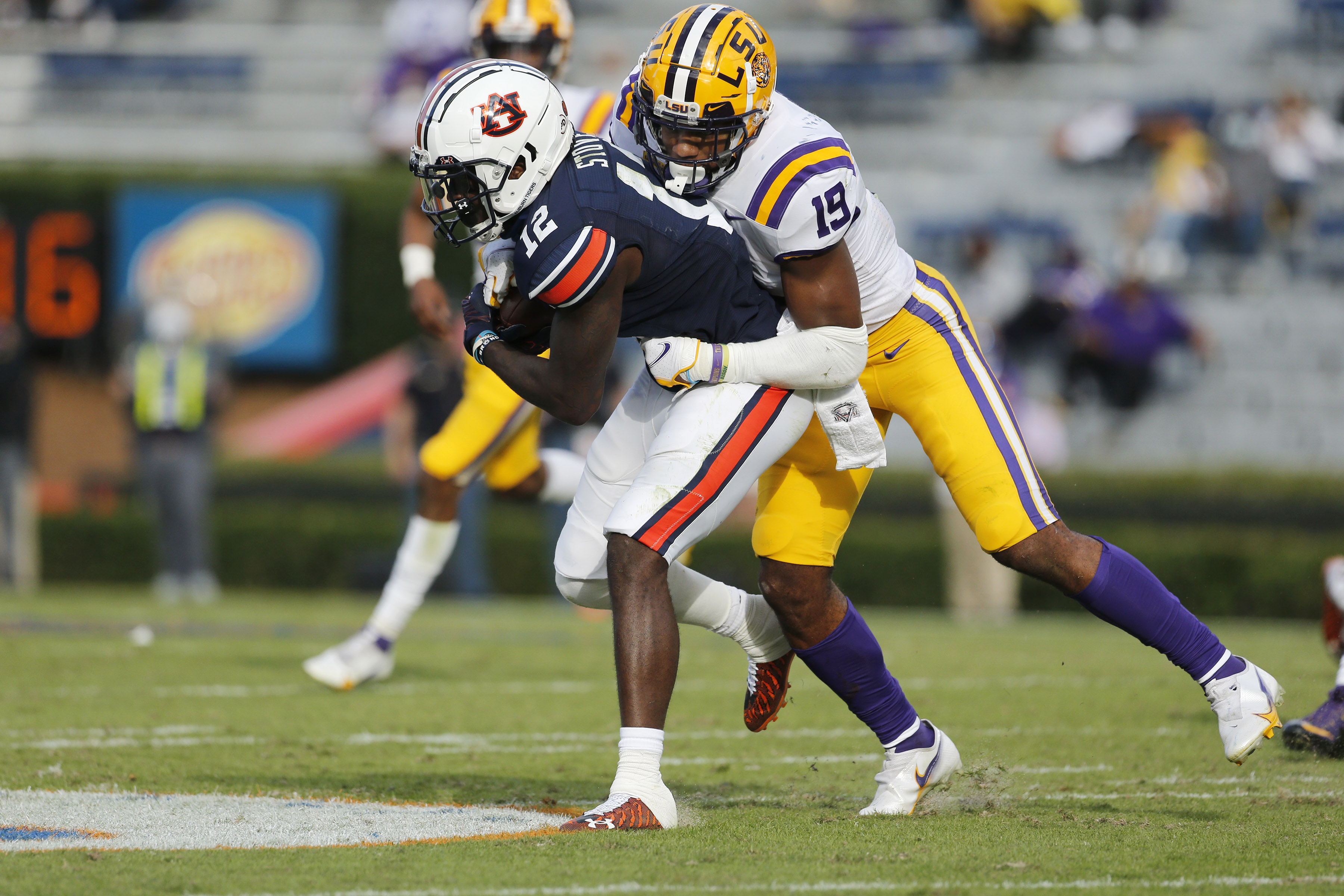 The NFL Draft is about more than just what happens in the first round. There are 3 under-the-radar players the Denver Broncos should select after day one.
The focus of the NFL draft is often on what happens in round 1. This year, the focus remains at the top of the draft and which quarterbacks will be taken early, and often.
Though the quarterback position is the most important in sports, it is not the only one to discuss.
The Denver Broncos are coming off their 4th season in a row with a losing record, and their 5th straight season outside the playoff picture. The lack of winning has a lot to do with their roster, and the need to find quality players beyond round 1.
With the growing likelihood that general manager George Paton trades back to multiply his picks in the 2021 draft, fans should get to know some of the players beyond the top-tier guys.
As J.T. Matthews and I discussed on our Denver Broncos podcast, Orange and Brew, here are my guys! The three players the Denver Broncos should focus on drafting to really improve their roster in the 2021 draft.
Episode 40 of Orange and Brew. @NManningPO and @JTMatthews01 give their takes on;
1️⃣No OTAs
2️⃣Draft Day steals!
3️⃣Beer review
Check it out #BroncosCountry on your favorite podcast platforms

Link to the Spotify Version 👇🏾https://t.co/DLiUixN9EB

— Orange and Brew Podcast (@brew_orange) April 19, 2021
Jabril Cox, LB, LSU (Projected 2nd or 3rd round prospect)
Jabril Cox is an athletic linebacker who could provide the Denver Broncos with what they have been missing since the 2015 No-Fly-Zone rendition. Vic Fangio has coveted true three-down linebackers that are adept at making plays in the box as well as hold their own in coverage and could use a player like Cox.
Cox is a smart player with sideline-to-sideline capability who can carry a tight-end or back up the seam, providing the defense with a coverage linebacker this team has been desperate for.
As current linebackers Alexander Johnson and Josey Jewell are solid with plays ahead of them, man-coverage is not their forte. Adding that both players are in the last year of their deals, the team should look at long-term options beyond 2021.
Cox must become stouter in the run game as he ducks blocks at times which leaves open run lanes. Working with Fangio, arguably the greatest linebacker coach of all time should remedy that.
Cox can add to the team as a nickel linebacker in 2021, even if Jewell and Johnson remain starting. He also could slide into start from day one, increasing his value if he's picked outside of round one.
The Broncos looked to move up into round 1 last year for Patrick Queen, so look for the team to again pick a linebacker and Cox would be a phenomenal value in day two of the draft. In my opinion, getting a player like him in round 2 or 3 is much more preferred than any of the day 1 options we see in mock draft after mock draft.
Getting Cox in orange and blue would make this team's defense so much better than it is, which says a lot.
Brady Christensen, Offensive Tackle, BYU (Projected 3rd round prospect)
Current Broncos right tackle Ja'Waun James could be with the Broncos after this season, but that doesn't seem likely. James will likely only be with the team for 2021, so a developmental prospect for the right tackle position is needed for the long-term plan.
Brady Christensen, a redshirt junior out of BYU, is a good-sized player at 6-foot-5 and 300-pounds. He has tremendous mobility and shows solid fundamentals.
His ability to maneuver and pull fits nicely to offensive line coach Mike Munchak's scheme. The Broncos value mobile offensive lineman who can pull and get out on the edge, which Christensen fits the mold perfectly.
He needs time to add weight and continue to improve his leverage in the run game. So, Christensen sitting a year behind James would be ideal.
Additionally, Christensen could play early if needed and operate as a swing tackle option to provide added depth as a rookie. His experience and stellar play at left tackle should help if Garett Bolles missed time for any reason.
If the team can pick him up in the 3rd or 4th round, the value is phenomenal and the team has a low-cost long-term option for 2022. Finding a long-term option for a position that has been a team bugaboo for many years would be music to all of Broncos Country.
Talanoa Hufanga, Safety, USC (Projected 3rd or 4th round prospect)
The Denver Broncos need not only a 3rd safety but also a long-term replacement for Kareem Jackson.
Jackson returned to the Broncos via a 1-year deal after his previous contract option was declined. Jackson continues to play at a high level at age 33. However, his play eventually will decline and the Broncos must plan accordingly.
Enter Talanga Hufanga, safety from the University of Southern California.
Hufanga may be one of my favorite prospects in the draft. Think K-Jack 2.0.
The guy plays with reckless abandon, displaying fantastic instincts. Like Jackson, Hufanga makes plays by attacking the ball (and however has it).
I believe he is vastly underrated safety with and shows he has a complete game. Though his game will need refinement, he shows traits that you just cannot teach.
He quickly identifies his assignments and shows the range to make plays to each area of the field. He makes plays on the ball and displays a nice burst when breaking on the ball.
Hufanga has a nice range and takes good angles.
Hufanga is not without his flaws as he can over pursuing plays. His desire to make something happen can lead to reads that take him out of a play.
Also, his aggression, which leads to phenomenal plays on the ball also gets him in trouble. He is a good tackler but often goes for the big shot. Though you love the big hits, he must ensure he makes the plays in front of him. If he focuses on making the right play, he has the attributes to play within himself and be a playmaker.
Hufanga's ability to play in sub-packages in year one should provide him the experience needed to take over for Jackson following the 2021 campaign.
Lastly, Hufanga would be a nightmare (in a good way) on special teams. His ability to diagnose plays in front of him coupled with his tenacity should give the team another special team ace from day one of training camp.
Nabbing Huganga on day two or day three would be great value for a potential starter, similarly to how Justin Simmons was drafted and groomed in 2016. If the team can bring him along slowly, while maximizing his strengths, Hufanga can help in 2021 and beyond.
Summary
Getting any or all three of "my guys" would help create a deeper and more talented Broncos roster heading into the 2021 season.
As many players are in the last year of their contracts, Cox, Christensen, and Hufanga provide impact in year one, while also insurance for 2022 and beyond. Each has long-term starting potential and both Cox and Christensen could solve positional holes this team has had for a long time.