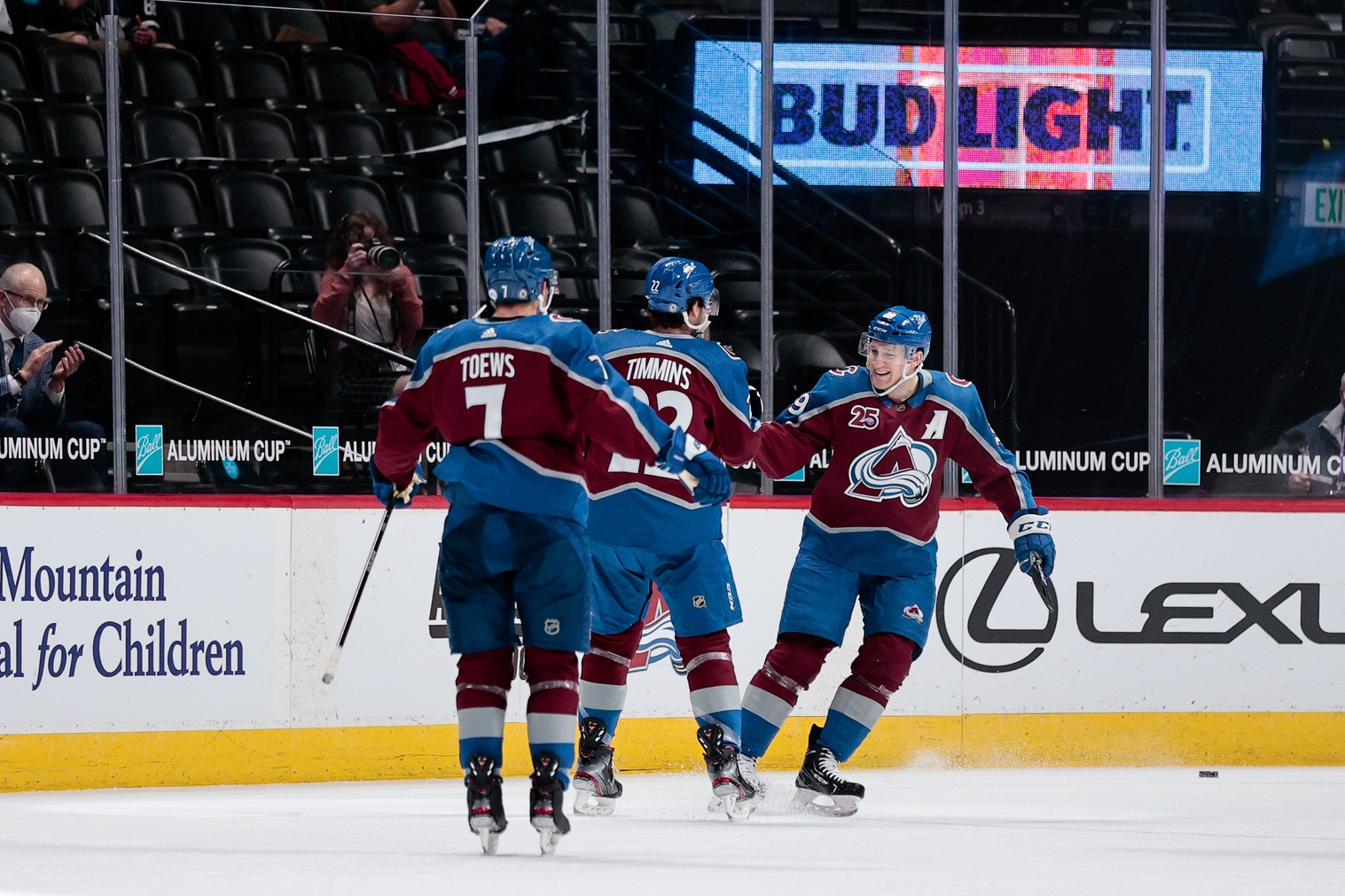 The domination showed for most of March and April was on full display Saturday. It wasn't a high-scoring game but the shot differential was the biggest it's been in quite some time.
The Avalanche won 4-3, defeating the San Jose Sharks for the second-consecutive night at Ball Arena. The Avs outshot the Sharks 44-25 — including a 21-4 margin in the second period, where they scored twice.
Superstar center Nathan MacKinnon was all over the ice offensively. Just one night after failing to record a point or shot and capping off the night with his first fight in three years, MacKinnon was back to his dominant self. He had nine shots, scored Colorado's opening goal to tie the game 1-1 and had an assist in 22:40 of ice time.
MacKinnon and linemates Mikko Rantanen and Gabe Landeskog were once again the driving force of the team's offense, combining for 23 shots.
"He shot the puck pretty well," Avs coach Jared Bednar said of MacKinnon. "It looked like he was a little snakebit but once he got that one, they got a couple more so that line was really good tonight. It kind of set the tone for our team."
The Avalanche (33-12-4) are four points back of the Golden Knights after Vegas defeated Arizona in overtime late Saturday night. They play the next four on the road, starting with two in San Jose, before returning home to end the season with two games against L.A. Colorado is 14-0-1 in its last 15 games at Ball Arena.
It took 33:08 for the Avs to solve Sharks goalie Josef Korenar but they ended up scoring two in each of the last two periods, including a redirection goal from Mikko Rantanen in the third period off of a point shot from defenseman Devon Toews.
Rantanen's seventh game-winner and 28th goal of the year extends his personal streak of consecutive games with a point to eight.
"He gets the one deflection off the faceoff goal and he's a great screen taking the goalie's eyes away on the Patrik Nemeth goal," Bednar said of Rantanen's game. "really good persistence to get to the net."
Korenar finished with 39 saves for the Sharks playing opposite Colorado's Devan Dubnyk, who was his teammate just three weeks ago. Dubnyk made 21 saves to improve to 3-2 since being acquired by the Avs in a pre-trade deadline deal.
Defensemen Ryan Graves and Sam Girard both did not dress after leaving Friday's game with an injury. Bednar says Graves is tentatively day-to-day and Girard will miss two weeks.
Without the two, Patrik Nemeth and Conor Timmins were elevated to the top-four. Nemeth played 23:34 and scored Colorado's third goal. Timmins recorded the first multi-point game of his career, assisting on both MacKinnon and Rantanen's goals.
He was also a team-leading plus-3.
"I've been more sure of myself on the ice, I've been simplifying my game," said Timmins, who played 18:27. "Trying to make clean exits and I think that's kind of what's led to my offense. Everything stems from the back. It's just a matter of simplifying for me."