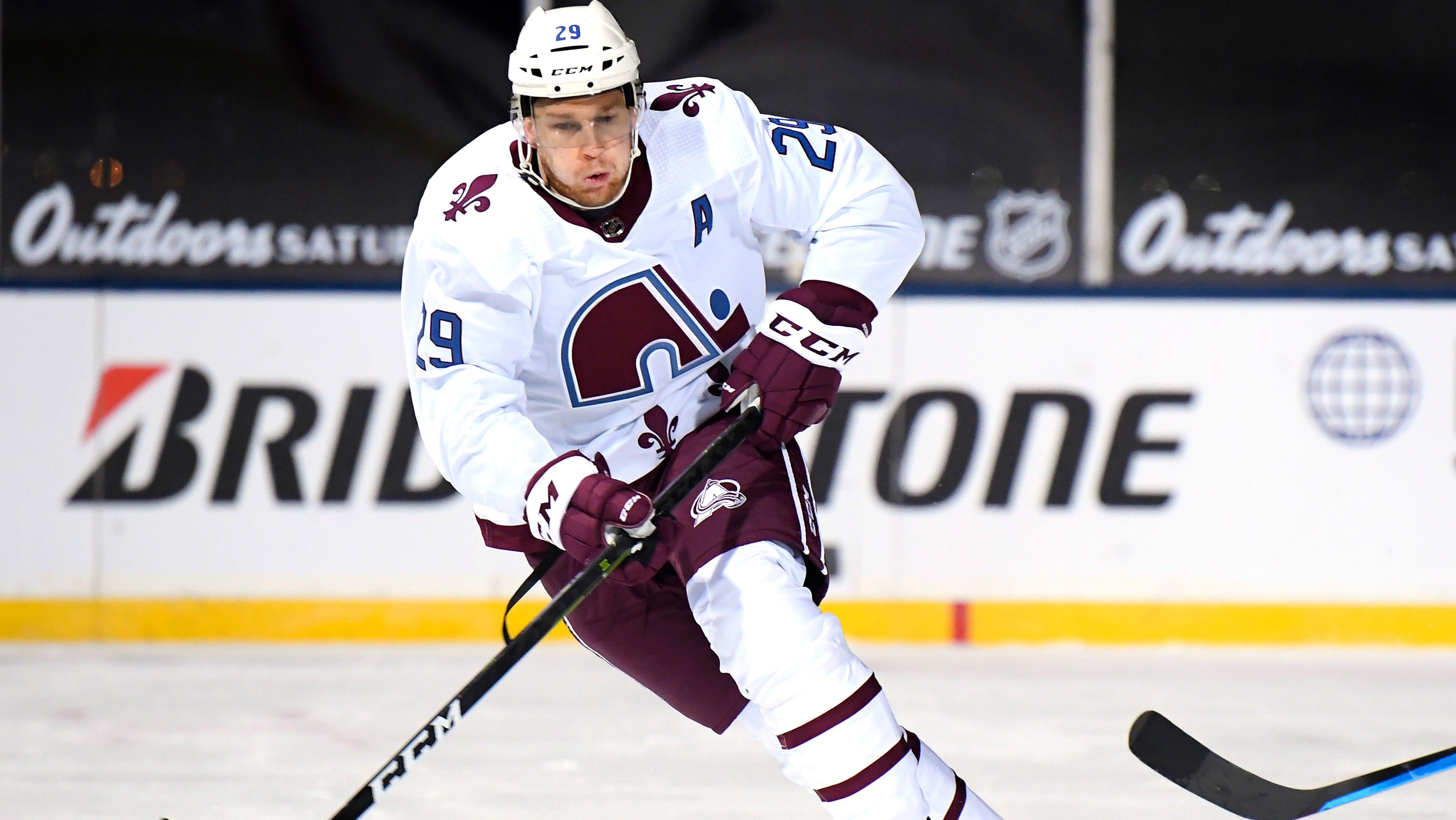 What a day. And night.
In what will go down as the longest NHL game on record, the Avalanche, led by superstar Nathan MacKinnon's three-point night, escaped with a 3-2 victory Saturday over the Vegas Golden Knights in an outdoor affair at Lake Tahoe.
The first period began at 1:12 p.m. MT and the third concluded at 11:49 p.m. because of an extended delay and suspension of play during the first intermission due to poor ice conditions. The total game time was 10 hours and 37 minutes.
"It's a memory of a lifetime," said Avs captain Gabe Landeskog, who had suffered through the team's first two losses in outdoor games. "Finally we broke the curse of these outdoor games. We were able to win one so that makes it a lot more special."
Sunshine was the catalyst for the poor ice conditions. Players and officials were stumbling all over the ice during the first period.
NHL commissioner Gary Bettman announced the suspension of the final two periods 30 minutes into the first intermission.
"The ice was pretty bad and slushy because of the sun but we were still ready to play," Landeskog said. "They didn't want to play, it seemed like, but we did."
Defenseman Devon Toews scored the game-winning goal, firing a shot from the blueline past goalie Marc-Andre Fleury after a clean faceoff win from MacKinnon. Fleury faced 39 shots. Avs goalie Philipp Grubauer made 27 saves.
MacKinnon scored a highlight-reel goal to give the Avs a 2-1 lead — over nine hours after the Avalanche took a 1-0 lead early in the first period. MacKinnon skated past Vegas stars Alex Pietrangelo and Mark Stone while playing 4-on-4 and fired the puck past Fleury. The Golden Knights had just tied the game 4:41 before MacKinnon's tally.
The Golden Knights fought back late to make it 3-2 thanks to a goal from Alex Tuch. But they were unable to tie the game again.
Both teams were 0-for-4 on the power play and failed to capitalize on a lengthy two-man advantage.
Lost in the allure of the NHL's first outdoor event without fans, Colorado (9-4-1) pulled within two points of Vegas (10-4-1) with a game in hand in the West Division. The two teams will play for the fourth consecutive time Monday at Ball Arena. The Avs have won two of the first three.
"That was part of our message coming into this thing," Avs coach Jared Bednar said. "We're now three-quarters into a series against a good team in Vegas. It's a good time to measure our team against another top team in the league. We wanted to put our best foot forward."
Before the delay, Colorado led 1-0 through 20 minutes and outshot the Golden Knights 17-8. Sam Girard scored the only goal off a feed from MacKinnon. The Avs played the final 1:21 of the first with a 5-on-3 power play after Vegas was called for a high-sticking double-minor and a too-many-men penalty.
"To be even or better coming into the second part of the game was important," Bednar said. "I loved our first period. We came out with lots of jump and great intensity. We ended that first period with that 5-on-3 power play that we had some good looks on. We missed on one and Fleury made a couple of great saves. Otherwise, we could've extended our lead a little bit more."
Getting healthy: The Avalanche welcomed numerous players back into the lineup. Forward Tyson Jost, Landeskog and Girard all played their first game since Feb. 2 after coming off the COVID-19 protocol list. Forward Matt Calvert also returned after an injury against the Anaheim Ducks on Jan. 24 caused him to four games.
The Avs also welcomed back star defenseman Cale Makar. The 22-year-old played a team-high 24:10 after missing the two-game road trip in Vegas.
"Those guys did a great job coming back in after a significant amount of time off and helping our team win the hockey game," Bednar said.
Defensively strong: Grubauer faced 29 shots for the second consecutive game. The Avalanche's starter has faced less than 30 shots in nine of 12 games this season and each of the last six. Colorado has surrendered a league-low 29 goals against.