The Denver Broncos will be much improved in 2022 compared to the last six seasons. Especially on offense.
But, as difficult as it may be for the fan base, Broncos Country may need to pump the brakes on their team having the best offense in the NFL this year.
New Broncos head coach Nathaniel Hackett knows first-hand what it's like to implement a new offense with a superstar quarterback, and in his fantastic interview with Albert Breer on Sports Illustrated, Hackett actually called the beginning of his tenure with the Packers a "s— show."
Hackett's offense embarrassed in Week 1 of the 2019 season, putting only 10 points on the board and a mere 213 total yards. In Week 6 of that season, the Packers barely edged out the lowly Detroit Lions 23-22, with three turnovers. Admittedly, it was a slow, rocky start for Green Bay in Matt LaFleur and Hackett's offense.
Thankfully, Aaron Rodgers bought into the scheme and the team started winning, enjoying a 13-3 record that year. However, Hackett also explained the offense didn't really hit their stride until the second season with him as offensive coordinator.
Now, not only does he bring his new scheme to the Broncos offense, he's also going to be learning a new superstar quarterback in Russell Wilson. That may bring some rocky starts and some rough games offensively, at least to begin the year.
"I don't know Russell. I don't know what Russell likes," Hackett told Breer on Saturday. "And truly, you don't know. You try your hardest [to project] but even Russell is probably going to like different stuff. We don't have DK Metcalf now, so he's gotta find stuff for Cortland [Sutton] and Tim [Patrick] and [Jerry] Jeudy and Javonte [Williams] and all these guys. That's a process."
Simply, having all the right guys in one room doesn't automatically mean the offense is going to automatically be amazing.
Hackett is a young, offensive mastermind the likes the Broncos have not seen since Mike Shanahan, nearly 30 years ago. But, there's a learning process that must unfold before the Broncos can blow out half the teams they face every year.
"People have to mold together," Hackett continued. "The idea is to get that mold to happen as fast as you possibly can. We did a great job finding ways to win games that first year [in Green Bay]. And then that second year is where I felt like it was the best offense I've ever been a part of."
To wit, the 2019 Packers scored 23.5 points per game, which was 15th in the league. In 2020, that number ballooned to 31.8 PPG, No. 1 in the NFL.
And while Hackett realizes this first year may not bring the production and results he'd like, the new head coach is absolutely ecstatic about his new quarterback, Russell Wilson.
"You look at a guy who throws an absolutely amazing deep ball, so anytime a defense knows you have a chance to throw the ball deep—anytime—that's exciting," he said. "That was the fun thing about being with Aaron, too, when they know you can make plays in the vertical passing game, that's exciting. And you've seen him play, he throws one of the best deep balls in the game."
Not only does he possess one of the best, most accurate deep balls in the NFL — which is a game-changer — but Wilson also shows off that arm strength on third downs.
In fact, he's one of the most aggressive passers on third downs, and his average depth of target (aDOT) on third downs was the deepest in the league last year per Pro Football Focus.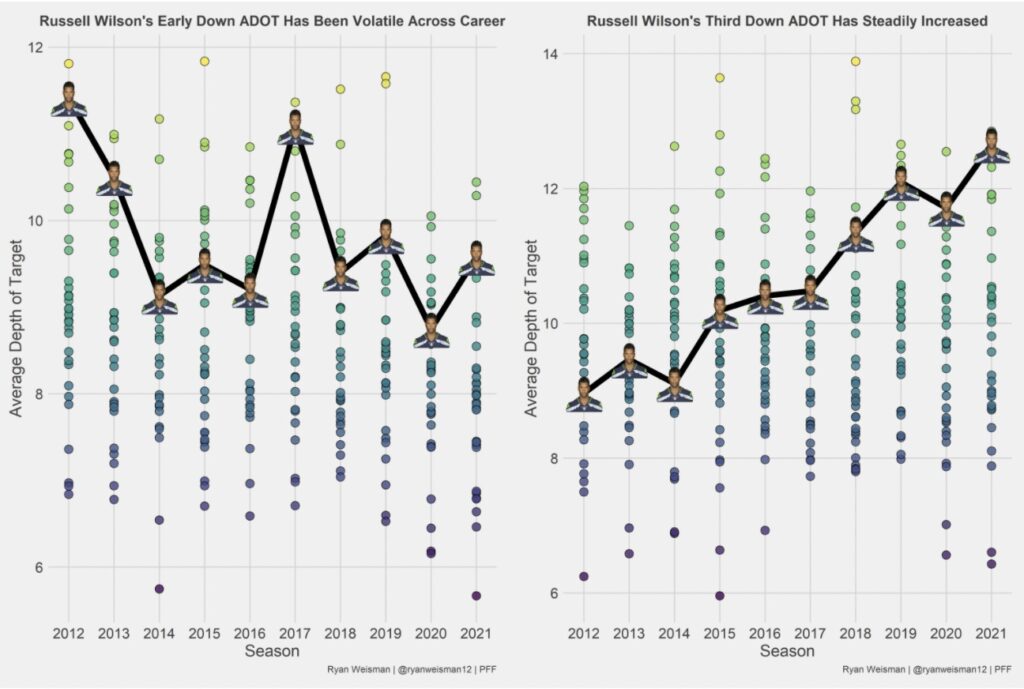 Broncos fans got tired of their quarterbacks throwing it short of the sticks on third downs. Whether it was Teddy Bridgewater, Drew Lock or Trevor Siemian. Denver won't have to endure that madness starting in 2022.
But it's not just his arm strength that Hackett loves.
"The next thing is watching his escapability, it's not always going to be perfect, so having a guy that can create, that makes coaches look good," the head coach said of his new superstar QB.
Simply, protections are going to break down. Receivers may slip and fall down. There are a ton of things that can go wrong on a single play. But Wilson gives his team a chance to win that play, just like he always gives his team a chance to win a game.
"And then finally, he just f—— loves the game," Hackett raved about Wilson. "You want to be around a guy that is as hungry as you are as a coach, because coaches don't get to play. When players aren't as into it as we are, it's hard. So when you get a quarterback that's as into it as we are as coaches, I mean, that's a dream come true."