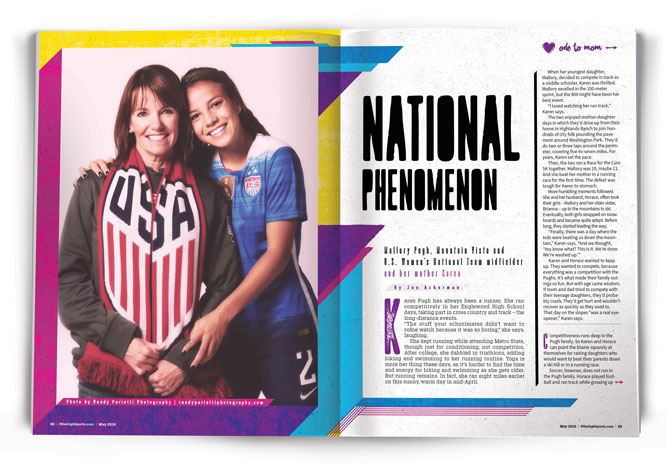 This story originally appeared in Mile High Sports Magazine. Read the full digital edition.
Karen Pugh has always been a runner. She ran competitively in her Englewood High School days, taking part in cross country and track – the long-distance events.
"The stuff your schoolmates didn't want to come watch because it was so boring," she says, laughing.
She kept running while attending Metro State, though just for conditioning, not competition. After college, she dabbled in triathlons, adding biking and swimming to her running routine. Yoga is more her thing these days, as it's harder to find the time and energy for biking and swimming as she gets older. But running remains. In fact, she ran eight miles earlier on this sunny, warm day in mid-April.
When her youngest daughter, Mallory, decided to compete in track as a middle schooler, Karen was thrilled. Mallory excelled in the 100-meter sprint, but the 800 might have been her best event.
"I loved watching her run track," Karen says.
The two enjoyed mother-daughter days in which they'd drive up from their home in Highlands Ranch to join hundreds of city folk pounding the pavement around Washington Park. They'd do two or three laps around the perimeter, covering five to seven miles. For years, Karen set the pace.
Then the two ran a Race for the Cure 5K together. Mallory was 10, maybe 11. And she beat her mother in a running race for the first time. The defeat was tough for Karen to stomach.
More humbling moments followed. She and her husband, Horace, often took their girls – Mallory and her older sister, Brianna – up to the mountains to ski. Eventually, both girls strapped on snowboards and became quite adept. Before long, they started leading the way.
"Finally, there was a day where the kids were beating us down the mountain," Karen says. "And we thought, 'You know what? This is it. We're done. We're washed up.'"
Karen and Horace wanted to keep up. They wanted to compete, because everything was a competition with the Pughs. It's what made their family outings so fun. But with age came wisdom. If mom and dad tried to compete with their teenage daughters, they'd probably crash. They'd get hurt and wouldn't recover as quickly as they used to. That day on the slopes "was a real eye-opener," Karen says.
***
Competitiveness runs deep in the Pugh family. So Karen and Horace can point the blame squarely at themselves for raising daughters who would want to beat their parents down a ski hill or in a running race.
Soccer, however, does not run in the Pugh family. Horace played football and ran track while growing up in Pueblo, then competed in track at Western State. Karen was a runner. They were "all track, track, track" according to Karen.
So how did Brianna become a soccer star with Mountain Vista High School, her Real Colorado club, the Colorado Olympic Development Program and finally at the University of Oregon? Moreover, how did Mallory ascend even higher, claiming a Gatorade National Girls Soccer Player of the Year award and earning a spot on the U.S. Women's Senior National Team before her 18th birthday?
"They were little and you just tried everything, and [soccer] is what stuck," Karen says. "Like throwing spaghetti against the wall, it stuck."
So Karen and Horace learned the game with their daughters. Bri and Mal, as they're known among friends and family, both began soccer around the age of 5. Bri is nearly six years older, so Mal was dragged to her big sister's games before she could play herself. Yet, she'd also watch the game on her own. When she was 3 or 4, she'd often retire to her bedroom and turn on her pink Hello Kitty TV. On the screen appeared soccer games broadcast by Telemundo, the announcers speaking nothing but Spanish. Mal didn't understand a word they said, but she watched for hours.
Around the time she was 9 or 10 – after she had already begun to excel at the game herself, but still had to sit through Bri's games – Mal and a friend decided to become cheerleaders for their older sisters' team. They needed something to do, so they performed at halftime. Parents loved the cute routines; the older girls paid little attention. One of Bri's teammates on that Real Colorado squad was Jaelene Hinkle.
Hinkle starred at Valor Christian High School, went on to play collegiately at Texas Tech, and now plays professionally in the National Women's Soccer League. Last October, she was called up to the senior national team, and made her debut Oct. 21 against Brazil in Seattle. Three months later, on Jan. 23, Mal made her senior national team debut against Ireland in San Diego. She came on for superstar Alex Morgan in the 58th minute, and 25 minutes later scored on a header off a cross from Christen Press. Mal's momentum carried her right into the arms of Press. The very next teammate to hug a grinning Mal, sprinting over with excitement, was Hinkle.
Mal's cheerleading days were short-lived, obviously, because she had plenty of her own games. Prior to attending Mountain Vista, she added basketball in with track and soccer. Three sports proved to be too much, though. Early in her freshman year, while playing club soccer for Real Colorado, Mal broke her femur. The bone might have already had a hairline fracture from a hit taken in a previous game, but Karen and Horace just told her to apply ice and take Advil. An awkward tackle on Mal a month later broke the bone definitively.
"That was really devastating," Mal says, "but [my mom] told me that everything always happens for a reason."
The injury, possibly a result of overuse, led Mal to a decision that would define the rest of her life. She chose to focus on just one sport – soccer.
After Bri helped Mountain Vista to the 5A state championship in 2011, Mal led the Golden Eagles to another title as a freshman in 2013. She was named to the All-Colorado team that year, the first of too many awards and honors to list over the next few years. Mal suited up for as many Mountain Vista games as she could as a sophomore and junior (24 goals and 12 assists in 18 high school games in 2015), but her country also needed her. A key player on the U.S. Under-17 National Team in 2013 and '14, Mal scored the most goals (seven) and was named the best player at the 2015 CONCACAF (Confederation of North, Central American and Caribbean Association Football) U-20 Women's Championship. Winning that tournament qualified the Americans for the 2016 U-20 FIFA World Cup in November. Mal will captain that squad.
That is, unless the senior team needs her. After debuting in San Diego, Mal has appeared in each of the senior national team's 10 games since. She was among the 20 players selected for the CONCACAF Olympic qualifying tournament, becoming the youngest player ever named to a U.S. qualifying roster. She netted her second senior goal April 6 in a 7-0 friendly win over Colombia. The solid play has Mal firmly in the mix for the 18-member 2016 Olympic squad. Should she make that roster, she'd become the second-youngest U.S. Olympic soccer player since 1904.
Mal may only be 18 – her birthday was April 29 – but she's wise enough to know nothing is a given. She started at forward the last two senior games she played, and forward is a position of need considering Abby Wambach (retired), Sydney Leroux (pregnant) and Amy Rodriguez (pregnant) from the 2015 World Cup squad won't be available for the Olympics. But Mal isn't advising her family to make plans for Rio in August quite yet.
"Just the way everything works, you are not guaranteed a spot unless you see your name on that roster," she says.
In the meantime, Mal's next national team duty could come in June, when the U.S. takes on Japan twice in four days. The U.S. fell to Japan on penalty kicks in the 2011 World Cup final, but gained revenge with title-match victories in the 2012 Olympics and 2015 World Cup. Considering the quality opponent and huge popularity of the USWNT right now, those games will be big draws. The first one, June 2, will be in Denver at Dick's Sporting Goods Park. Needless to say, playing in that game would be a dream come true for Mal.
Should she find her name on that roster, her parents can realistically expect to see her play. They didn't when they hastily traveled to San Diego in January. Mal wasn't sure she'd get playing time, but Karen and Horace wanted to be in the stands for their daughter's national team debut.
"We had the attitude, 'Well, it would be cool just to see her warming up with Carli Lloyd and Alex Morgan,'" Karen says. "So that was like, 'That's so cool. Look at her warming up with them!' And that was good enough for us. Then she didn't go in, and we're like, 'Okay, that's fine.' We were not expecting it, actually.
"Then she went in, and lo and behold, she got that header goal off of a cross from Christen Press and everybody went crazy. I think [her teammates and the U.S. fans] were all rooting for her because she's the young one. She's a fresh face."
Playing with the best women's soccer players in the world is only now starting to sink in.
"I think just over the time I've been in with the team, it's just getting used to the players and being like, 'Wow, this is actually happening right now,'" Mal says. "Just building relationships with the players I've always looked up to is something really cool."
***
Mal had just turned 14 when Karen and Horace first started to realize how elite their daughter really was. She received an invite to play with Real Colorado's U-15 team at the prestigious Manchester United Premier Cup U.S. Finals in Beaverton, Ore. It's a tournament attended by numerous college and U.S. national team coaches to assess the talent.
Karen wasn't there, but Horace kept her updated. "You would not believe what just happened," he told her after one match. Mal almost single-handedly won a game for her team, sending her name buzzing around the complex. USWNT head coach Jill Ellis took notice.
But Mal never looked at it like she won the game for her whole team. She never has. She's always quick to credit her teammates when receiving praise, and she'd much rather compete with her friends than revel in personal success.
That was made clear to Karen after Mal was named the 2014-15 Gatorade National Girls Soccer Player of the Year. The honor automatically made her a finalist for the award among all female prep athletes and included an invite to the ESPYs, where the overall winner would be announced. Karen and Horace were thrilled for their daughter, but also excited to attend the ceremonies themselves.
Mal's Real Colorado squad, however, had just qualified for nationals and the tourney would be the same weekend as the awards. She wanted to play, not accept some honor, no matter how respected it was. So she traveled to Virginia with her team. Karen and Horace grew upset because they had committed to attend the awards and the family's accommodations were being paid for. So they flew out to Los Angeles, represented their daughter at the Gatorade ceremony and planned to attend the ESPYs as well. But at the last minute, a change of heart sent them across the country to see Mal at nationals.
"I thought it was really cool that she just really wanted to be with her club team. At the time I wasn't thrilled with it, but now I look back and I think that's what's important," Karen says, adding, "It is all about everybody else. It's not about her."
That humility makes Mom proud. Mal is being called "the future of U.S. women's soccer." She won't play a single game for Mountain Vista this season because the national program wants her healthy for its games. She had an opportunity to become the first American woman to skip college and join the NWSL, but the nation's No. 1 recruit chose to play at UCLA instead. All the success could go to her head, but it hasn't.
"She comes back from camps and she does not talk about it," Karen says. "We have maybe a five-minute discussion: 'Hey, I did good at this,' and that's it. Doesn't talk about it. Her friends – of course, she's got soccer player friends and then her other group of friends, they don't play at all – they just can't wait for Mal to get home and just do stuff that teenage girls do.
"So I think [I'm most proud] that she's so humble. She's too humble, I think, actually. I kind of tell her, 'You know, it's okay to think, I'm proud of that.' But she doesn't talk about it."
Karen has no clear answer for how her youngest daughter developed into such a soccer talent. It certainly wasn't any training she provided. "Sometimes we'd try and play in the backyard when I was younger," Mal says with a laugh, "but I have to say she wasn't very good."
Mom guesses it had to do with Mal's innate competiveness, such as when she tried to hang and compete with Bri. And all that soccer Mal watched, live and on Spanish TV. And because she constantly kept a ball at her feet around the house, juggling or kicking and marking up the walls.
Karen is going to miss those balls lying around the house, even the ones on the stairs she's tripped over in the middle of the night.
"I'm kind of sad, because at this point she's getting ready to graduate and move on. I broke down a couple months ago and she's like, 'What's wrong?' I'm like, 'I'm sad you're leaving.' Even though she's gone so much [already] for national camp, still, we know she's going to be back in a couple weeks," Karen says.
She'll be away for much longer this summer and fall, and in the years to come. Mal will venture to places most athletes only dream of. But as she's traveling – always with her purple monkey blanket, because it makes her feel closer to home – Mal will know why she was able to reach such an incredible level of success.
"Her constant support for everything she's given me is super awesome," Mal says. "I'm very blessed to have her as a mother because – I get kind of emotional about it – she's just been great. Words can't even describe how much I [want to] thank her and love her for everything she's done."
Mallory Pugh is the future of U.S. women's soccer because a mother let her daughter be her own person. She didn't force her love for a sport on her child; she simply supported the decisions her daughter made. More often than not, those choices panned out.
Especially the one to play this game of soccer her mother knew nothing about.