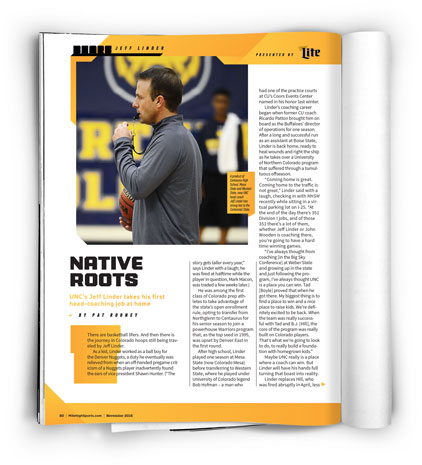 This story originally appeared in Mile High Sports Magazine. Read the full digital edition.
There are basketball lifers. And then there is the journey in Colorado hoops still being traveled by Jeff Linder.
As a kid, Linder worked as a ball boy for the Denver Nuggets, a duty he eventually was relieved from when an off-handed pregame criticism of a Nuggets player inadvertently found the ears of vice president Shawn Hunter. ("The story gets taller every year," says Linder with a laugh; he was fired at halftime while the player in question, Mark Macon, was traded a few weeks later.)
He was among the first class of Colorado prep athletes to take advantage of the state's open enrollment rule, opting to transfer from Northglenn to Centaurus for his senior season to join a powerhouse Warriors program that, as the top seed in 1995, was upset by Denver East in the first round.
After high school, Linder played one season at Mesa State (now Colorado Mesa) before transferring to Western State, where he played under University of Colorado legend Bob Hofman – a man who had one of the practice courts at CU's Coors Events Center named in his honor last winter.
Linder's coaching career began when former CU coach Ricardo Patton brought him on board as the Buffaloes' director of operations for one season. After a long and successful run as an assistant at Boise State, Linder is back home, ready to heal wounds and right the ship as he takes over a University of Northern Colorado program that suffered through a tumultuous offseason.
"Coming home is great. Coming home to the traffic is not great," Linder said with a laugh, checking in with MHSM recently while sitting in a parking lot on I-25. "At the end of the day there's 351 Division I jobs, and of those 351 there's a lot of them, whether Jeff Linder or John Wooden is coaching there, you're going to have a hard time winning games.
"I've always thought from coaching in the [Big Sky Conference] at Weber State and growing up in the state and just following the program, I've always thought UNC is a place you can win. Tad [Boyle] proved that when he got there. My biggest thing is to find a place to win and a nice place to raise kids. We're definitely excited to be back. When the team was really successful with Tad and B.J. [Hill], the core of the program was really built on Colorado players. That's what we're going to look to do, to really build a foundation with homegrown kids."
Maybe UNC really is a place where a coach can win. But Linder will have his hands full turning that boast into reality.
Linder replaces Hill, who was fired abruptly in April, less than one year removed from a contract extension signed in June 2015 that was expected to keep him in Greeley through the 2019-20 season. Instead Hill, and soon after the remainder of his coaching staff, was let go due to "serious and concerning" allegations of NCAA infractions, as termed by school president Kay Norton in a press release at the time of Hill's firing.
At press time, UNC had offered no further public comment on the allegations, and an ongoing NCAA investigation is expected to take several more months. However, in early October UNC announced a number of self-imposed sanctions, including a postseason ban for 2016-17, the loss of three scholarships for the next two seasons, and a series of recruiting restrictions.
While these are issues Linder and his staff will have to overcome, they nonetheless change little in his quest to establish a new foundation in Greeley. Hill's tenure bottomed out last year anyway with a 10-21 mark, and the Bears were never truly able to build on the program's first NCAA Tournament appearance in Hill's first season in 2010-11 – a run made with a roster largely put together by Boyle before he moved on to CU.
Linder arrives after six seasons as an assistant at Boise State where he was a key component in a run that included two NCAA Tournament appearances and the program's first Mountain West title during his tenure. At UNC he hopes to instill the sort of high-paced offense that led to the second-best scoring average in 40 seasons at Boise State three years ago. In three of his six seasons with the Broncos, the club led its league in scoring.
If there is a silver lining to the situation Linder inherits it's that he has some pieces to work with, despite the cloud hanging over the UNC program. The Bears welcome back senior Anthony Johnson, the team's leading scorer and rebounder a year ago. And the turn of events last spring didn't deter two prized recruits, junior college addition Gerad Davis and freshman Mike Ranson, from following through on their plans to join the program. Ranson in particular could be a key piece moving forward in Linder's quest to mine talent from his home state, as he averaged a state-best (all classes) 33 points per game last year at Pueblo Central.
"Regardless of good or bad, we're going to stick together," Linder said. "You're going to see a team that's going to share the ball, that's going to make the extra pass. It's going to be a fun style of offense. At Boise State it evolved to what would allow us to be the program that Boise State is now.
"In terms of offense, you'll see a team that really knows how to space the floor, that's really going to value shooting.
"We're going to be a fun team to watch."
Just make sure to leave early enough to do so. After all, the traffic now isn't what it what it used to be when Jeff Linder was just a Colorado kid.