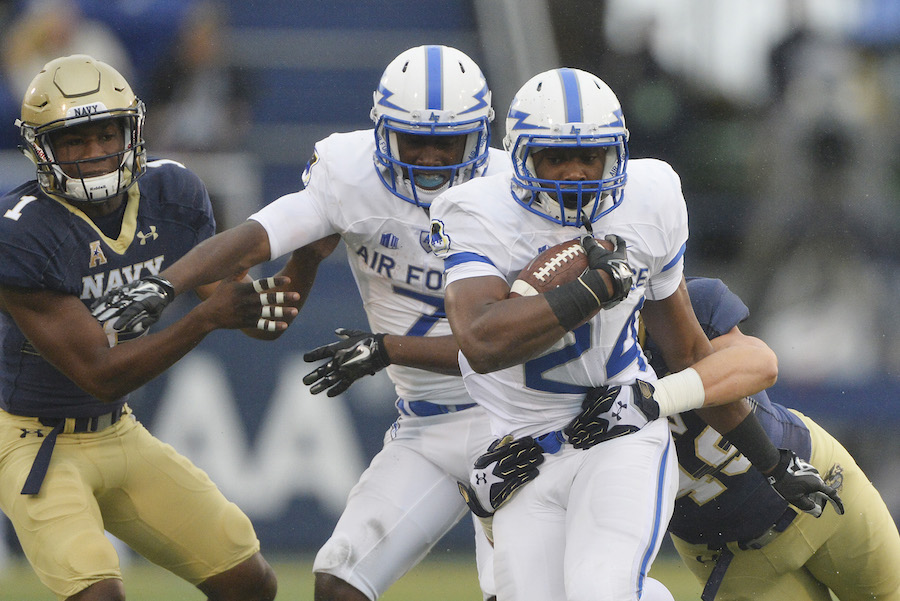 It's one of our country's better collective traits, the way we are now honoring our service men and women in numerous ways. Our Armed Forces are a sense of pride in America, and everyone is better off because of that. But when it comes to sports – specifically collegiate sports played by the service academy schools – we tend to brush the three, Army, Navy and Air Force, off to the side in favor of the glamour schools in the glamour conferences.
This college football season is a bit different. Navy is ranked No. 15 in the country, having lost just once so far, to No. 6 Notre Dame. They're a good bet to play on New Year's Day for the first time since the 1963 Cotton Bowl. Midshipmen coach Ken Niumatalolo should get plenty of consideration for National Coach of the Year honors.
Closer to home, the Air Force Falcons (8-3, 6-1 in MW) have accomplished something just as great in their own way. In stunning fashion, the Falcons – projected to finish fourth in the six-team Mountain West conference Mountain Division – have already clinched said division, and will play San Diego State in the Mountain West Championship game on Dec. 5. It will be the first appearance in the title game in Academy history. And make no mistake, it's not a fluke. The Falcon's three losses this year are at No. 5 Michigan State, at No. 15 Navy and at Colorado State. They're right where they belong.
After losing big in Fort Collins, the Falcons went on a tear, winning five straight, culminating with a big win on the blue turf at Boise State where they rolled up more than 600 yards of total offense. It was their second straight win over the program most consider the measuring stick by which all non-Power Five schools are judged. Saturday against New Mexico, Air Force will be gunning for their second consecutive unbeaten home season.
It's no secret that Air Force teams are normally very tough to beat when they're senior heavy, like they were a season ago when they won 10 games. Experience in the option offense and AFA defensive schemes are critical because precision is required to compensate for an across the board disadvantage in size and pure strength. Depth is always an issue because Air Force cannot load up on highly rated recruits stacked upon earlier classes of other highly rated recruits. Academy teams are not built on great recruiting classes. Young prospects don't sign on with Air Force to use the Academy as a stair step to the NFL. These are young men with a different perspective and a different set of values. They show up in Colorado Springs ready for a monumental challenge on and off the field, ready to develop into great college football players who will one day be ready to take on all comers – especially the bigger ones. Player development. A nice old fashioned concept.
Give Falcons head coach Troy Calhoun a ton of credit. He's missed taking his team to a bowl game just one time in nine seasons at the helm. That was an injury-riddled 2013 campaign when Air Force won just two games. Calhoun and his team bounced back to post his first 10-win season as a head coach in 2014. He's never really gotten his due, but should be a slam dunk for Mountain West Coach of the Year this season. If not, then the voters should all be drug tested. And with more than a dozen high profile head coach openings across the country, his phone is sure to be ringing the moment the Falcons regular season is over.
Most importantly, football fans should applaud that these are true student-athletes, taking more than 20 credit hours of classes each term with little or no "down" time. It's a grind and it normally wears players out before the end of the season.
Not this year. This year there's a championship game to be play in.
If Air Force defeats San Diego State in that Mountain West Championship game, and Navy is able to win the American Athletic Conference in their first year of membership (the Middies are also two wins away) then two of the three service academy schools will have won conference titles in the same season. Since this is the first year Navy's ever been in a conference, it has to be the first time that's ever happened.
What a great way to cap off a month of "Salute to Service."