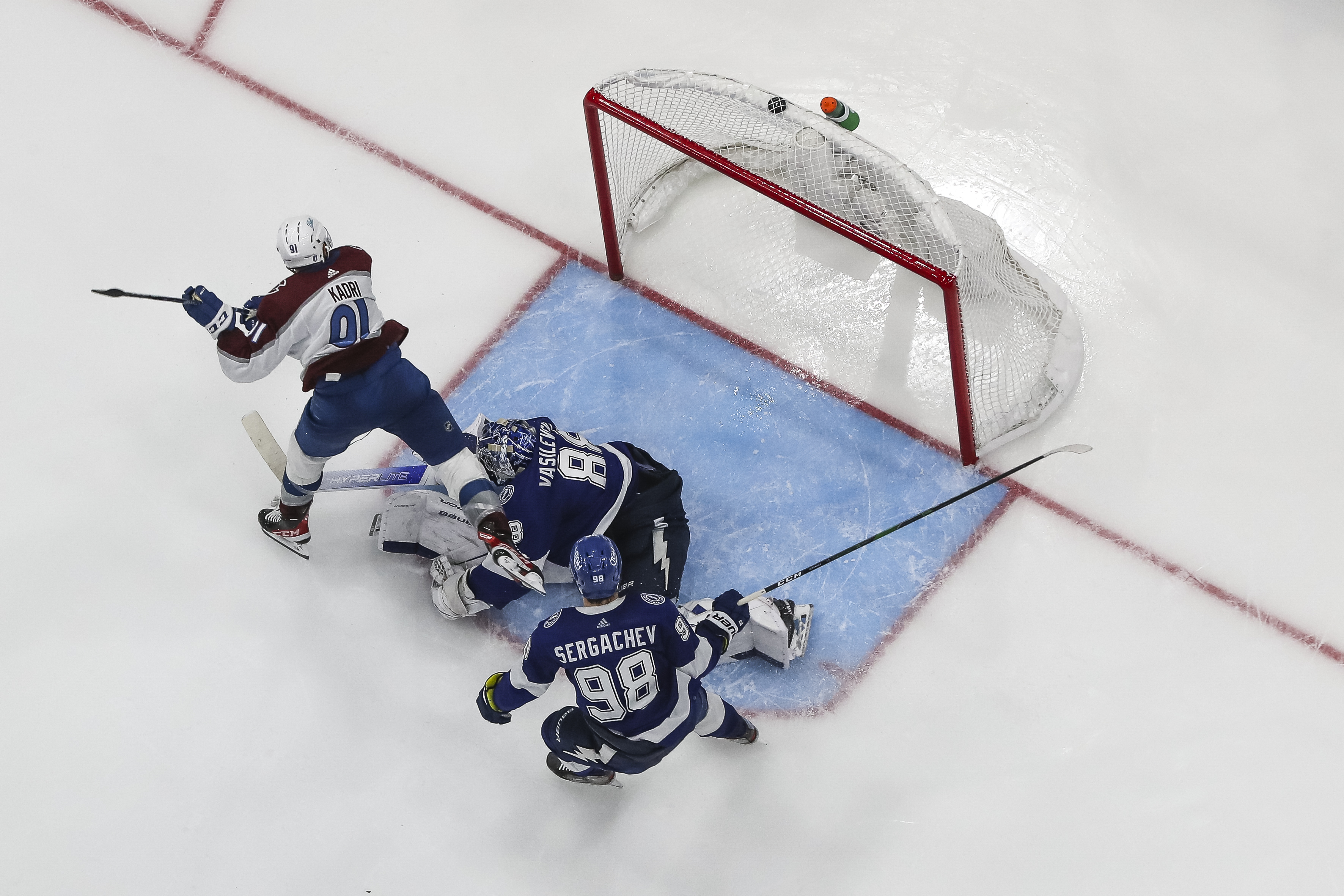 Nazem Kadri thought his season was over two weeks ago. But an indescribable urge to put one last stamp on a memorable playoff run willed him back into the lineup.
"Sitting here right now, it's kind of surreal," he said.
Kadri made his Stanley Cup Final debut in Game 4 with little to no ability to shoot the puck and scored the game-winning goal to pull the Avalanche within a game of winning it all, giving them a 3-1 series lead.
His second shot put an end to an exciting 3-2 overtime victory over the Tampa Bay Lightning on Wednesday. Kadri's resilience was poetic in many ways. But it was also his ability to be a difference-maker that turned heads among his teammates.
"You know he wasn't gonna go down easy," said captain Gabriel Landeskog, who played on a line with Kadri and Artturi Lehkonen. "It's an inspiration to everybody else to see a teammate like that try to come back and fight every day to try to get better and finally he's back in the lineup tonight. You can't make that stuff up. Big in overtime and it's great to see."
Listen to "Nazem Kadri Makes His Mark" on Spreaker.

Goaltender Darcy Kuemper started the play by shoveling the puck to Lehkonen. He made the pass to Kadri who broke in and beat Andrei Vasilevskiy high blocker side.
The goaltender was in the midst of his best performance of the series — stopping the Avs on a number of occasions in overtime. His biggest save came on a Logan O'Connor breakaway.
Tampa had a 17-4 shot advantage through 20 minutes but were outplayed the rest of the way.
"Yeah they came out fast and they came out flying," Landeskog said. "We tried to weather the storm a little bit."
Perhaps the more intriguing part of the game-winner was what unfolded afterward. Lightning head coach Jon Cooper walked out of his press conference after hinting that something wasn't right on the game-deciding tally.
"You're gonna see what I mean when you see the winning goal," he said. "My heart breaks for the players because we probably still should be playing."
WATCH: Jon Cooper just walked out on his press conference right before finishing his thought. pic.twitter.com/uk5jkSZdNO

— Aarif Deen (@runwriteAarif) June 23, 2022
Cooper was referring to what seemed like a too many men on the ice penalty on the Avalanche just before the goal. Kadri jumped onto the ice for Nathan MacKinnon, who seemed to be a considerable distance from the bench as the sixth man when Kadri first touched the puck.
"A too many men on the ice penalty is a judgement call that can be made by any of the four on-ice officials," the NHL said in a postgame statement. "Following the game, hockey operations met with the four officials as is their normal protocol. In discussing the winning goal, each of the four officials advised that they did not see a too many men on the ice situation on the play.
"This call is not subject to video review either by hockey ops or the on-ice officials."
The Lightning led 1-0 in their dominant first-period performance. The Avs once again used their strong power play to tie the game at 1-1 in the second period thanks to a tally from MacKinnon.
His first of the series was the sixth goal on 13 man-advantage opportunities that Colorado has had in the series.
"It's obviously nice to score," he said. "It's not about who, just as long as our team scores. It was a big goal at the time and it felt good to get one."
The Avs trailed 2-1 after the second period but came out strong in the third once again, and were rewarded with a fortuitous bounce from Andrew Cogliano to tie it up and force overtime.
Cogliano's tally was assisted by fellow fourth-liners Nico Sturm and Darren Helm.
The Avs' ability to bounce back after a tough Game 3, and after a brutal start to Wednesday's game was the exact type of resilience they've shown all year.
And now they have a chance to win it all at home on Friday night.
"It's not gonna be easy by any stretch of the imagination," Landeskog said. "They're gonna bring their best and we're gonna do the same thing."
__
Aarif Deen is our Colorado Avalanche beat reporter. He covers Avs games live from Ball Arena and attends practices, media availabilities and other events pertaining to the Avs on the daily beat. He is also a co-host of Hockey Mountain High: Your go-to Avalanche Podcast. Deen joined Mile High Sports upon completion of his bachelor's degree in journalism and master's in business administration from the University of Michigan – Dearborn. Before Mile High Sports, Deen worked for the Michigan Wolverines Athletics Department as the assistant sports information director.
Listen to "Nazem Kadri Makes His Mark" on Spreaker.