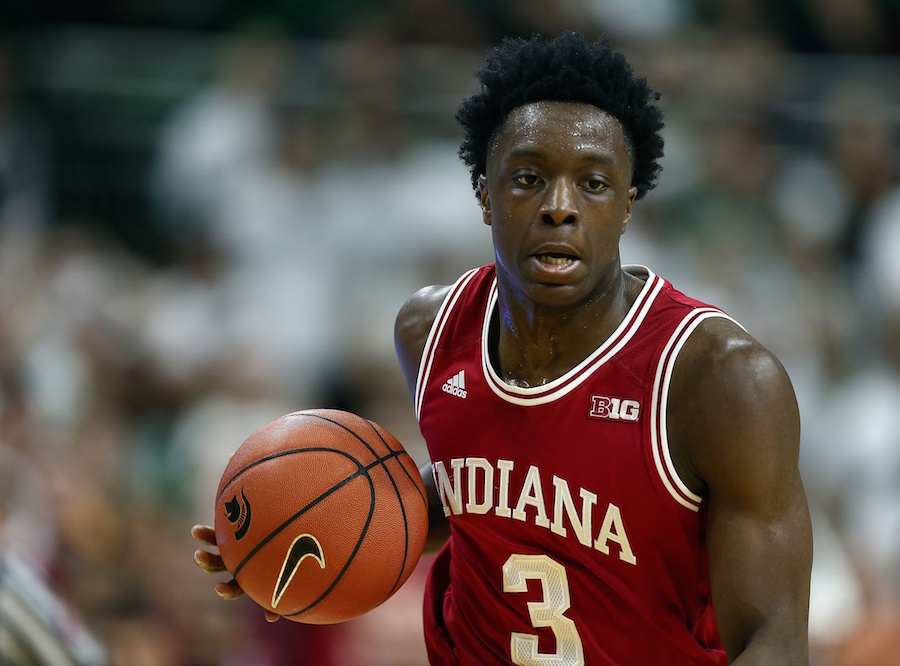 OG Anunoby's fit in a Michael Malone system could be a match made in heaven. The 6-foot-8 stretch forward has the upside of a top-10 pick. However, his mid-season ACL injury and relatively small sample size are causing concern from scouts around the league. Anunoby made a name for himself in the 2016 NCAA Tournament and showed the same potential in the first 16 games of the 2016-17 season before suffering the injury.
In that short time, Anunoby established himself as a defensive difference-maker with room for offensive growth. Malone's emphasis on versatile, defensive players makes Anunoby particularly enticing in Denver. In his shortened sophomore season at Indiana, Anunoby's shined on defense. He averaged 1.3 steals and blocks per game while playing 25 minutes per game. What's more, Anunoby's outspoken confidence on his defensive skillset and versatility further his potential to land in Denver.
"I think I can become the best defender in the league," Anunoby old the Indy Star at the NBA Combine. "Strong enough, quick enough to guard anyone. I think I can guard five positions."
Due to the injury, Anunoby's combine was less focused on his athletic measures. But ambitious answers like these certainly give reason to believe that Anunoby has all the tools, athletically and mentally, to make a difference in the NBA.
Where Anunoby will need to improve to further his NBA potential is his jump-shot. Last season, he shot just over 30 percent from three-point range. From the free-throw line, Anunoby was below average at 56 percent. Though he showed spurts of success from both areas, his success as a scorer ultimately depends on his ability to improve both of those areas.
Anunoby's efficiency on other field goals is a definite bright spot in his offensive ability. He shot 70 percent on two-point attempts, using his quickness to beat less agile defenders and finish strong at the rim.
The Nuggets' depth throughout the roster limits the risk taken by drafting a player who might not see the floor in his first season. Rather than rush Anunoby back out of necessity, the Nuggets can allow him to fully recover, regardless of how long that might take.
Though Anunoby may not have the offensive polish to make an immediate scoring impact in the NBA, his defensive prowess more than makes up for it. For a team that ranked in the bottom four of team defense, Anunoby can have an immediate impact when he returns to health. Given his high motor and versatile skillset, he is a dream come true type of player for Malone.
Anunoby fills one of the Nuggets' biggest needs and has the potential to blossom into much more if his shooting numbers catch up to his defensive ability. With the 13th pick, he is a risk well worth taking.