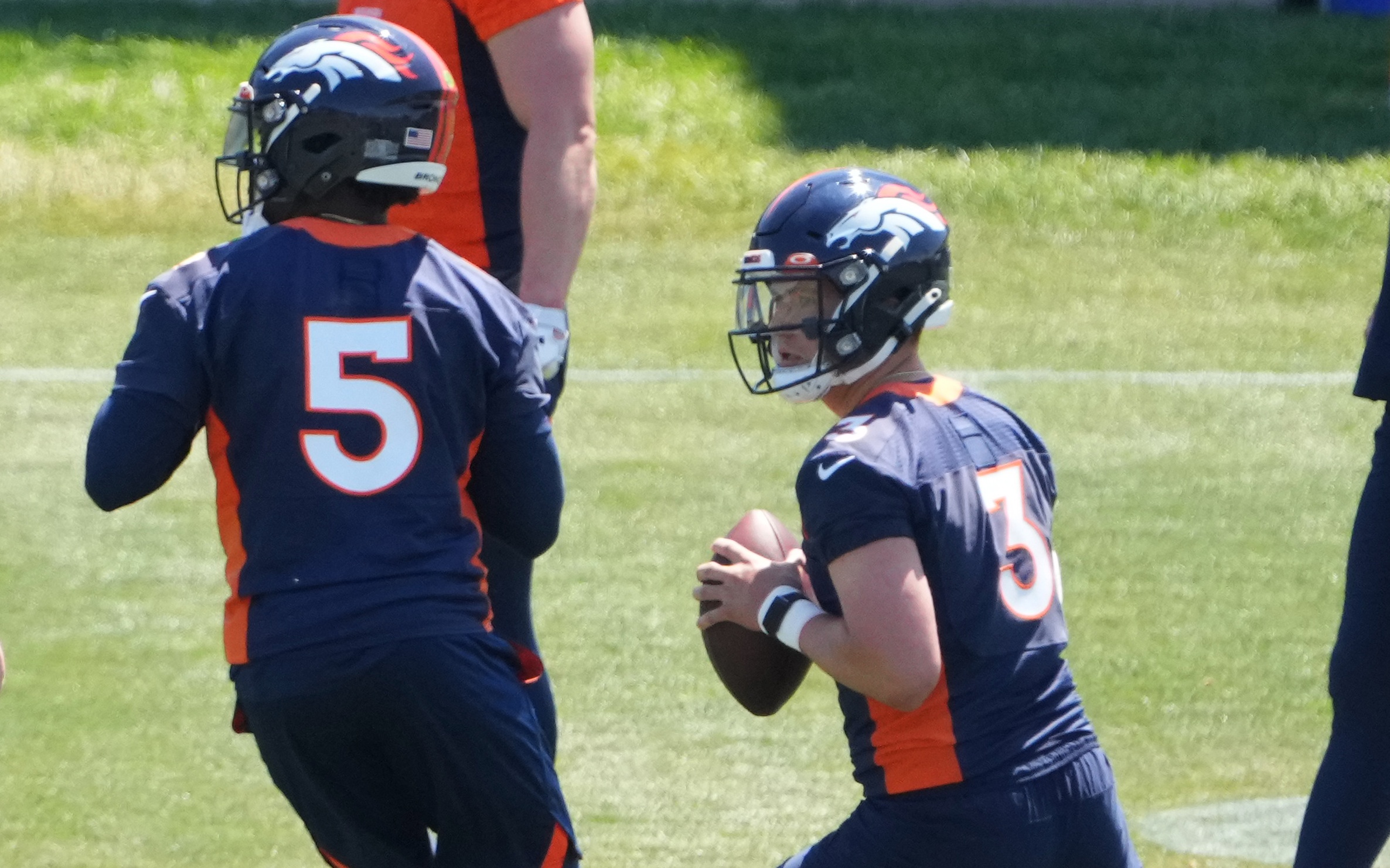 Two days before the Denver Broncos' first preseason game and they've yet to have a quarterback win the competition.
This, of course, is all going to plan. Vic Fangio said he expected the Broncos QB battle to go through training camp and into preseason.
But, that's not good news if you're a fan invested in this particular team.
Two years into the Fangio Era and the Broncos have mostly continued a trend of disappointing seasons, although, they have at least not been the utter embarrassment they were under Vance Joseph. This team, though, is built with enough talent on both sides of the ball to compete for the playoffs.
With competent quarterback play — something not seen in Denver since 2015 — these Broncos would be a lock to make the playoffs and likely do some damage there, too.
Instead, they have Lock, Drew Lock, and Teddy Bridgewater going toe-to-toe in the August heat.
"Some days it's Drew and some days it's Teddy," new General Manager George Paton said after Thursday's joint practice in Minnesota. And that just about sums it up.
Today's 13th practice of the training camp and second straight joint practice with the Vikings, Lock "won the day" per most media members, although some like George Stoia gave it to Teddy. And even Andrew Mason quipped third-stringer Brett Rypien won the day, "if we're being honest."
There's no doubt the media members are a bit tired of how long this has dragged on, and likely so are the Broncos teammates, some of them on the defensive side of the ball, getting asked about who they want to see starting at quarterback.
Overall, Bridgewater has "won" more practices, and today his highlight pass on a post to KJ Hamler was the best throw by a Broncos quarterback. But, he also threw two picks and Lock — who led the NFL in interceptions last year with 15 — had zero turnovers.
Ideally, the Broncos would already have their starting quarterback — the most important position in all American sports — by the time the first preseason game kicked off. This isn't an ideal world, nor situation for Denver, though.
So the truth is, Fangio's defense will likely be considered one of the top five units in the NFL this year, but he may end up losing his job if he can't get enough out of these two quarterbacks. Or, if he picks the wrong one as starter.
The fact that neither the journeyman and veteran Bridgewater nor the young, electric gun-slinger Lock has taken a commanding lead of this competition to this point is somewhat troubling. And in a way, points to the difficulty of giving up on a player the team drafted, even if that GM is no longer calling the shots.
So, this Saturday when the Broncos and Vikings suit up for a "real" game, Lock will be the starter.
What does that mean? Most of the time, starting quarterbacks either play one-to-two drives in the first preseason game, or not at all. If that's the case, Bridgewater will get one-to-two quarters as the backup. It seems more likely the two will see the same amount of time.
Vic Fangio has called the competition "even-steven" during training camp and on Thursday explained, "Like I said the other day a quarter-and-a-half might get you nine plays, or it might get you 29 plays. So, it's going to be more how the game's going than the exact time or quarter."
Certainly, the next two preseason games are going to determine a lot in terms of the competition, and a demonstrative effort by one and a complete struggle-fest by the other may leave us with a starter after the first game.
Ideally, one of the two goes off in this first preseason game and thoroughly takes the lead.
In Lock, there's always the hope for a big play, although many times that means a big play for the other team. Simply, this Broncos team is built defense-first, and Fangio's D can't go out there and come up with huge stops in the red one only to have Lock throw picks, like he has the last two years.
Lock has the ability to throw daggers that dismantle opposing defenses, but he's more prone to forcing it into double-coverage and turning it over.
Bridgewater doesn't have as big an arm as Lock, but he's more accurate per stats, eyeballs and Noah Fant's ball placement quote back in May.
"I've gotten the chance to throw with Teddy these last couple days of OTAs," Fant said of Bridgewater. "You can definitely tell that he's a vet. Ball placement and things like that are very important to him."
What can't be missed is that Bridgewater's 69.1 percent accuracy last year was fifth-best in the NFL (Lock was dead-last at 57.3), although Teddy turned the ball over 11 times through the air, too. That's just going to be too many for Denver to make the playoffs and for Fangio to save his job.
It's sad irony that a stellar defensive mind like Fangio could have his fate decided by an offensive player, the quarterback.
Maybe even more than Broncos fans in Broncos Country, Fangio could be hoping for a standout performance by one of his quarterbacks — any quarterback! — this Saturday. That game will be broadcast on KUSA at 2 p.m. MDT.