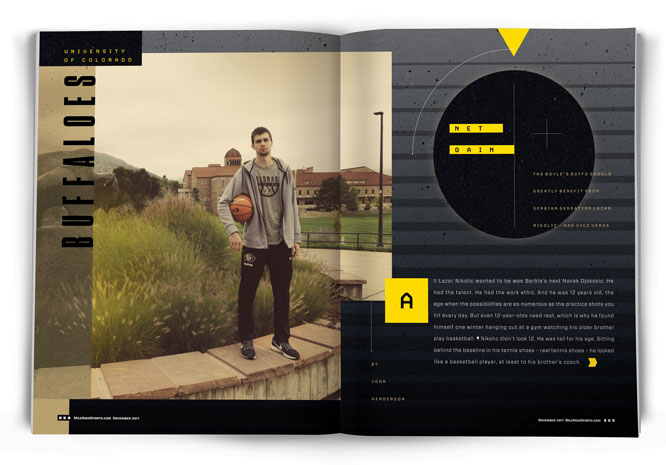 This story originally appeared in Mile High Sports Magazine. Read the full digital edition.
All Lazar Nikolic wanted to be was Serbia's next Novak Djokovic. He had the talent. He had the work ethic. And he was 12 years old, the age when the possibilities are as numerous as the practice shots you hit every day. But even 12-year-olds need rest, which is why he found himself one winter hanging out at a gym watching his older brother play basketball.
Nikolic didn't look 12. He was tall for his age. Sitting behind the baseline in his tennis shoes – real tennis shoes – he looked like a basketball player, at least to his brother's coach.
The coach approached him and asked if he'd like to try a new sport. After one practice, the coach told him, "Oh, you have talent. You should try playing basketball for real."
Thus began the journey of Colorado's 6-foot-7 freshman point guard. It's a voyage that went through Belgrade and Rome with a long – way too long – jump stop at the NCAA clearinghouse. He's now in Boulder, where coach Tad Boyle hopes he adapts to Division I basketball as well as he has the English language and Colorado culture. Boyle has a versatile swingman with the fundamentals of a European system that emphasizes substance over style.
"His skill set is so complete," Boyle says.
Nikolic's cross-cultural adventure began not on the hardwood courts of Serbia, but rather its clay courts. Nikolic (KNICK-oh-lich) was a blossoming tennis player on the verge of the national youth tournament circuit. Milan, his brother two years older, played for KK Flash, a club in Belgrade. Lazar (lah-ZAHR) took his coach's offer and starting practicing with the team.
One problem: He didn't give up tennis, the one sport where he showed the most talent. It just wasn't the one with the most potential. He went from tennis practice to basketball practice and back for six months. He wasn't even a teen yet.
"It was really hard," he says. "I was just starting to get serious with tennis. But something just changed: No, I don't want to play [tennis] anymore. I don't know. I like basketball more. It was more fun. My brother was playing, and I wanted to play against him."
Nikolic is speaking on the balcony of Rome's Azzurra Arena, the quonset hut of a basketball arena used by Stella Azzurra, the Serie B (third division) team that developed him the last four seasons. Basketball is about sixth on Rome's sports radar. Soccer is Nos. 1, 2, 3, 4 and 5. Rome doesn't even have a team in Italy's internationally respected Lega Basket after financial struggles forced Virtus Roma to voluntarily relegate itself to Serie A2 (second division) two years ago. The Stella Azzurra Academy shares a complex north of Olympic Stadium with a rugby club and a swimming pool. Simple, single-story dorms lining the outside of the arena served as Nikolic's home since coming here at 14.
Adjusting to new environments isn't new to Nikolic. He grew up in a middle-class home in Belgrade where his father helped run a firm that built buildings. His parents stressed education and multi-culturalization. His mother had her boys study with an English tutor three times a week along with their obligatory English classes at school. He attended an American school in Rome the last three years. Today, despite living in the U.S. for the first time, he barely has an accent.
Once he gave up tennis, he began blossoming on the basketball court for Flash. He started watching Euroleague and Serbia's national team, which made the EuroBasket final four in 2015 and won silver in last year's Olympics. He studied LeBron James videos on YouTube. Nikolic became captain of Serbia's Under-16 team. He got a basketball jonesovic. The president of Flash then started making contacts with talent agents around Europe.
"One day he said, 'Would you like to play in a tournament for an Italian club?'" Nikolic says. "He personally drove me from Belgrade to Budapest to play a tournament."
He played for Stella Azzurra in the tournament in September 2012. He visited the facilities in Rome in January 2013 and was wowed by the convenience if not the glitz. He moved that August. Taking Italian once a week, he picked up the language as fast as he did the bounce pass.
Things went smoothly in Rome where he was performing well on the youngest team in Serie B and playing for Serbia's national age group team. Then in 2014-15 he developed "jumper's knee." Between the season before and the national team over the summer, he didn't rest.
"My knees started to hurt," he said. "They told me I should rest and not do anything. It was two months not doing anything, just therapy. The thing that got me angry was instead of doing that, the better thing was to improve my legs, my muscles, and I was doing nothing because I was told to do nothing. I played bad."
After healing, however, the recruiting wheels began turning in Boulder. Assistant coach Bill Grier had made a number of European contacts while recruiting foreigners as head coach at San Diego from 2007 to 2015. A volunteer on his San Diego staff was coaching on Stella Azzurra's youth team and contacted Grier about this tall young point guard.
The staff watched film on him, talked to European scouts about him. They found out about his background and character. They brought him in for a visit and the staff was sold. Grier came to Rome before the late signing period in April.
"He's really, really skilled for his size," Grier says. "He plays really well on the pick and rolls. He knows how to get into a defender's body and hold a guy off. He's long so he can see over the defense to make a pass and make the right read based on where they have a screen. He passes the ball well. He's got a good stroke. For a guard, he's a terrific rebounder."
Adds Boyle: "He can pass it. He can dribble it. He's a good shooter. He's so good on ball screens, and pick and rolls are such a big part of basketball today. You get a guy his size with the ability to do that. He can guard multiple positions and can play multiple positions. I love a versatile guard."
He had already visited Santa Clara and Georgia Tech. After his visit to Boulder, he wished all his decisions were this easy.
"When I was there, the weather was amazing," he says. "It was cold, but it was sunny. The sky was clear. I went to Colorado and I could see my future there. It felt like home."
Signed, sealed and delivered to Colorado, his next task was to keep Stella Azzurra from being relegated to Serie C (fourth division). They're in the second game of a best-of-three series with fellow bottom-feeder from Rome, Vis Nova, a collection of slow, short, never-wases and never-will-be's. One player is 37 years old. Stella Azzurra, the youngest team in a league that sports many professional players, has an average age of 18. Vis Nova's is 26.5.
Nikolic picks this day to have a terrible game.
He drops a pass for a turnover. He travels. He misses wide-open shots. He misses back-to-back free throws twice. He shoots an airball from 3-point range. Keep in mind Serie B in Italy is the equivalent of about Division III in college. Neither team is very quick or tall. But like most European teams, the fundamentals are sound and they shoot well. Dunks are few, but no one is throwing up 30-foot bricks or passing into the stands, either. All 250 seats are packed with fans tooting horns, giving the event a hostile, third-world feel.
Nikolic finally settles down and gets a couple assists. He passes up a wide-open 3-pointer to assist on a mid-lane jumper to tie it 33-33. He's a good ball handler, but against a bad half-court press; you wonder how he'd do against cat-quick thieves in the Pac-12. He doesn't score until a jumper with 1:30 left in the third quarter ties it at 37. He winds up only 1-for-9 for two points and one assist in a 62-51 loss. Stewing team directors won't allow him to talk afterward. But Stella Azzurra wins the decisive Game 3 to stay afloat while Nikolic goes to Boulder where this game will be long forgotten.
So will maybe his final shooting stats from the regular season. He shot only 15 percent (18-of-122) from 3-point range and .313 (103-of-329) overall but was second on the team with 12.4 points per game and first with 4.0 assists.
Stella Azzurra's coach, Germano D'Arcangeli, has coached in Italy for 29 of his 47 years. He praises Nikolic for his intelligence and sensitivity – "He's one of my sons," he says – and says Colorado is getting a unique player with one major need.
"He does well as a point guard," D'Arcangeli says. "He's very modern and tall and very large. He can play with the ball, without the ball. Things he doesn't do well – he's lazy on defense. When he's very motivated, he's effective when he's defending someone very large or very small. I believe at this talent level he doesn't have to do it. When he goes up in talent level, he won't have a problem."
Boyle has to wait to see how he'll blend with the team in competition. His paperwork became stuck in the NCAA clearinghouse's blackberry bush of red tape and he couldn't join the Buffaloes on their Italian tour in August. That's when freshman McKinley Wright IV established himself as the probable future point guard. Nikolic will also play some shooting guard where senior Dominique Collier will likely start.
It'll be up to Nikolic where this international venture goes. After all, it's his serve.