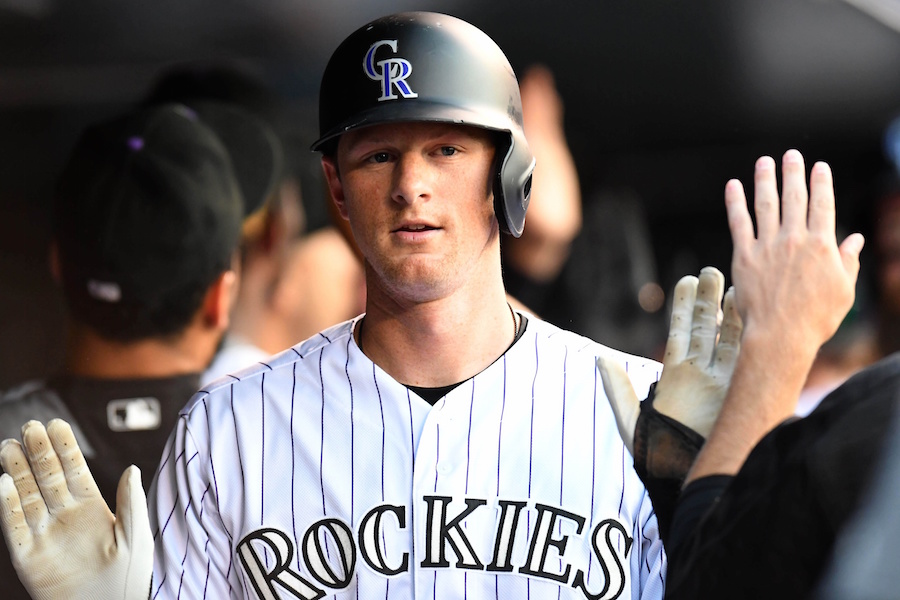 Rockies second baseman DJ LeMahieu is about as serious as they come on the baseball field. He seldom cracks a smile going about his business as a two-time All-Star. But the reigning NL batting champ has more than a couple reasons to smile as his team is in the hunt for the playoffs for the first time in his career.
First and foremost, his club is in contention. Second, the Rockies' front office made a pair of moves at the trade deadline to bolster the bullpen and add stability behind the plate.
Eric Goodman and Les Shapiro of Mile High Sports AM 1340 | FM 104.7 caught up with LeMahieu in the Rockies clubhouse during their weekend series with the Phillies and asked him about the importance of adding right-handed reliever Pat Neshek and catcher Jonathan Lucroy.
"It was two guys that are really going to help us," LeMahieu said. "Neshek is a really good pitcher. He's tough to face offensively. And, you know, Lucroy is just a grinder, a good hitter, and a good catcher. So I know those guys are really going to help us out and we are really excited to have them.
The moves were a bit of a surprise to LeMahieu, as the Rockies have not been in this position since he joined the club in 2012.
"Yeah. It's usually been the other way. Trading guys away," LeMahieu told Goodman and Shapiro. "But, I mean, with the way we've played, I mean we're, I think one of the best records in Rockies history at this point, or something like that. The way we've played we deserve to have support from the front office and it's exciting. It's exciting to be in the position we are in.
Colorado's bullpen, especially the plus-side, has been a strength this year. Until Sunday's loss to the Phillies, the Rockies had won a club record 59 straight games when leading after the eighth inning. Adding Neshek, who will share late-inning duties with lefty Jake McGee, should only strengthen the bullpen.
"It sure makes it a lot tougher on the other team. You know, I just feel like I kinda said this all year but, I feel like when we had the lead going late into the game I feel pretty good. And even with adding Neshek I feel even better," LeMahieu said. "I know our starters, thier mentality is 'Keep the lead' –  pitch as well as they can and keep the lead – and let those guys at the end of the game take care of business and Neshek sure helps that out."
Their other addition, Lucroy, will add some stability behind the plate in corralling the youngest starting rotation in baseball. His experience, LeMahieu said, will be a big help as the team makes a run at the playoffs.
"He's been through it. He's been in the playoffs. He's an experienced guy back there. Hanigan is doing a great job too. So I just think between the two of them that experience is really going to help our guys.
Having been traded from the Cubs, this is the first postseason push of LeMahieu's career. The usually reserved 29-year-old showed some excitement and enthusiasm about the thought of playing in October.
"Yeah I was just talking about that today," LeMahieu told Goodman and Shapiro. "This time of year, you know, the way we've played and the position we are in, I can't ask for much more. And I'm really excited for the next couple of months."
Excited enough to crack a smile?
"Hey, we are in a great spot and like I said, I'm just really excited for the next couple of months," LeMahieu said. "It's going to be hard fought and a lot of emotion. I'm really excited."
Listen to the full interview with LeMahieu in the podcast below.
Catch Afternoon Drive with Goodman and Shapiro every weekday from 4p-6p on Mile High Sports AM 1340 | FM 104.7 or stream live any time for the best local coverage of Colorado sports from Denver's biggest sports talk lineup.