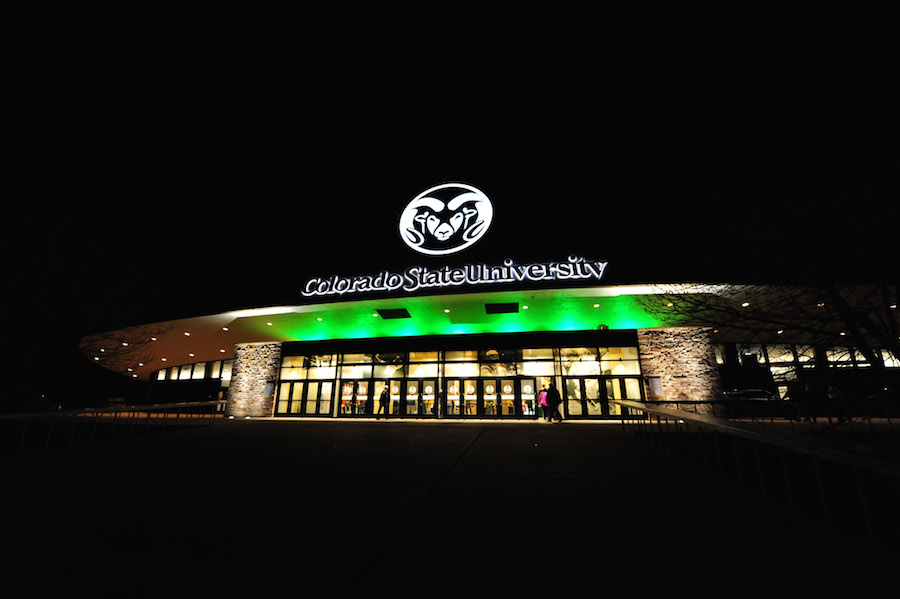 Read this story at CSURams.com
Colorado State has added Ali Farokhmanesh (pronounced fuh-ROAK-muh-nesh) and JR Blount as assistant men's basketball coaches, head coach Niko Medved announced today. Both spent the past year on Medved's staff at Drake and their appointments are effective immediately.
"We're really excited to add both Ali and JR here to the Ram basketball family," Medved said. "They're both absolutely terrific coaches and recruiters, as I believe they are rising stars in the business. They are also terrific people and mentors for our student-athletes. Both are going to be people that Ram fans are going to love and excited for them to get started and hit the ground running."
"I'm really excited about being here," Farokhmanesh said. "Being with Coach (Tim) Miles at Nebraska and then with Niko at Drake, I have obviously heard a lot about Colorado State. Also, one of my best friends is Wes Eikmeier (former CSU standout) so I have heard so many great things about Colorado State, the community and the basketball program. I am excited to be a part of that, build on the hard work that previous coaches have put into it and help us excel in the Mountain West."
"It's a great opportunity to be here," Blount said. "This is privilege to be involved in this program and work along side Niko. He has built programs that have had success and to be a part of the foundation of rebuilding this program is something I look forward to. I'm excited to be here and bring my family here to a great community."
Prior to his year on the Bulldogs' staff, Farokhmanesh spent the previous three seasons at the University of Nebraska, serving most recently as the Director of Player Relations and Development. At Nebraska, he managed and oversaw the off-the court responsibilities of the student-athletes including the implementation of mentoring programs and community outreach. On campus, he directed recruiting operations, including on-campus hosting duties.
Following his storied career at UNI, Farokhmanesh spent four seasons playing professionally overseas in the Netherlands, Austria and Switzerland. In 2013-14, he was the Sixth Man of the Year in the Dutch Basketball League, averaging 10.4 points, 2.0 assists and 1.0 steal per game. His best season was with SAM Massagno Basket in the Swiss league in 2010-11, where he averaged 19.5 points, 3.1 assists and 2.3 steals per game while shooting 48 percent from 3-point range.
Farokhmanesh played two seasons at UNI where he helped the Panthers to a 53-16 record with two NCAA Tournament appearances, including the school's first-ever NCAA Sweet 16 appearance in 2009-10. As a senior, he earned honorable-mention All-MVC accolades, averaging 9.7 points and 1.5 rebounds per game, as UNI went 30-5, including an upset of top-seeded Kansas to reach the Sweet 16. In that game, Farokhmanesh had 16 points, including a 3-pointer with 34 seconds left to clinch the victory and was featured on the cover of Sports Illustrated. He also provided the heroics in UNI's second-round win over UNLV, finishing with 17 points, including a 3-pointer with 4.9 seconds left for the final margin.
In his first season at UNI, Farokhmanesh started all 34 games and averaged 9.6 points and 1.6 assists per game en route to being named to the MVC All-Newcomer squad. He played two years of junior college basketball, earning first-team NJCAA Division II All-America honors at Kirkwood Community College in Cedar Rapids, Iowa, after starring at Iowa City West High School.
Farokhmanesh received his degree in finance from UNI in 2010 and earned his master's degree in educational administration from Nebraska in 2016. Ali and his wife Mallory have a son, Tai, and daughter, Mila.
Blount spent the past four years on the Drake men's basketball staff, serving the past year on Medved's staff as an assistant coach. He had previously been an assistant coach for one season after having served his first two years as the Bulldogs' director of basketball operations.
Blount joined the Drake staff in 2014 following three successful seasons at Saint Leo University in Lakeland, Fla., where he was elevated to associate head coach for the 2013-14 season after two years as an assistant. As a student-athlete, Blount was a team captain and MVP at current Missouri Valley Conference member Loyola.
The Lions advanced to the NCAA Division II Tournament in each of his three seasons on staff and won the program's first conference championship in 2012-13. He was also part of a NCAA Division III National Championship in 2009-10 as an assistant coach at the University of Wisconsin-Stevens Point.
In addition to his on-court duties at Saint Leo, Blount oversaw the program's scheduling, recruiting, summer camps and individual player development. One of his pupils, guard Jerrell Harris, earned Division II All-America honors in 2013-14, while the Lions led the Sunshine State Conference in team defense thanks in part to conference Defensive Player of the Year Shaun Adams. In 2012-13, the program won its first NCAA Tournament game and earned a top-10 national ranking for the first time.
Prior to joining the staff at Saint Leo, Blount played professionally for a season with the Leicester Riders of the British Basketball League. He led the team to the semifinals of the league championship, was ranked fourth in scoring and second in assists to earn All-Star and team MVP honors before returning to the sidelines.
Collegiately, Blount had a tremendous career at Loyola from 2005-09. He was the Ramblers team captain during his final three seasons and the squad's MVP in 2008 and 2009. He finished his career ranked ninth in points and 10th in assists at Loyola and was the school's Male Athlete of the Year in 2008 and 2009.
Upon graduating from Loyola with a degree in sociology and psychology, Blount began his coaching career during the 2009-10 season at UW-Stevens Point. That season saw the program win a Division III national title while ranking in the top 10 nationally in both team offense and defense.
A native of Milwaukee, Wis., Blount was a standout high school player at Dominican High School, where he earned all-state honors in 2004 and 2005 and was named the Wisconsin Sports Player of the Year in 2005. JR and his wife Ashley have two daughters, Maya and Zuri.