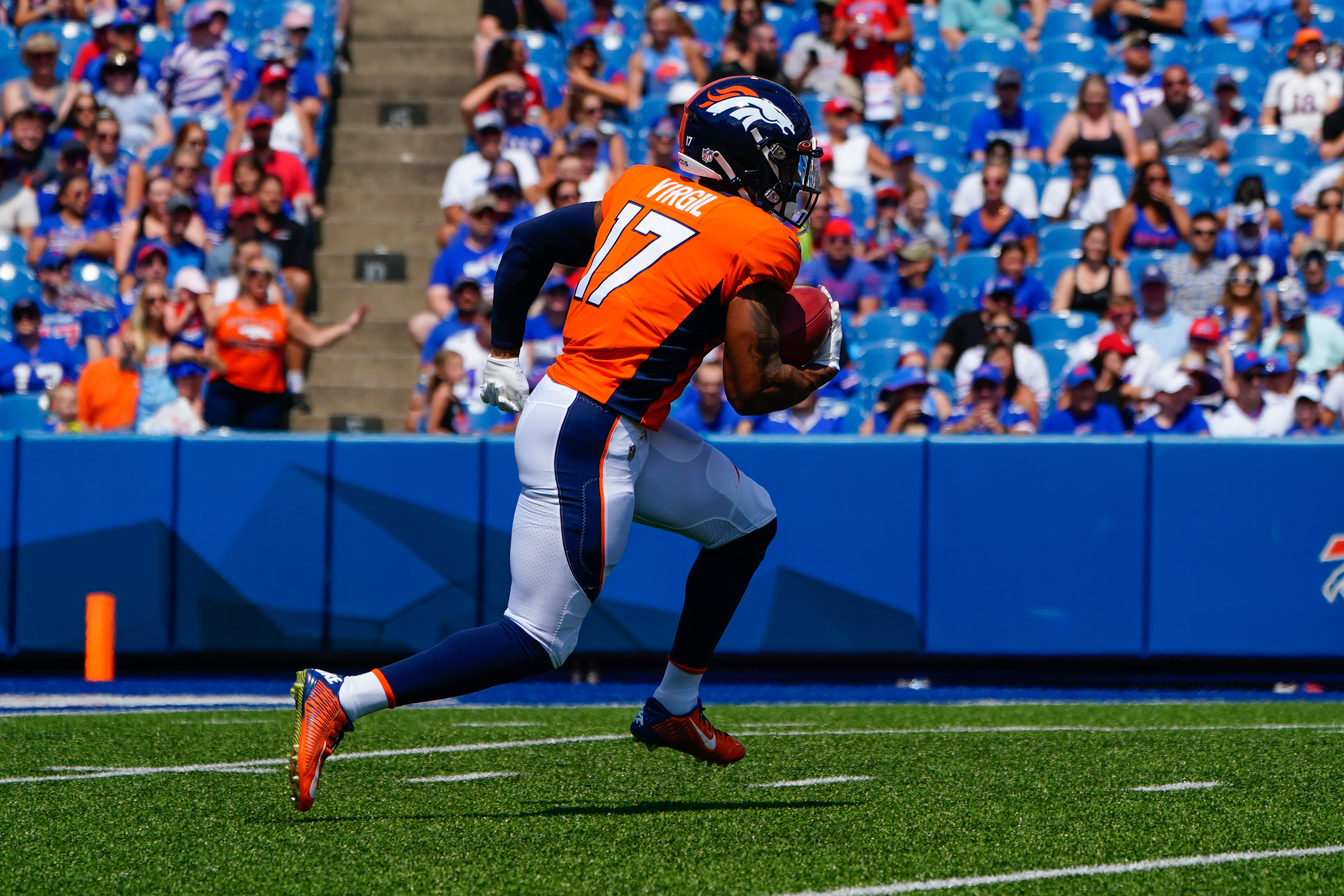 In 18 of the past 19 years, the Denver Broncos have seen at least one rookie undrafted free agent make their initial 53-man roster, and this year, that honor belonged to Jalen Virgil, a wide receiver from Appalachian State.
That said, Virgil is not your typical undrafted free agent.
Oftentimes, undrafted free agents possess a glaring athletic deficiency. This can even be true of the very best UDFAs, such as Phillip Lindsay, who was considered undersized for the position and also had too much tread on his tires.
Virgil is the exception to that rule though, as he is one of the most remarkable athletes in this year's rookie class.
That's a bold claim to make, but thankfully, it's an equally easy claim to support, thanks to Bruce Feldman of The Athletic.
Feldman is one of, if not the most respected analyst in the world of college football, and every year he compiles a list of the best athletes across all walks of football in an article dubbed the 'freaks list.'
Virgil made the freaks list four consecutive years, which puts him in rare air.
Now, to make it four consecutive years, and to be listed among the top-four freakiest athletes in the country for two of those years, it requires more than simply being a burner. Yes, Virgil is wildly fast, but he's also got impressive size, strength and explosiveness in his game, which is what makes him so special.
Virgil made the freaks list in part for his speed, running a 10.29 100-meter dash for Appalachian State, but primarily for having that speed in spite of his size and the amount of muscle on his body.
He ran that 100-meter dash at 210 pounds, bench pressed 405 pounds, close-grip bench pressed 345 pounds, and did a sumo deadlift of 600 pounds.
He also showed off the hops, with a 40.5-inch vertical jump, and a 10-foot-11 broad jump.
Though, the better way to contextualize just how out-of-this-world Virgil is, might be to show how he compared to some of college football's greatest athletes that we're more familiar with.
In the 2021 edition of the list (Virgil's last mention before making the leap to the NFL), he ranks as the fourth-freakiest athlete in college football. He trails only Evan Neal, Aidan Hutchinson, and Kyle Hamilton — all of whom were selected in the top-15 of this year's draft — and finds himself listed just ahead of three more first-round picks, Devonte Wyatt, George Karlaftis and Derek Stingley Jr., as well as a 10.0 RAS athlete (meaning he's arguably the most athletic player at a given position to ever test at the NFL combine) in Tariq Woolen.
In 2020, Virgil ranked third, ahead of Odafe Oweh (first-round pick), Boye Mafe (second-round pick), Tutu Atwell (second-round pick at wide receiver), Hamilton, Caleb Farley (first-round pick) and Micah Parsons.
Yes, you read that right. During Parsons' final collegiate season, the most knowledgable college football analyst on the planet determined that, despite all of Parsons' absurd physical gifts, Virgil was even freakier.
Let's not overlook that.
So, how do the Denver Broncos go about utilizing this ridiculous athleticism?
It should be a pretty easy question to answer, considering Virgil's idyllic fit with the offense and the fact we've already seen the blueprint of how to utilize an athlete like Virgil alongside Russell Wilson.
Back in Green Bay, Nathaniel Hackett and the Packers loved running the ball out of 11 personnel, but doing so asked their slot-receiver to do a lot as a run-blocker. Allen Lazard was excellent at this, and Tim Patrick and Greg Dulcich projected to also be good at this, but now thanks to injury, the Broncos are going to have to look elsewhere.
How about the freakishly strong Jalen Virgil? Virgil could allow them to take run-blocking liabilities K.J. Hamler or Montrell Washington off the field, while keeping a vertical field-stretching speed threat out there. It could be a great early-down look for the Denver Broncos that keeps opposing defenses honest.
Plus, we know a player like Virgil can fit wonderfully with Wilson, because we just saw it the last few seasons with D.K. Metcalf in Seattle.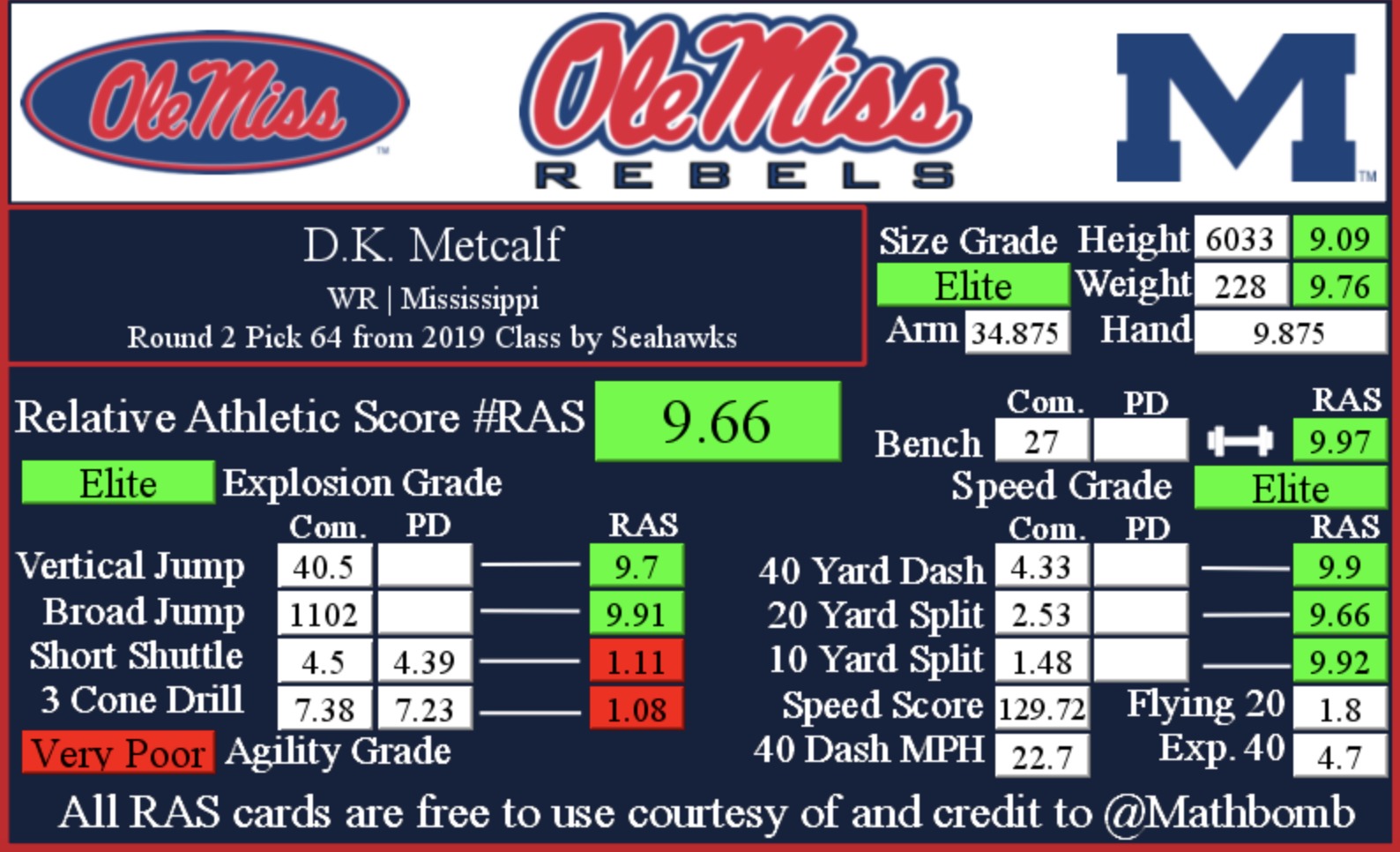 Virgil has some notably important differences from Metcalf. Size is the most severe, as Metcalf is 2.25 inches taller than Virgil, but otherwise, their athletic profiles are very similar.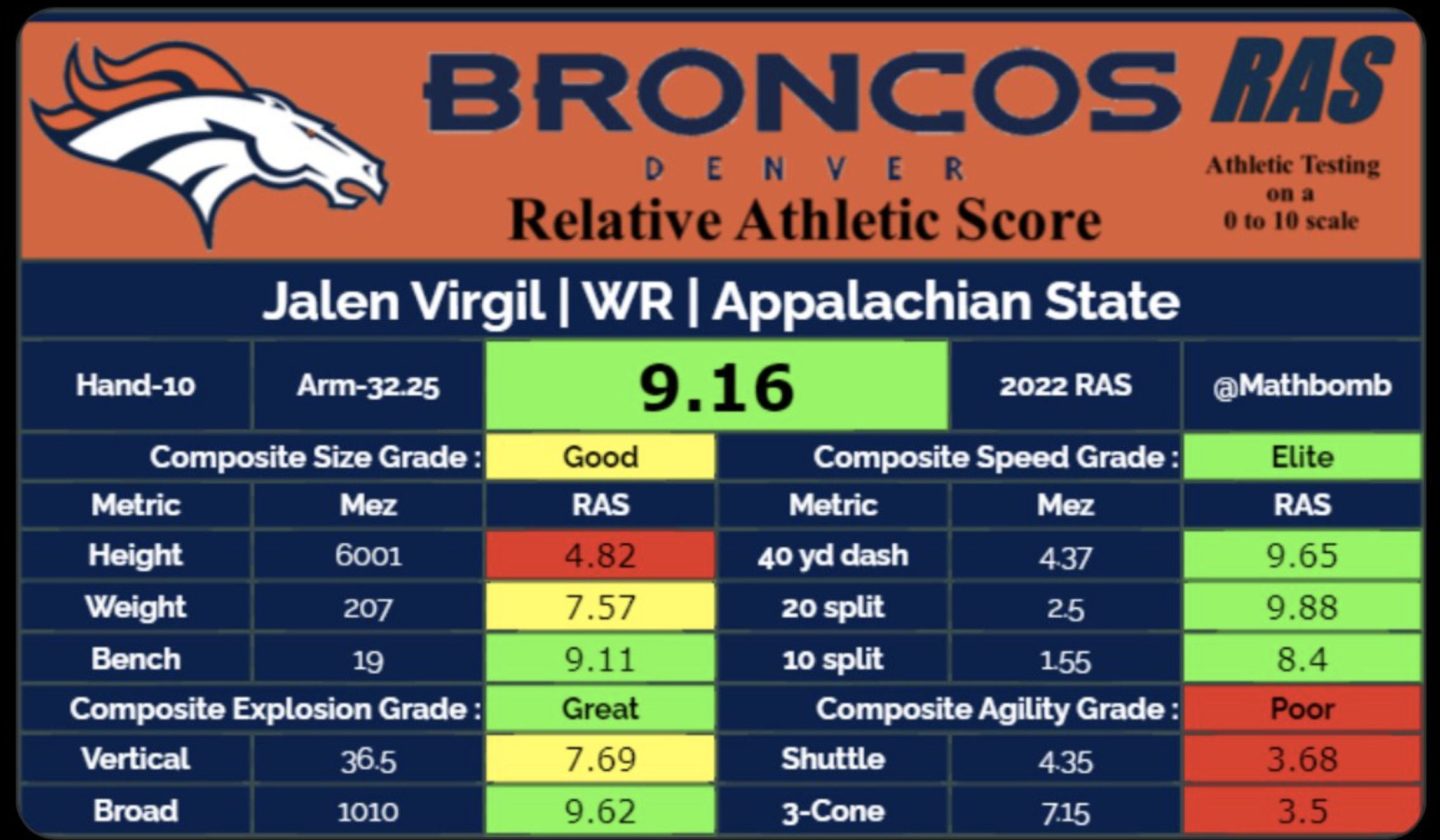 Metcalf is a little bigger, a little stronger, and a little faster, but Virgil closes the gap between the two by being the more agile and nimble one.
It's not a perfect one-to-one comparison of course, and considering his draft status, Virgil likely never becomes the offensive focal point that D.K. Metcalf is. This isn't a claim that Virgil is going to be the next Metcalf.
It's merely pointing out that they're athletically similar, and that's a positive, because we've already seen that type of athlete work really well with Wilson's aggressive, downfield quarterbacking style. With that in mind, the Denver Broncos should be excited about what could be in store.