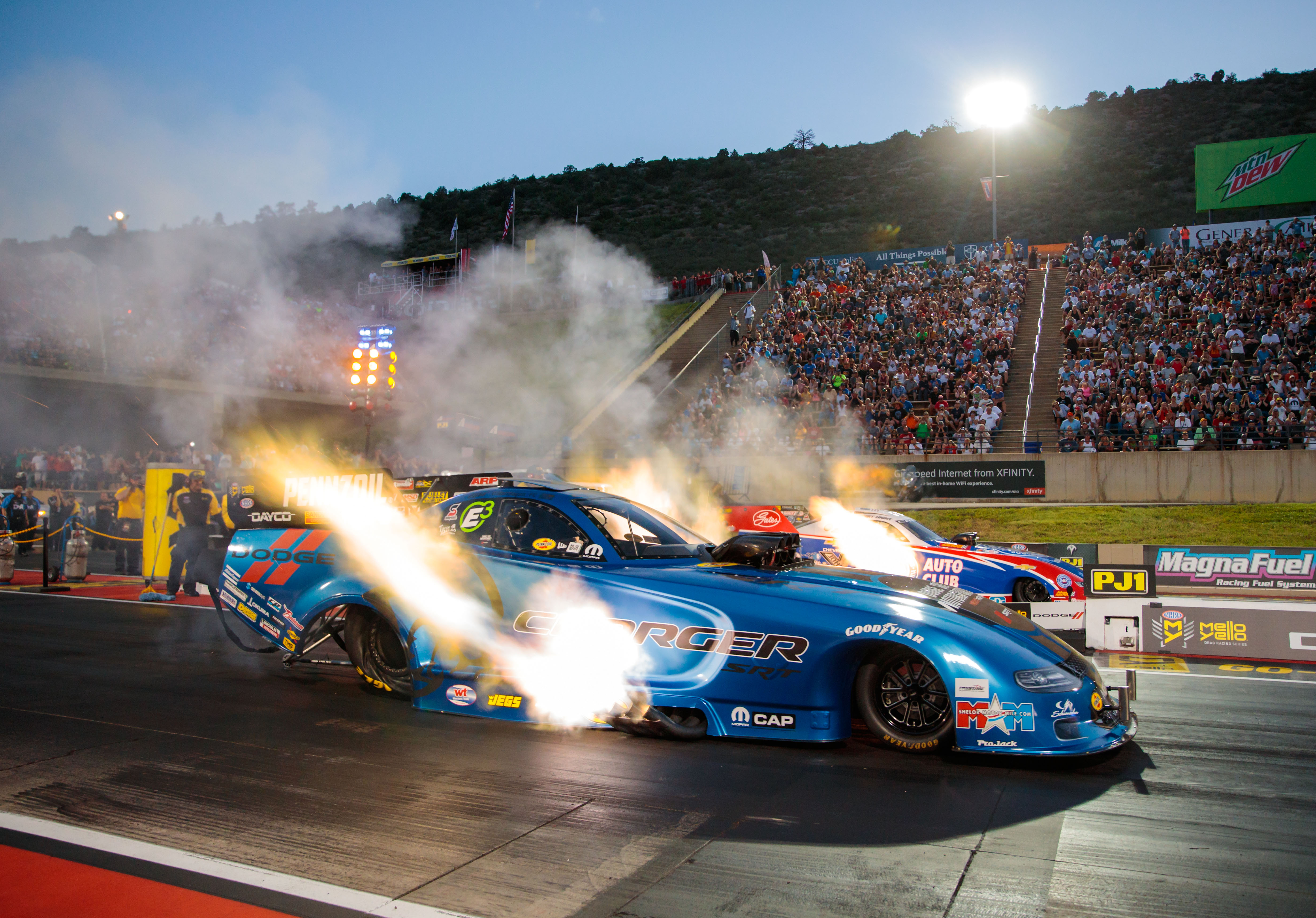 Speed lives at Bandimere Speedway in the form of 330 mile per hour top fuel dragsters and top fuel funny cars capable of covering the race track in less than three seconds.
Nitro-methane powered dragsters and funny cars invade Morrison, Colorado every July for the Dodge Mile-High NHRA Nationals, presented by Pennzoil. The 2019 edition of the long-time event up on the hogback in Morrison was a special year for the Mile High Nationals, their 40th year at the race track.
Presented by Dodge and Pennzoil, the partnership between Dodge and Bandimere Speedway is the longest spanning partnership in the NHRA on their professional tour.
Every ticket is a pit pass in the NHRA, allowing fans to not only watch the racing action all day long but go into the pit-area, meet the drivers and watch the crews work on their race cars.
Fans were treated to high speeds in top fuel as Steve Torrence took the top spot away from Leah Pritchett, just minutes after Pritchett stole the top spot away from Torrence after Pritchett went 3.761 at 315 mph in the final qualifying session.
Torrence saw the mark he needed to meet and threw down the gauntlet, covering the 1000′ at 3.738 at 328 mph in the CAPCO dragster.
In Funny Car, the top spot went to Robert Hight. His 3.976 at 326 MPH was one of only two cars in the three-second range for the class, but the Dodge Charger of Tommy Johnson Jr., Cruz Pedregon and Ron Capps were not far behind, finishing No. 2, No. 3 and No. 4 respectively and all running on the 4.00 number.
Pro stock car saw several cars 'in the six's' as the factory hot rods went to work on a cooler Saturday featuring much better air for race cars to thrive in, allowing for big speeds in the second day of qualifying.
Richard Freeman took his first career No. 1 qualifier spot and held it for the final few cars down the race track at 6.948, 197 mph.
Jeg Coughlin, Matt Hartford finished No. 2 and No. 3 followed by Sterling, Colorado native Deric Kramer, who clocked in at 6.954 to grab the No. 4 spot.
Matt Smith in Pro Stock Motorcycle took the shortest distance between point A and point B, a straight-line. Blazing down the Bandimere boulevard at 7.132, 188 mph to take the top spot from Jerry Savoie by a full six hundredths.
Bandimere Speedway presents several challenges to the professional tour and is the kick-off of the famed 'western swing' as drivers make three stops in three weeks travel to the west coast. The challenges of Bandimere include thin air, which means less power for race cars and the ever-changing environment and air conditions to deal with.
Final eliminations is set for Sunday morning with driver introductions prior.