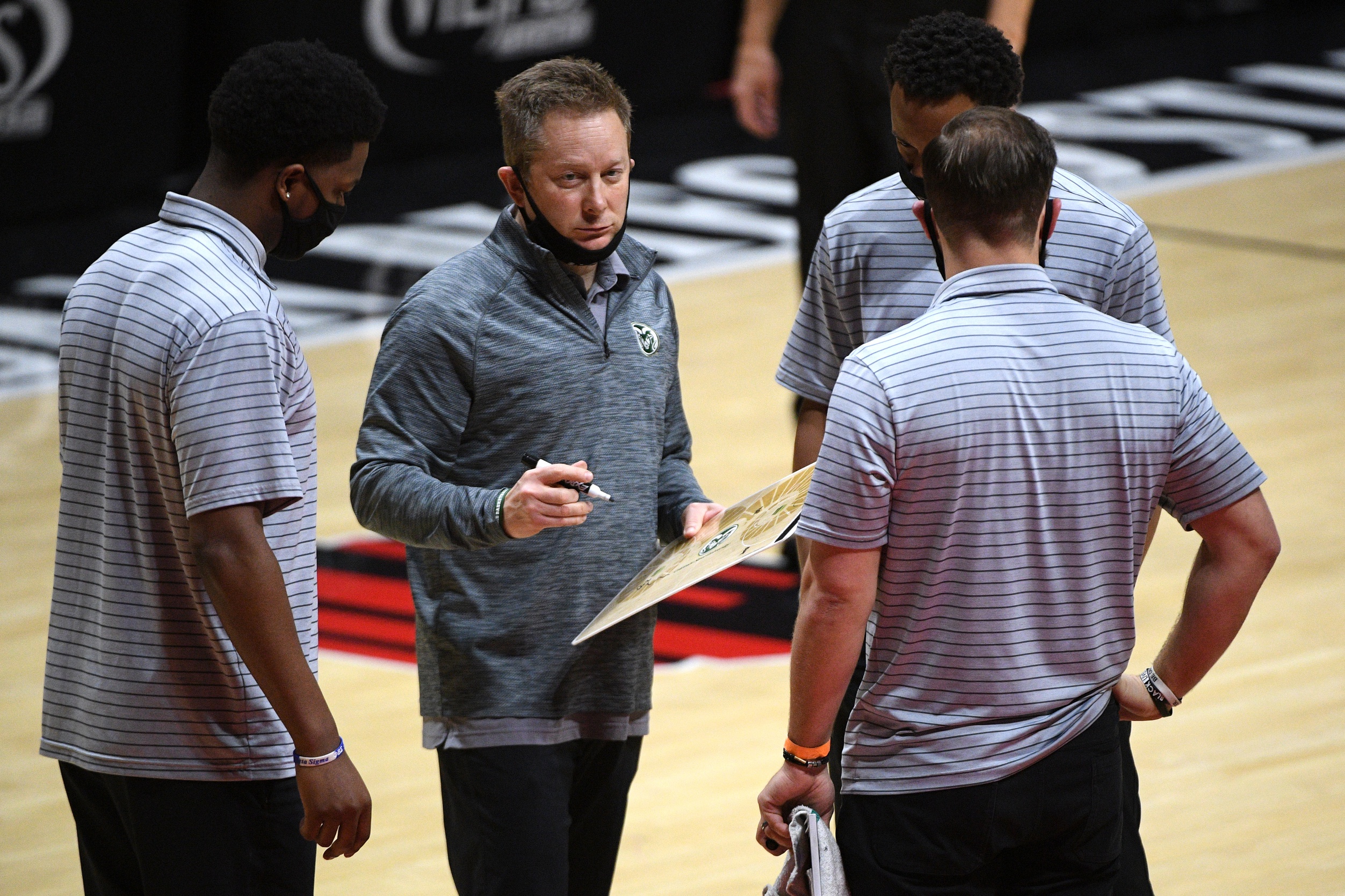 Courtesy of CSU Rams Athletic Department
Coming off the best conference season in program history, Colorado State men's basketball was rewarded with several honors, including Niko Medved being named Mountain West Coach of the Year by the league's media as announced Monday. Joining Medved was sophomore forward David Roddy, who was selected to the first team, and sophomore guard Isaiah Stevens, who garnered second-team accolades.
Medved continued his history of improving programs in each of his seasons, as he led the Rams to a 17-5 overall mark during the COVID-shortened season, including a 14-4 record in the Mountain West. The 14 wins are the most conference wins ever in program history, while the 14-4 record is tops for CSU in their 22-year membership in the Mountain West. Medved's squad was the only Mountain West team not to get swept in a two-game conference series this season, as CSU was the only team to earn wins at San Diego State and Utah State this year while going 5-3 against the four teams picked above it in the preseason poll. Among those wins was the nation's largest rally from behind for a win, as CSU came from 26 points down to win at then-No. 23 San Diego State.
Roddy showed his development in his second year, increasing both his scoring and rebounding averages, going from 11.4 points and 5.6 rebounds a game last season to a team-bests of 16.3 points and 9.6 rebounds. Those numbers were even higher in MW play at 16.6 points and 9.9 rebounds per game, ranking, fourth and second, respectively, in the league. One of the toughest matchups in the Mountain West, Roddy hit 55.3 percent of his shots from the field, also second in the Mountain West, and also ranked 13th in assists at 2.83 per game. Roddy's best game was in the 22-point win over Boise State, where he recorded career bests of 27 points and 15 rebounds in the victory. He also was just shy of the program's first triple-double when he had 12 points, 14 rebounds and nine assists in the March 3 win over New Mexico. He has recorded 10 double-doubles this season, nine of them coming in conference play, with the two against Fresno State and the double-double in the comeback win at SDSU earning him Mountain West Player of the Week honors.
Stevens also was a key piece of the puzzle for the Rams, averaging 15.0 points, 4.6 rebounds and 5.9 assists in conference action. He ranked 11th in scoring, second in assists, fourth in free-throw percentage (84.1 percent), sixth in assist-to-turnover ratio (1.62), fourth in average minutes (34.84) and tied for 11th in three pointers per game (1.89). He has a pair of points-assists double-doubles on the year in league play, giving him three in his career as there have only been 18 in program history. He had a stellar effort in the sweep against UNLV, averaging 23.5 points, 6.0 rebounds, 6.0 assists and 50.0 percent from the field to garner MW Player of the Week honors. Part of that effort was a season-high 25 points in the opener against the Runnin' Rebels and then hitting the game-winning triple in the second game and sealing it with a pair of free throws. He ranks 12th on CSU's career assists chart with 270 and is in the CSU top-20  in assists per game, free throw percentage and three-point field goal percentage.
The Rams earned the No. 3 seed in this week's Air Force Reserve Mountain West Championship and will play the winner of No. 6 Fresno State and No. 11 New Mexico on Thursday, March 11 at 9:30 p.m. MT on CBS Sports Network.