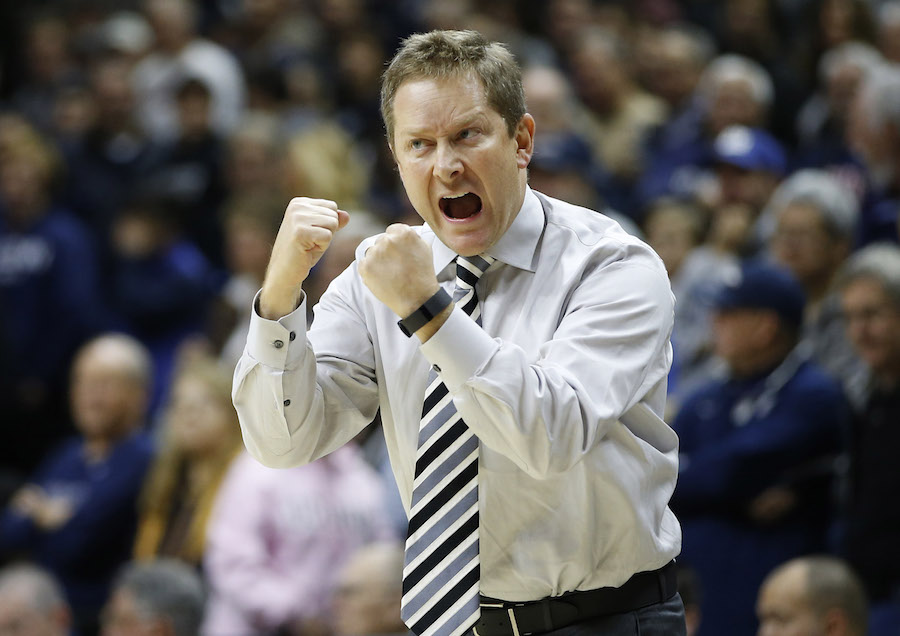 Read this story at CSURams.com
Colorado State Director of Athletics Joe Parker announced today that Niko Medved has accepted an offer to become head coach of the Rams' men's basketball program. Medved, a Colorado State assistant coach from 2007-13, recently completed his first season as head coach at Drake University where he guided the Bulldogs to their first postseason berth in six years. Prior to his appointment at Drake he engineered considerable success as head coach at Furman from 2013-16.
Medved will be introduced on Friday, March 23, at 10 a.m. in Bob Davis Hall, on the south concourse of Moby Arena on the Colorado State campus. The head coach introductory event is open to the public and media. Parking will be available free of charge in the Moby Arena lot, and attendees may enter Bob Davis Hall through the south doors accessible from the ramp on the east edge of the parking lot.
"We are extremely excited to have Niko assume the leadership of our basketball program," Parker said. "Throughout our discussions, he showed a great understanding of what basketball means to Colorado State University and the community while demonstrating how much he has developed in his five years as a head coach. He has not only had success on the court at Furman and Drake in taking his teams to the postseason in each of the last three years, but also grew his student-athletes into young men who were also solid in the classroom and engaged in the community. We welcome Niko and Erica back to Fort Collins and are excited that Aly will be growing up as a Ram in Colorado."
As a Colorado State assistant coach, beginning in 2007 when former head coach Tim Miles took the reins of the Rams program, Medved was instrumental in the rebuild of the program that saw it improve from seven wins in 2007-08 to five consecutive postseason berths, including NCAA tournament appearances in his final two seasons.
"My family and I are ecstatic to have the opportunity to return to Fort Collins and Colorado State University to become the head men's basketball coach," Medved said. "This is obviously an incredibly special place to me, and to my family. Some of the best memories I've had personally and professionally happened at Colorado State. We have tremendous leadership from the top down and we look forward to partnering with everybody in the Fort Collins and Colorado State communities to build Colorado State basketball into one of the premier programs in the Mountain West."
As recruiting coordinator at CSU, Medved was responsible for recruiting many of the contributing players on the Rams roster who helped return the program to prominence, a list that includes Andy Ogide, Colton Iverson, Dorian Green, Pierce Hornung, Wes Eikmeier, Jesse Carr, Greg and Dwight Smith, and Daniel Bejarano.
In four seasons as head coach at Furman, Medved guided the Paladins to improved records each season, culminating in a 23-11 record in 2016 that earned him Southern Conference Coach of the Year honors and saw the program's first SoCon regular season championship since 1990-91. Medved's team reached the semifinals of the CollegeInsider.com (CIT) postseason tournament in 2016-17, its second consecutive season in the CIT.
Medved began his coaching career at the University of Minnesota in 1992 as a student manager and assistant. He served as associate head coach at Macalester College from 1997–1999 and worked four years as an instructor at the prestigious Nike All-America camp. Medved earned his B.S. in kinesiology in 1997 and his master's in sport management in 1999, both from the University of Minnesota.
He spent seven seasons as an assistant coach at Furman (1999-2006), including serving as the school's interim head coach in the spring of 2006. Furman registered winning seasons in each of Medved's last three years in Greenville and four of the final five seasons. He then spent one season (2006-07) as an assistant at the Minnesota under Dan Monson before joining Miles' first staff at CSU in 2007.
Niko and his wife Erica have a one-year-old daughter, Aly.