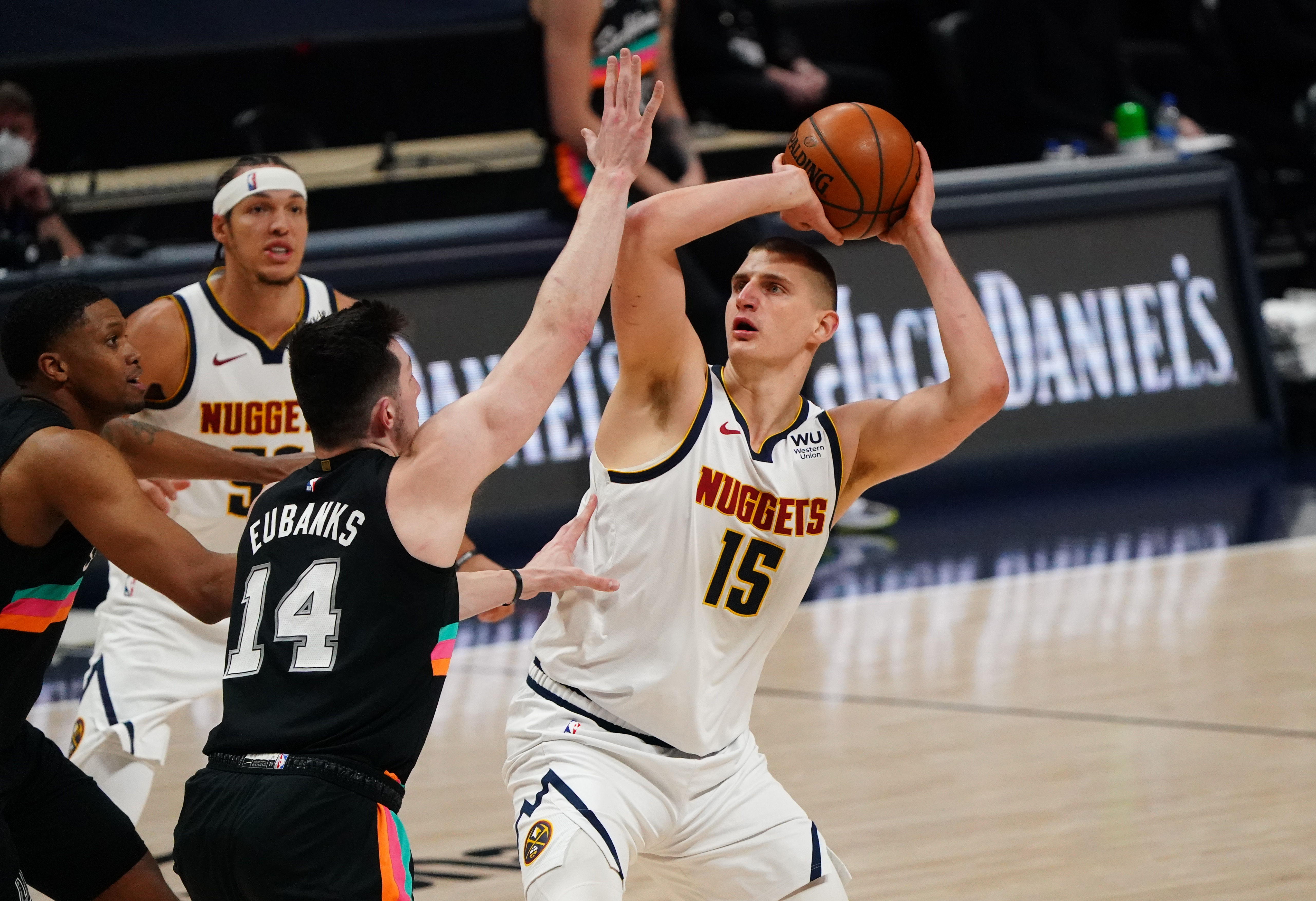 Nikola Jokić erupts for 31 points and 14 rebounds in a 114-103 win over the Timberwolves. He went 14-21 from the field and also added 4 assists. 
Michael Malone had mentioned the possibility of resting some of his players for the remainder of the season but Jokić didn't want to. 
"He wanted to play tonight," Malone said. "We talked, the training staff, myself and Nikola, he deserves to have a voice in that conversation and then once we get to Detroit we'll figure out how we're going to approach these last two." 
Jokić, although exhausted after a long season, believes it's his job to play in every game if he's healthy and also wanted to stay in rhythm. 
"To be honest, I was thinking and I was talking to everybody and literally thinking for a day and a half," Jokić said. "I'm just going to do what you're supposed to do. You're supposed to play so I just played. It's easier for me."
Michael Malone had mentioned that they may switch things up for the remaining three games of the regular season and they did. Michael Porter Jr didn't play so JaVale McGee was inserted into the lineup in his place. 
"I thought it was great," Malone said on the Jokić and McGee pairing. "It was something we talked about doing to be honest ever since we got JaVale and with three games to go against a big team like Minnesota we figured lets throw it out there." 
Malone put Aaron Gordon at small forward, Nikola Jokić at power forward and JaVale McGee at center. Gordon scored 15 points on 6 of 10 shooting from the field while McGee added 12 points and 14 rebounds. McGee was happy to finally get a start and thinks he will be in the lineup again for the playoffs. 
"I definitely think this will be a lineup in the future playing two bigs," McGee said. "I definitely think it gives Jok some time off his legs on the defensive end when he has to guard the best big that's a scorer and everything."
Of course, playoffs are a different beast and it will all depend on matchups for Malone in terms of who he inserts into the starting lineup.
"The playoffs are all about matchups," Malone said. "Is it a big team or is it a small team? But at least we know now. I knew they were going to be able to play together. I didn't expect them to have the night they had the first time doing so but Nikola in his six years has played alongside Mason Plumlee. He's so skilled he can play off of and with any other big. He's going to make them better." 
The Nuggets big three helped outscore the Timberwolves 60 to 30 in the paint and out rebound them 52 to 32. It clearly doesn't matter who sits out. It's always the 'next man up' mentality. Every game is important to the Nuggets even if they've already solidified a spot in the playoffs. Their eyes are set on something bigger.
"We're motivated," McGee said. "We have an opportunity to win an NBA championship so every night we're motivated. Just because we already got a playoff spot doesn't mean anything. We're going to play every game like it's playoff game."
Denver had 6 players in double figure scoring including both Markus Howard and Vlatko Cancar. Howard had 15 points, which was a career-high for him and Cancar had 14 points, also a career-high. 
"The great thing about it was I don't think either one of them forced it," Malone said. "They played within the offense, they played within themselves and when the ball found them they were ready."
When Jokić gets off to hot starts, the likelihood of the Nuggets winning are very high. He scored 16 points in the first quarter alone giving them a 35-26 advantage. 
They went 0-5 to open the second quarter and then went 3-4 to extend their lead 43-36 with 7:13 left. Howard went off for 8 points in the quarter, going 3 of 3 from the field and 2 of 2 from downtown. McGee scored 6 points. Nuggets were up 63-52 at halftime. 
Third quarter, Minnesota got within 4 points with 5 minutes left but then Denver went on an 11-4 run with Jokić scoring 10 of those points. The Nuggets led by as many as 12 with 3 minutes left to go until the Timberwolves responded with a 10-2 run cutting the deficit to 3. The Nuggets still had a 92-89 lead but Malone wasn't happy. 
"That third quarter defense was unacceptable," Malone said. "Thirty points allowed but to respond in that fourth quarter, we were struggling to make shots ourselves but that's when your defense has to be your anchor. When you're struggling to score and struggling to make shots you have to rely upon your defense and your defensive rebounding to keep you in the game."
The Nuggets locked down on defense in the fourth holding Minnesota to just 14 points on 4 of 16 shooting from the field and 1 of 11 from long range. 
The Nuggets have two games left in the regular season with both on the road in Detroit and then Portland and still have a chance to grab the third seed. Denver is currently in fourth in the West with a 46-24 record.