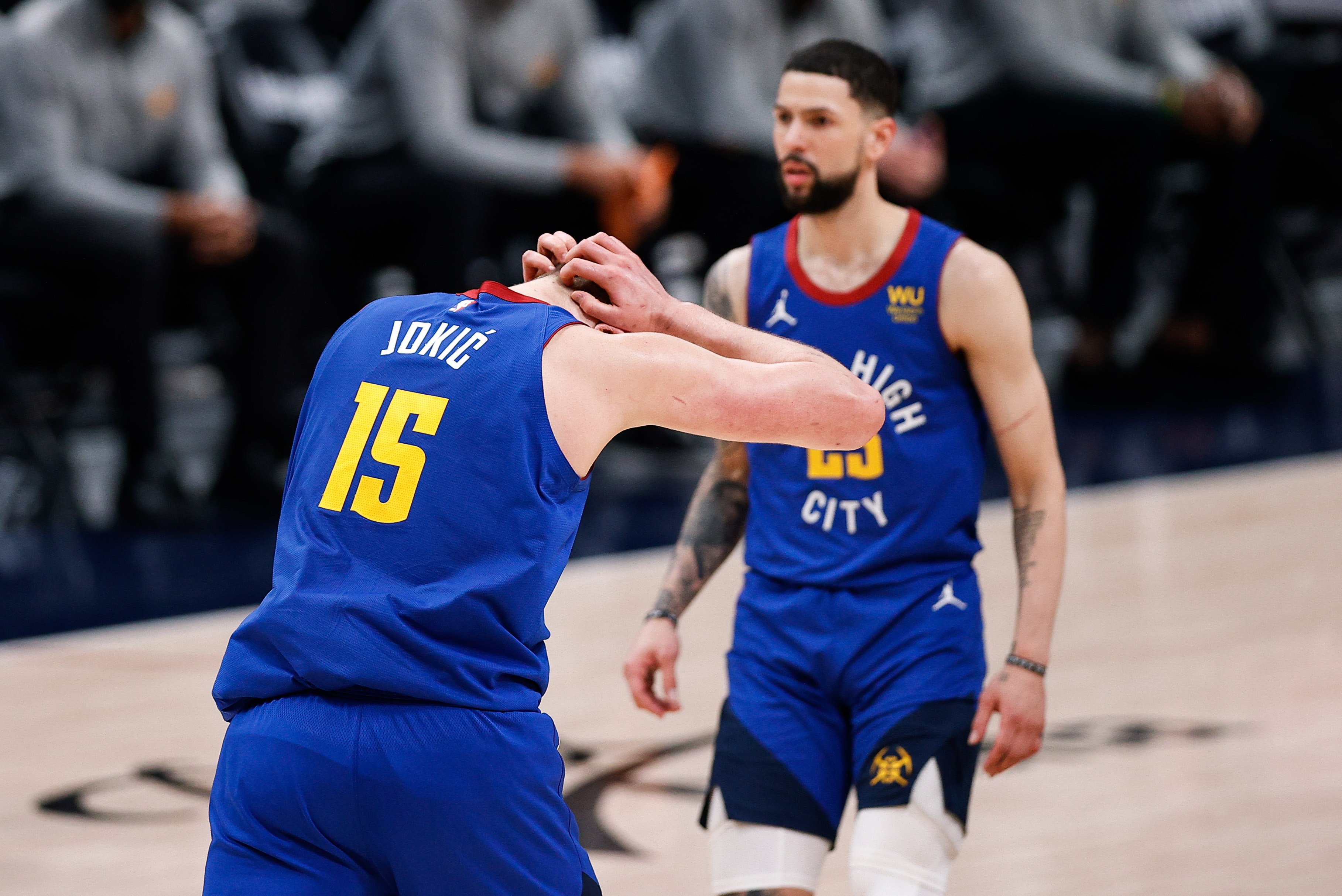 Game 4 was a hard fought battle for the Nuggets but losing Nikola Jokic with 3 minutes left in the third quarter shifted the momentum completely. Jokic finished the night with 22 points and 11 rebounds.
Denver got within three points until Phoenix went on a 12-3 run. Jokic attempted to stop the Suns momentum with a hard foul on Cameron Payne but accidentally hit him in the face. While he had no malicious intent, the officials reviewed it, called it flagrant two and ejected Jokic from the game. 
"I wanted to change the rhythm of the game," Jokic said. "I wanted to give us some energy. I tried to make a hard foul. Did it hit him? I don't know. But I said sorry if I did. I didn't do it on purpose. I didn't want to injure him."
Jokic doesn't have a track record of being a dirty player. He even walked right up to Payne to apologize after. Coach Michael Malone was still in shock that the MVP was ejected in such a game. 
"Game 4 elimination game at home," Malone said. "Before they had determined their decision on a flagrant two I had watched the replay myself and I just assumed it would be a flagrant one at the worst. From my vantage point of watching the replay I didn't think it was a non basketball play with malicious intent. I think it was a frustration foul."
Malone thinks Jokic may have been frustrated with the lack of calls on his end. He hasn't gotten many this series, let alone this season. The big man only went to the line 4 times while being hammered on almost every play inside. Booker was at the line 11 times. 
Aside from that, the Nuggets played an extremely hard fought battle and looked like they had a chance to pull this one out had Jokic stayed in the game. Malone also decided to switch things up and put Monte Morris and Will Barton into the starting lineup. They were both a huge spark of energy off the bench in game 3 so their presence was needed right from the jump. 
Barton finished with 25 points on 9 of 21 shooting while Morris scored 19 points on 8 of 15 from the field. Michael Porter Jr also got into his rhythm after a rough series so far. He added 20 points on 7 of 16 from the field and 3 of 8 from three. He also forced a couple turnovers on Phoenix.
Denver has been riddled with injuries all season and that carried into the playoffs, too. In game 1, Porter Jr tweaked his back and struggled with his shot until Sunday nights game. 
"The series happened so quick I didn't get a lot of time to make sure everything was back to normal but it got better and better as the days went on but it wasn't 100 percent," Porter Jr said. "I was kind of playing through a little bit of limitation. Nothing serious. It was just unfortunate timing for a tweak like that to happen… I really wanted to play through it but I didn't really feel like myself for a couple of those games that series."
There were two standout plays in the second quarter where it looked like Denver had enough firepower and energy to pull the game out. Porter Jr came up with a steal, made the basket at the other end and got fouled. He made the free throw to get the Nuggets within 5. Then Aaron Gordon came up with the steal and dunked it to get the Nuggets within 2. 
The Suns called a timeout and after that went on a 7-2 run to take a 50-43 lead. It was back and fourth but every time the Nuggets made a little run, the Suns countered with an even bigger one and then losing Jokic was the icing on the cake. 
Chris Paul was doing what Chris Paul does which is leading his team to the promise land. He scored 37 points on 14 of 19 shooting. He was 9 of 9 from the free throw line and had 7 assists. Porter Jr said he's rooting for him to win the championship. 
"I just think Chris Paul was unbelievable this series," Porter Jr said. "To be on the floor with him was really incredible just to see the nuances of the game that he has mastered. It was incredible to see. He deserves going to the Western Conference Finals. They were the better team this series. Just watching the dude I hope he wins the championship because the way he plays the game it's something special. The way he leads that team, the way that every team he does to gets better he's a true leader."
The Nuggets have a lot to think about going into the offseason but one thing for sure, they didn't go down without a fight. After all the adversity they faced no one thought they would make it to the Western Conference Semifinals. They have a lot to be proud of and hopefully with the extended time off to rest, they'll come back fully healthy and ready to go.