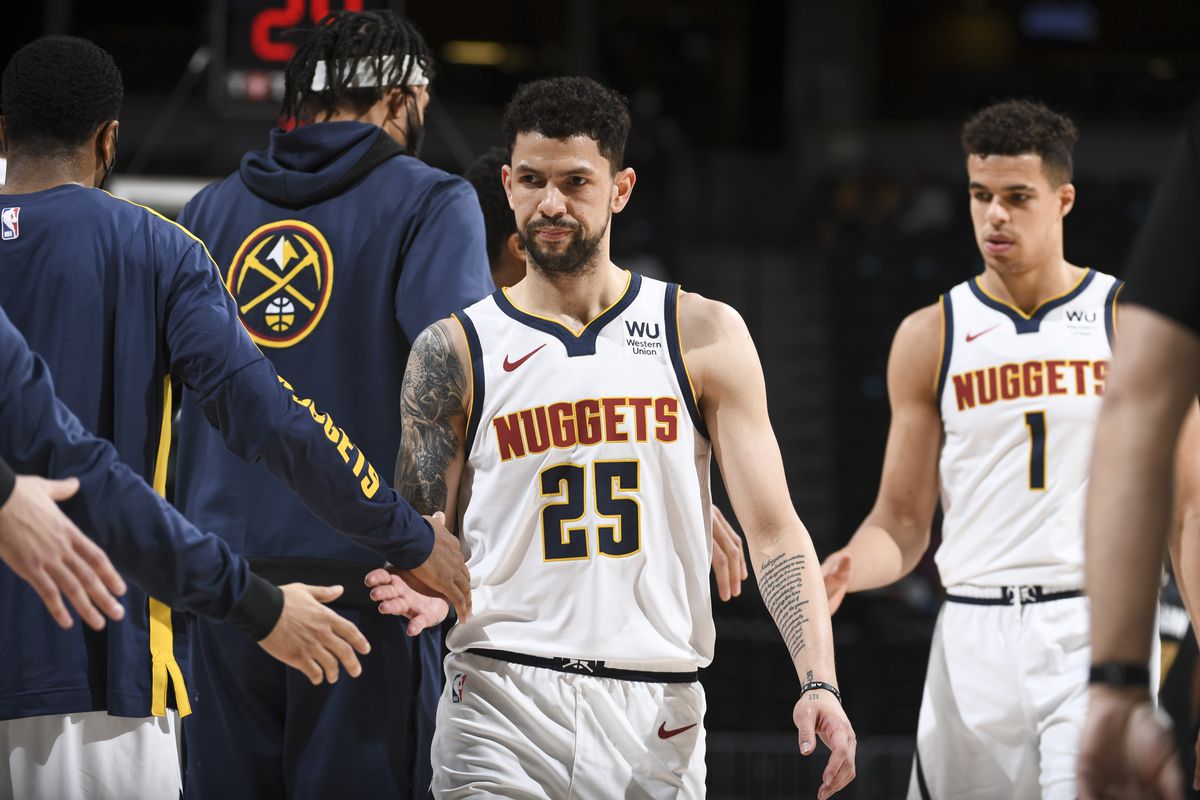 Nikola Jokić put on one of his best performances of his NBA career as he went off for 24 of his 32 points in the first quarter against the Knicks. It was the most points he has ever had in one quarter. He also recorded 4 dunks which tied his career high. For Jokić, though, it was just another night. He didn't approach this game any different.
"It just happened that way," Jokić said. "We opened up like that. The team was finding me. I was making shots."
Jokić went 10 of 16 from the field and 12 of 15 from the free throw line. He also added 12 rebounds and 6 assists in a 113-97 win.
"When he's going like that we get to just chill," Porter said of Jokić's game. "Honestly we just throw it to him and chill and let him go to work.… They weren't really doubling him and no big man in the NBA can guard him one on one so we just let him go to work."
The Nuggets are 6-1 since Jamal Murray went down with an injury and without Jokić that wouldn't be possible. For Michael Malone, this solidifies even more that Jokić is the MVP of the league this season.
"It was just a great example of reinforcing of why Nikola Jokić is the MVP," Malone said. "For us to be doing what we're doing you have to great a player and we have that. We have lots of really good players around him but Nikola set the tone tonight."
Prior to tipoff Malone announced that PJ Dozier's adductor injury was serious and that he would be out for an extended period of time. That means the Nuggets are now without Murray, Will Barton, Monté Morris and PJ Dozier. Injuries continue to plague the Mile High Basketball Club but they haven't let that phase them. They just keep on winning basketball games.
"For a long time we've always had that next man up mentality," Malone said. "I know as a head coach and as a leader of this team I don't care who we have available. As long as we have five guys to suit up we're going to go out and compete."
Facu Campazzo has been one of those guys who has stepped it up on both ends of the floor. According to StatMuse, he is the first Nuggets player with 5+ steals in back-to-back games since Fat Lever in 1989. In Wednesday nights game against the Knicks he scored 16 points on 5 of 12 shooting, grabbed 9 boards, dished 4 assists and had 5 steals.
"Facu is just a competitor," Michael Porter Jr said of Campazzo. "He was all over the floor tonight Like a dude his height isn't doing that unless he has the heart of a lion. And he's doing that consistently so I couldn't be a bigger fan of Facu."
Another guy who stepped it up big for Denver was Austin Rivers who had the opportunity to play against his former team. This particular matchup hit different for Rivers because he had a falling out in New York and hadn't played an NBA game for nearly 2 months before getting picked up by Denver.
"He has talked with me extensively about how tough it was for him in New York and so he told me going into tonight how aggressive he was going to be," Porter said of his conversation with Rivers. "He was going to try to get those dudes back."
And that he did. The 9-year veteran recorded a season high 25 points on 7 of 13 from the field and 6 of 9 from long range in 28 minutes of play in what he considered to be a revenge game.
"Tonight was a good one," Rivers said with a smile. "It was more special because of how we played. We dominated the whole game. We dominated on both ends of the floor and it was almost as if the whole team took it personal and that was a good feeling to have. It's like they had my back. It was a good win."
Rivers didn't want to make tonight's win all about playing against his former team. It was all about the team playing at a high level and him getting back into a rhythm.
"This isn't even about the Knicks it's about us and bouncing back after a tough loss," Rivers said. "For me, obviously being off two months, coming into this game I told the team I feel in shape, I have my legs back. I know every play now. I know how guys play. This is the first time I went into a game really feeling good about myself."
Coming to Denver was the best thing that could have happened for Rivers' career. His teammates and coaches have helped build up his confidence and it's something he has never experienced before.
"This has been a life saver, a game changer for me coming here," Rivers said. "I've never experienced a team organization like this. So about the we instead of me."
Rivers said the first four or 5 games he didn't feel he was playing his best but the team continued to point out all the things he was doing right and to just be himself out there.
"They just build everybody up here," Rivers said of the Nuggets' organization. "Honestly, I'm just lucky to be here and thankful to be here. I don't take this for granted and every game I go out there I play hard as hell. When you get something taken away from you and you're sitting at home for a month or two and you're watching guys on TV it changes you in a lot of ways."
Denver got out to 26-6 start over New York and the rest is history. The Nuggets held the Knicks to just 12 points in the first quarter and held Julius Randle to just 14 points on 5 of 15 shooting from the field and scoreless from three. The Nuggets out rebounded them 64-42 and led by as many as 31 points.
The Nuggets play in Utah on Friday against the number one team in the league and then face the Nets at home on Saturday night in a back-to-back. Denver sits in third place with a 44-22 record.