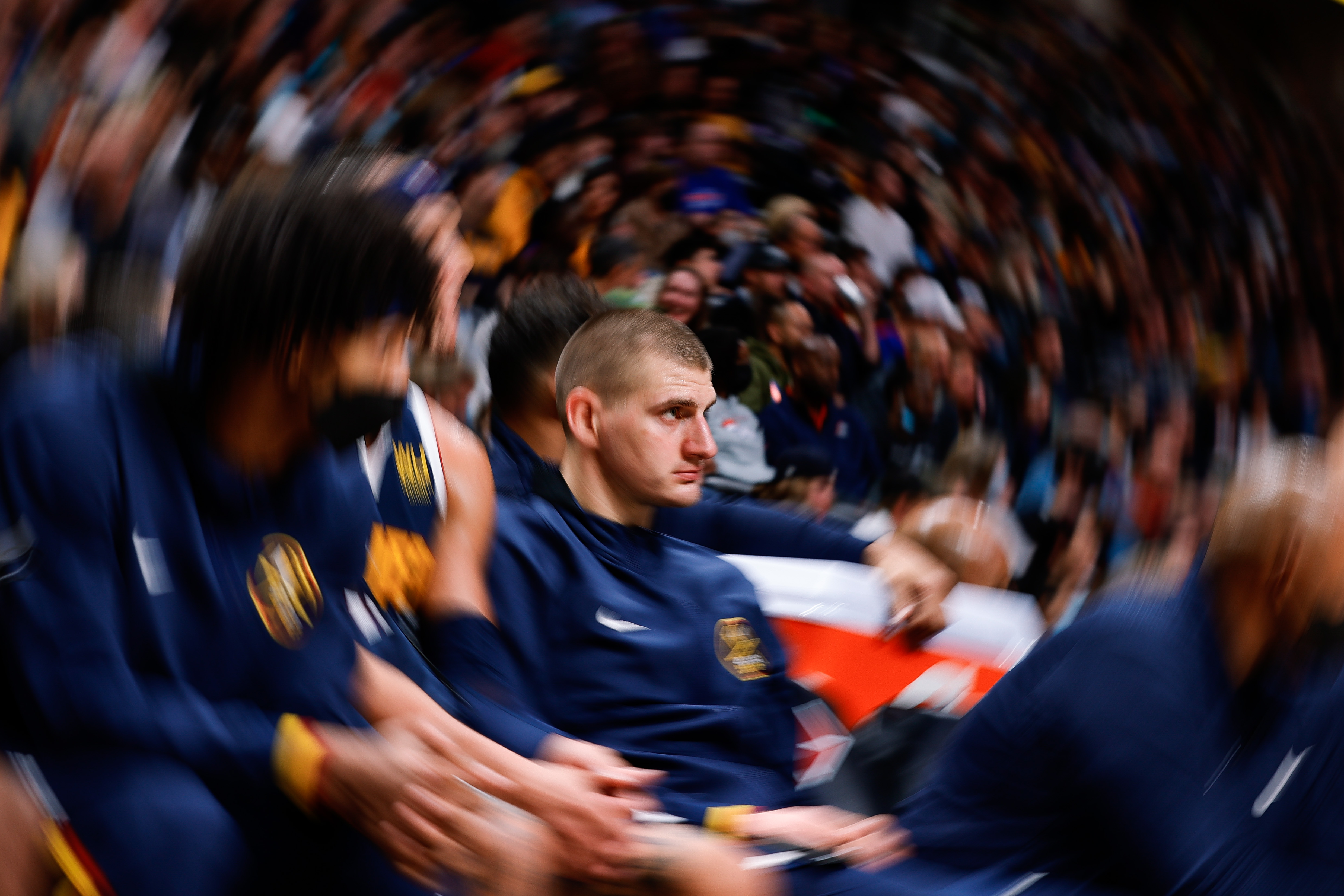 There are no questions anymore about Nikola Jokić's offensive capabilities.
Tasked with anchoring both the offense and defense for the 2021-22 Denver Nuggets with fewer helping hands than normal, Jokić proved that his 2020-21 MVP award was no joke. By winning another and filling up the box score at a historically productive and efficient clip, Jokić showed that his offensive game is quite clearly championship caliber.
Though the Nuggets have faltered in the playoffs in each of the last two seasons, it's hard to blame Jokić. In the 15 playoff games Jokić has played the last two years, he's averaging 34.4 minutes, 30.2 points, 12.1 rebounds, and 5.3 assists per game. He's also shooting 53% from the field, 35.2% from three, and 84.1% from the line, so it's not like he's been inefficient in his touches either. Though other Nuggets have struggled to score at times, Jokić has done his best to create open shots for himself and others. That's all that can really be asked of him while missing some of his top offensive teammates.
So, why does it feel like Jokić still has something left to prove, even after two straight MVP seasons?
After Giannis Antetokounmpo won his second straight MVP in the 2019-20 season, there was little love lost for the now beloved championship winning power forward. After the second round exit the Milwaukee Bucks faced at the hands of the Miami Heat, Giannis faced plenty of scrutiny. Never mind that Khris Middleton shot below his averages and Eric Bledsoe turned into a pumpkin. It was Giannis who faced most of the criticism as the best player. He had to become a better, more well-rounded player offensively. As a result, the Bucks won a championship the next season (upgrading upon Bledsoe with Jrue Holiday also helped).
Part of the expectation versus reality gap that Giannis faced was because of his MVP awards. He lost to the title winning Toronto Raptors in 2019 and to Kawhi Leonard, who many believed to be the best player in the world after that run. Giannis also lost in the bubble in a pretty ugly way, all while the runner-up for the award, LeBron James, led his team to a title. There was some scrutiny placed at Giannis' feet because the best players are supposed to be able to finish the job. Never mind the last MVP award winner to also win a championship was Stephen Curry in 2014-15.
Jokić is now facing a similar level of scrutiny that Giannis faced at the end his bubble run. Circumstance may paint Jokić's situation in a slightly different light, but he also has weaknesses in his game that his critics consistently highlight. The Nuggets have never had a capable playoff defense with Jokić out there. Whether that's his fault or not, it's clear that Jokić hasn't been the solution as a mostly ground bound center in an NBA emphasizing perimeter play.
The last time a team won with a traditional center as part of their "core" group was probably the San Antonio Spurs with Tim Duncan. Some will point to the Bucks with Brook Lopez, the Toronto Raptors with Marc Gasol or the initial Warriors with Andrew Bogut. The truth of the matter is that all of those teams found small ball options to play faster and more perimeter based basketball with Giannis, Pascal Siakam, and Draymond Green respectively. All of those guys are traditional power forwards, perhaps more similar to Aaron Gordon than to Jokić.
The Nuggets just don't have that luxury. When you pay Jokić the largest contract in NBA history, the expectation is that he will lead Denver to championship level success at some point. He has to be on the floor for that, which means the Nuggets have to find ways to be successful defensively even when they don't have that signature small ball option. Denver can always try Gordon, Zeke Nnaji, and others in bench lineups that don't feature Jokić. It just won't be their identity.
Which brings me to this: Nikola Jokić is under a certain amount of pressure this season. It's not the same level of pressure that a Chris Paul may feel after faltering in an advantageous playoff situation again, or Joel Embiid who can't stay healthy enough to prove if he's better than Jokić. There is some pressure though, and it's on Jokić and the Nuggets to prove that winning a title with a traditional center is still possible, especially when that center isn't a true defensive anchor.
The Nuggets will have some reinforcements on the way of course. Jamal Murray and Michael Porter Jr. are going to help ease the offensive burden Jokić bore the last two playoff runs. In addition, the Nuggets exchanged some offensive contributors for their defensive counterparts, bringing in Kentavious Caldwell-Pope and Bruce Brown to help improve the perimeter defense. After a couple of down seasons as a franchise, there's a sense that the Nuggets are officially in championship mode, and that level of expectation and commitment should help improve Jokić's level of support as well.
But ultimately, Denver's fundamental principle offensively may also end up being their fundamental defensive flaw. In a world where Draymond Green is playing small ball center and Steph Curry is pulling up from 35 feet on the regular, can Denver build a functional playoff defense around Jokić? Is it possible?
Denver's improvements on the edges will help solidify the margins a bit, but the bulk of Denver's defensive concerns will still be tied to Jokić, and to Murray and Porter to a lesser extent. The Nuggets cannot score enough against the best of the best to win a title if Jokić isn't on the floor, so he's going to be out there almost no matter what. When opposing offenses run their schemes in an attempt to force Jokić to cover as much ground as possible, is he going to be able to handle it? Can he and the Nuggets limit the Steph Curry, Devin Booker, and Luka Dončić types on the perimeter? Or is Denver just going to have to outscore every opponent they face knowing that defense is a lost cause?
Jokić HAS made strides defensively. Last year was his best defensive season, and yet he still wore down and was worse at the end of the season than at the beginning primarily due to a massive offensive burden. In isolation defense on an island, most players can still get whatever they want against Jokić at the end of games. In the aggregate though, Jokić's individual defensive breakdowns and weaknesses are no worse than the average center. The problem? Elite playoff defenses often play average defensive centers off the court, and the Nuggets can't let that happen. Jokić can't let that happen.
The hope is that Jokić will improve defensively because Denver's margins improved. KCP and Bruce Brown will automatically help things a bit. Murray and Porter adding to the offense means that Jokić can hopefully scale back a bit offensively and instead save his energy for making the necessary defensive plays. Opposing teams have already and will continue to run every offensive action at him in an attempt to exhaust him. It's their best chance to win on the margins against the Nuggets, so the Nuggets have to limit those margins as much as they can.
This season will have to be Jokić's best ever defensive season. To win a championship, it's almost a requirement.
As long as the Nuggets remain mostly healthy, there should be no question about the regular season success. They're in line to win a ton of games, and Jokić is of course the biggest reason why. Denver's playoff problems don't really start with Jokić either. Porter still has plenty to prove while Murray has a long way to go before he's back to being the best version of himself again. Also, Bones is in line for a significant increase in minutes and role, something he may or may not be ready for on both ends of the floor.
But if things go mostly well on those fronts, the Nuggets will definitely find themselves with homecourt advantage in the first round of the playoffs, perhaps longer than that. Expectations will be through the roof, and there will be pressure on everyone involved to reach those goals.
If Nikola Jokić is to correct some of the narratives that have begun to surface about his playoff capabilities, becoming the best defensive player he can be is the way to eradicate those narratives completely.