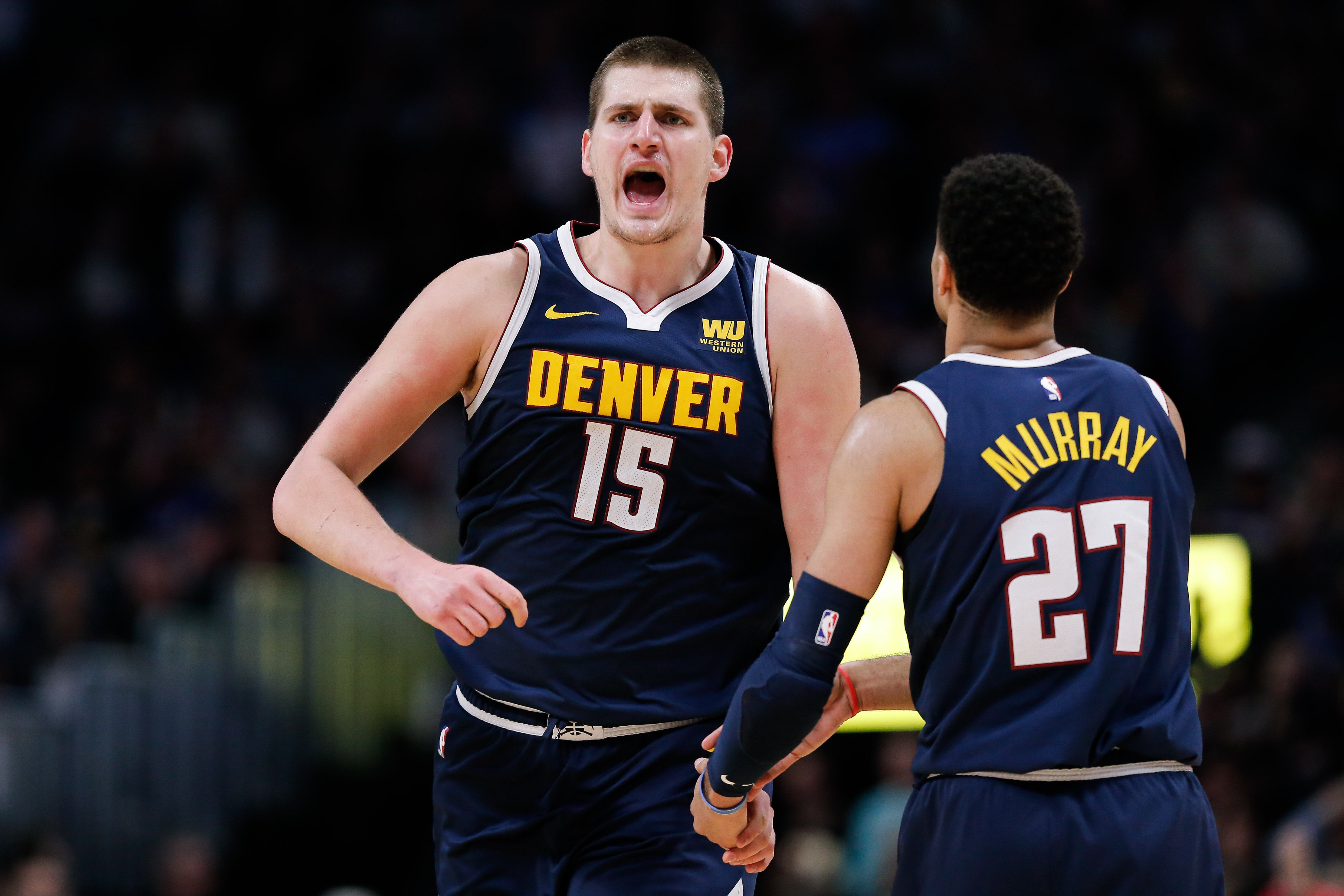 Nikola Jokić took over the fourth quarter when his team needed it most. The Nuggets offense went stagnant, so Jokić did what he does best and started attacking the paint. The Bulls could not stop him. He scored 17 of his 39 points in the fourth quarter to give Denver the 118-112 win over Chicago.
"I just needed to put the pressure on," Jokić said. "I needed to score a couple times just to change the momentum. They had the momentum and the lead in the fourth quarter so we just needed to change that a little bit." 
The Nuggets led by as many as 15 in the first half but watched that lead slowly slip away in the third quarter. The Bulls came back within 4 with 2 minutes left and eventually got within one. Then in the fourth quarter, Chicago went on a 29-6 scoring run to take a 6-point lead. Denver had enough and kept feeding Jokić the ball.
"We just kept running the same play honestly," Jamal Murray said. "I ain't going to lie to you. We ran the same play over and over and he was just scoring every time. There was no need to change anything and he was hot."
Jokić finished the night with 39 points on 17 of 28 shooting to go along with 14 rebounds and 9 assists. For Michael Malone, having an MVP-caliber player like Jokić to take over games is a luxury and there isn't any player he would rather build an organization around than him. 
"That's the luxury of having an MVP candidate," Malone said. "Now I see all these conversations about who would you want to start a franchise with and I never see Nikola's name mentioned and I'm dumbfounded by that. My nominee, I'm going to write in a nominee, Nikola Jokić is a guy I'd like to build a franchise with like we've done here in Denver and had great success with."
When it comes to talking about his own personal achievements, Jokić tends to shy away. He has always been a team first kind of guy and it doesn't matter how many points he has as long as his team wins. Malone compared his demeanor to that of 5x NBA champion Tim Duncan. 
"The guy I compare Nikola to in that regard is Tim Duncan," Malone said. "I'm not saying he's Tim Duncan. Tim Duncan is arguably the greatest power forward to ever play the game. All I'm saying is that Tim Duncan was a world champion and he was probably the most humble guy that you ever saw. Nikola carries himself in the same light. Nikola is just happy to be apart of the group, help us win and doesn't want the spotlight or attention. I really admire that in him." 
Jamal Murray has also been on a scoring binge as of late. He has scored 20 plus points in the past 10 games and has been going off ever since Malone sent him his stats after a poor shooting performance back in early February. He scored 24 points on 8 of 14 shooting on Monday night.
"Jamal, I'm always on him and challenging him to be more consistent," Malone said. "But I have to say this year, it's his fifth year in the NBA, especially as of late, I think he has been terrific, it's tough to ask any player to sore 30 and 10 every night but the streak that Jamal is on, the efficiency, the scoring, the playmaking, the rebounding, the defense, the engagement." 
Malone went onto say that Murray was deserving of consideration for an NBA All-Star spot and he thinks he's right there in terms of making it over the next few years. 
Michael Porter Jr has been in his bag, too, and recorded is fourth straight double-double with 17 points and 15 rebounds. He has really stepped it up on the boards and prioritized being more of a presence on the glass now that both Paul Millsap and JaMychal Green have been out.
The Nuggets have won 2 straight games on the road as they head to Milwaukee to take on the Bucks Tuesday night for a back-to-back.