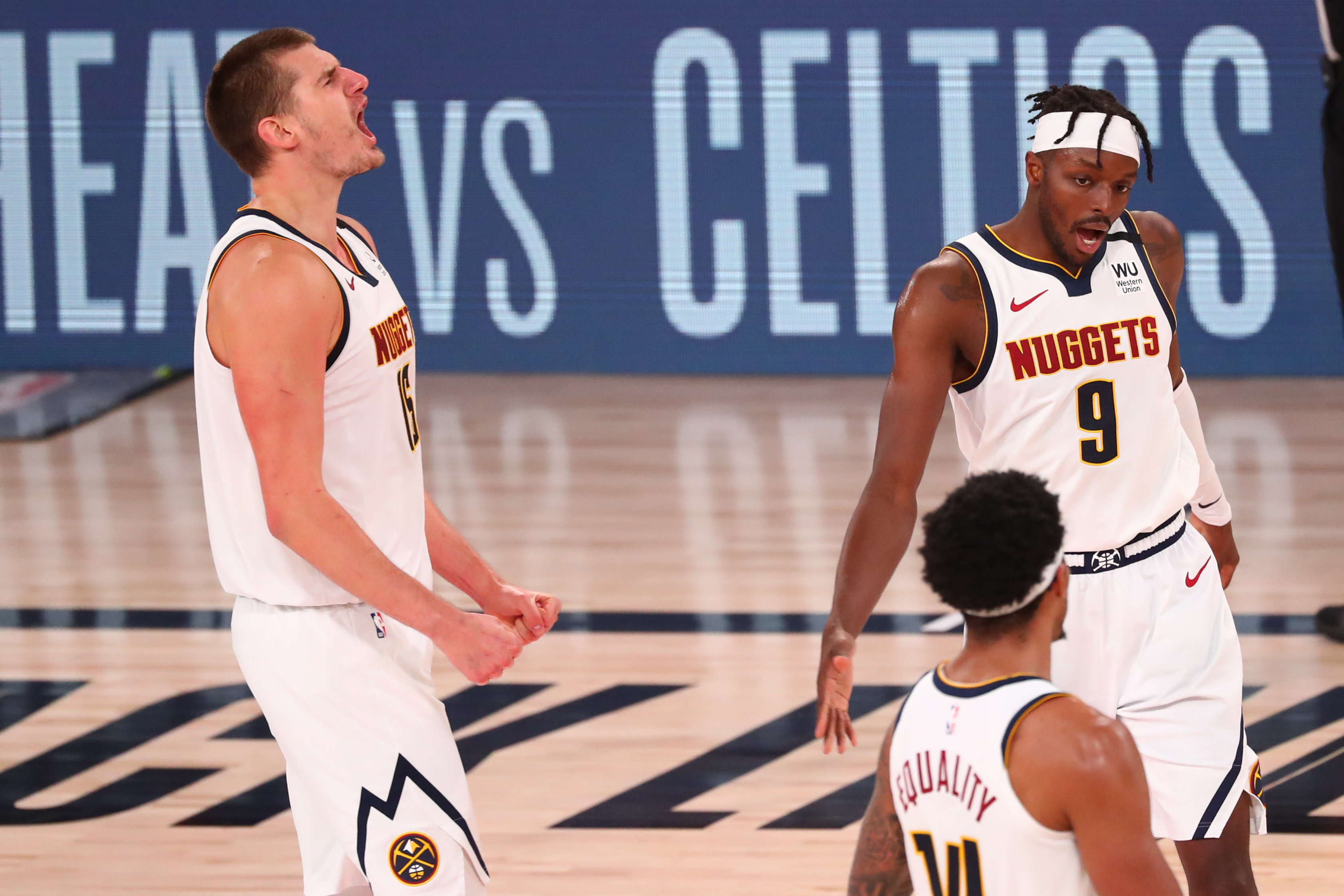 Performing surgery requires an incredible amount of skill and knowledge.
Without years of training, the patience to make the correct decision, and the ability to handle the pressure when operating on a living being, there is no shot of someone becoming a surgeon. It takes a life-long dedication to reach that level of exactitude at ones craft.
For Jokic, he just completed his first major procedure after surgically removing the Los Angeles Clippers' title hopes with a masterful Game 7 and he reached that level of precision by the young age of 25 years old.
Just look at how meticulous Jokic was in Denver's miraculous Game 7 victory over the Clippers. He is the surgeon and his eyes are his scalpel for this particular possession. With one look, Jokic sliced open the Clippers dominant defense as if he was cutting through butter with a hot knife.
The Clippers first mistake was sending two defenders to Murray at the top of the key with Jokic screening. That allows Jokic to slip the screen and catch Murray's pass on the short roll with many readily available options surrounding him.
Instead of making the easy pass to Millsap cutting baseline, Jokic has the foresight and understanding that he can use Millsap's gravity as a cutter to create an open 3-pointer for Harris, but to do that he has to get Los Angeles to commit to guarding Millsap at the rim. That is when Jokic's eyes become his surgical tool to cut into the Clippers defense. He looks to Millsap which forces Reggie Jackson to sell out rotating to the baseline to try and slow Millsap, but as Jackson begins to make his move towards the rim, Jokic perfectly places a pass no-look pass into Harris' shooting pocket for the 3-pointer.
What made Jokic's performance so exact and so devastating was how easily he was toying with the Clippers. Over and over again, Los Angeles was doing exactly what Jokic wanted them to do which gave him advantages to exploit repeatedly.
From early in the first quarter, it became abundantly clear that Jokic was too intelligent and skilled to be doubled so early in the shot clock. Whenever the Clippers sent two defenders his direction, Jokic used that as a tool to further slice through this Clippers defense.
So while Jokic's eyes were his surgical device in the first clip, this time it was his patience.
Once again, the Clippers sent two defenders to Jokic once he caught the pass in the post, but as soon as Jokic sees Paul George coming to double, he already knows exactly how the Clippers are going to rotate once Grant makes his cut.
With Zubac needing to stick with Millsap, Leonard has to slow down Grant's cut, but this is where Jokic makes them pay. He knows that Leonard will have to eventually let Grant go so that Leonard can rotate back out to defend the three-point line and he also knows Zubac is not in great position to help being stuck on Millsap. So instead of just making the pass early on, Jokic patiently accepts the double-team and remains there until Leonard takes his first step back towards the perimeter which leaves Grant wide open for the uncontested dunk.
Jokic's patience was the difference between Grant getting that uncontested dunk and him trying to score through both Zubac and Leonard at the rim.
Now let's talk about the intelligence it requires to surgically remove a team from the playoffs like Jokic did in Game 7 against the Clippers.
The clip below starts out almost identical to the clip just explained above, but Jokic's understanding of his surroundings and his incredible basketball IQ allow him to shift on the fly and use his previous assist against the Clippers to create yet another open shot. So instead of using patience and his eyes to cut up the Clippers, he instead uses his IQ.
Once again, Jokic gets doubled in the post and once again, Grant cuts down the middle of the lane to give him a safety valve. But instead of feeding Grant in the same spot on the floor as he did in the previous quarter, Jokic waits a bit longer because he knows the Clippers have likely adjusted.
They did adjust as Lou Williams fully picks up Grant cutting to the rim, but that leaves Harris open beyond the three-point arc. That is when Jokic launches another perfect pass to get Harris the open 3-pointer that he drills.
All night long, Jokic continually used the Clippers own scheme against them surgically eliminating the Clippers hopes of progressing in the playoffs.
The last surgical tool that Jokic utilized in his expulsion of the Clippers was sheer determination to do what was needed to win.
There are not many times that Jokic outruns anyone in transition, but outrunning Kawhi Leonard and Marcus Morris? That is a level of urgency that Jokic does not always have.
And it's a good thing he did. Without Jokic hustling up the court, the Clippers would have the numbers to matchup and slow the Nuggets fast break attack. But with Jokic sprinting, Williams has to step up to stop Jokic which leaves Craig open filling the lane to Jokic's right giving him an easy bucket.
All night long, Jokic dissected this Clippers defense and maybe no play was more representative of his complete control of the game as the clip below.
Jokic sets a good screen and when he sees both defenders leave him to contain Murray, he gets to the middle of the floor and waits for the pass which forces Leonard to rotate over and step up. But instead of just Leonard stepping up, both George and Green collapse onto him as well.
That leaves Jokic with three options: spin and fire a pass to Grant in the corner, hit Harris with a pass in the opposite corner, or find Millsap open on the wing. All three are good options, but Jokic sees a fourth and less obvious selection. Instead of getting the ball to an open shooter as fast as possible, Jokic catches the pass looks to Harris in the corner forcing Green to rotate out of position before eventually swinging the ball to Millsap for the lightly contested triple.
Watch Green on that possession. He is worried about Jokic rolling, Jokic passing to the corner, and Jokic passing to the wing, but fails to stop any of those possibilities because Jokic was already three steps ahead of every member of the Clippers on the court.
In his near-flawless Game 7, Jokic finished with a stat line only ever put up by Wilt Chamberlain in the postseason. He had 16 points, 22 rebounds, and 13 assists in 39 minutes of action, but those numbers only tell part of the strong of just how phenomenal Jokic was.
As Nuggets head coach Michael Malone constantly says, people are running out of superlatives to correctly define Jokic's unique style of dominance. And on Tuesday night, it was once again clear that the English language lacks the correct adjectives to asses Jokic's magnificence, but for the Nuggets none of that matters.
They are headed to the Western Conference Finals for the first time since 2009. They have silenced the doubters who claimed them as frauds, they have arrived as the true title contenders they are, and they did it all with the help of Jokic's surgical mastery.