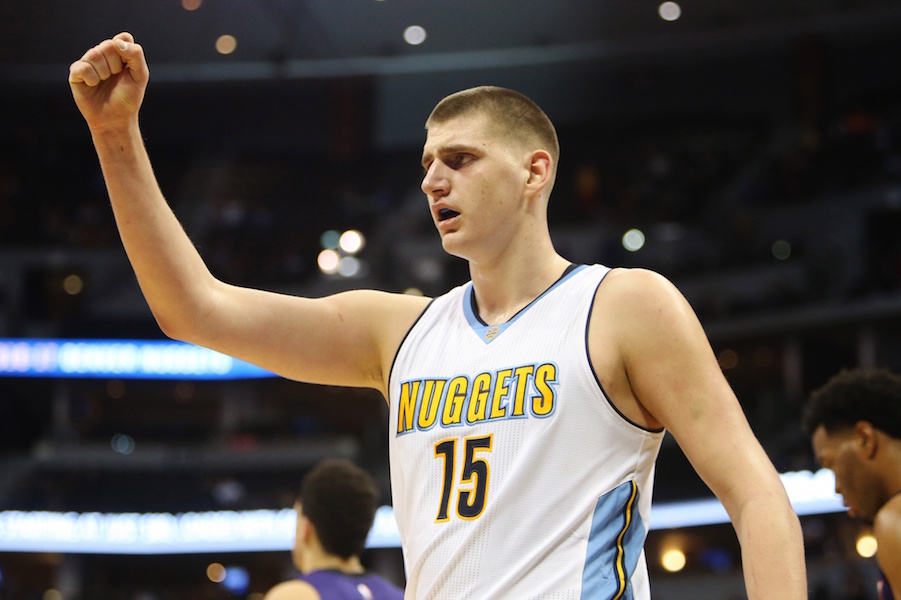 The Denver Nuggets found a diamond in the rough when they selected Nikola Jokic with the 41st overall pick in the 2014 draft.
Jokic went from being a second-round stiff to the face of the Nuggets franchise in just two years time. Last season, he took the basketball world by storm with his wicked offensive ability that ultimately turned Denver's offense into one of the premier units in the league.
With Jokic at the helm, Denver found their mold for the future. But for as good as Joker's raw skills are, it was clear at the end of last season that he still requires a lot of work to take his game to new heights.
Jokic and the Nuggets know what's at stake this summer, especially as the Western Conference is in the midst of an arms race in an attempt to catch the Golden State Warriors. This offseason has been a challenge for Jokic, but one he is embracing.
"I was over in Serbia about a week or so ago, spending time with [Jokic] and his family, working with him every day," Nuggets head coach Michael Malone said from Las Vegas Monday. "We challenged him: Come back in great shape, come back stronger, and come back ready to lead this team. We play through him, he's a guy that has got better and better every season and hopefully next season, he, Gary [Harris], and hopefully, all of our young players can continue to get better."
If the Nuggets want to keep pushing the culture forward, it is essential for Jokic to take the next step in his game. Too many times last season he would get into foul trouble or become lazy on defense. Both of those aspects will be fixed with maturity.
The biggest x-factor with Jokic is his strength. The fact of the matter is this: If he does not get stronger, the Nuggets will struggle to compete in the West.
Steve Hess, Denver's strength and conditioning coach, spent some time this summer in Serbia, Jokic's home country, making sure the big man is putting in the necessary work. In addition, Jokic's towering brothers have been keeping tabs on him.
Working out in his homeland benefits Jokic for many reasons, but the biggest is his ability to focus solely on improving as a player in true grit and grind fashion.
"He's working his butt off," Malone said. "When you go to Serbia, there is no fancy health clubs and spas. This is like a 'Rocky' movie. He's in great shape, he's working hard. His heads in the right place. He knows it's a very important summer for him. He's working hard and he's going to come back a better player than he was last season."
Jokic is one of the most electric young players in the NBA. He took the league by storm last season and is the expected to be one of the most exhilarating young centers for good reason. Jokic's natural skills have put him on the map, but to take the next step, he needs to bulk up and become a powerful force physically if Denver wants to continue on their path towards building a championship contender. This summer, he's taking big strides on that path.