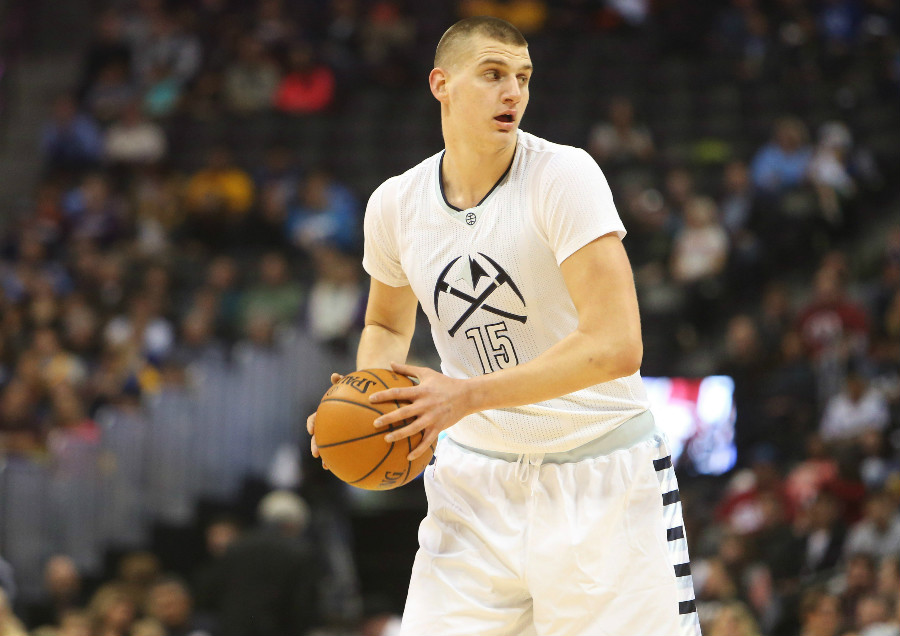 After a solid year that included 55 games as a starter, Nikola Jokic finished third in Rookie of the Year voting. Joker had 10 points and seven rebounds in 21.7 minutes per game. Karl-Anthony Towns of the Minnesota Timberwolves was the unanimous choice for the award, receiving all 130 first-place votes.
In a season where Emmanuel Mudiay was predicted by many to be a frontrunner for the award, his fellow rookie proved to be the more consistent player. Jokic finished eighth in the league in real plus-minus, first among all rookies.
Some fans may think that Jokic was snubbed, more deserving of the second-place finish that went to Kristaps Porzingis of the New York Knicks. Head-to-head in a March 8th match up, Jokic outplayed him on both ends of the floor, finishing with 20 points and nine rebounds, compared to Porzingis' paltry six points and five boards.
However, there are just certain factors that Jokic couldn't compete with. Porzingis was the fourth-overall pick of last year's draft, while Jokic was a second-round selection the year prior. Zinger had massive media attention all season and finished fourth in this season's jersey sales.
Although Jokic may be the more fundamentally sound player, the New York spotlight made beating Porzingis an impossible task. Porzingis finished with 117 second place votes compared to Jokic's seven.
However, Nuggets Nation should not be upset or discouraged. Finishing third in any year is a great honor, but is an even greater achievement this season. The 2015 rookies may prove to be a special class. Mudiay improved greatly over the second half of the season and other rookies such as Phoenix's Devin Booker, Philadelphia's Jahlil Okafor, Miami's Justise Winslow and the Lakers' D'Angelo Russell all seem poised to make an impact on the league for seasons to come.
The fact that the Nuggets have two of those names is a reason for optimism. The organization's front office has proven to be effective at using high draft picks well and finding great talent, such as Jokic, later on in the draft to stash for future years.
Beating out a superb talent in Towns and a media darling in Porzingis was never going to happen. Nonetheless, Jokic will be an important part of the Nuggets future and it is nice to see his great play be recognized.