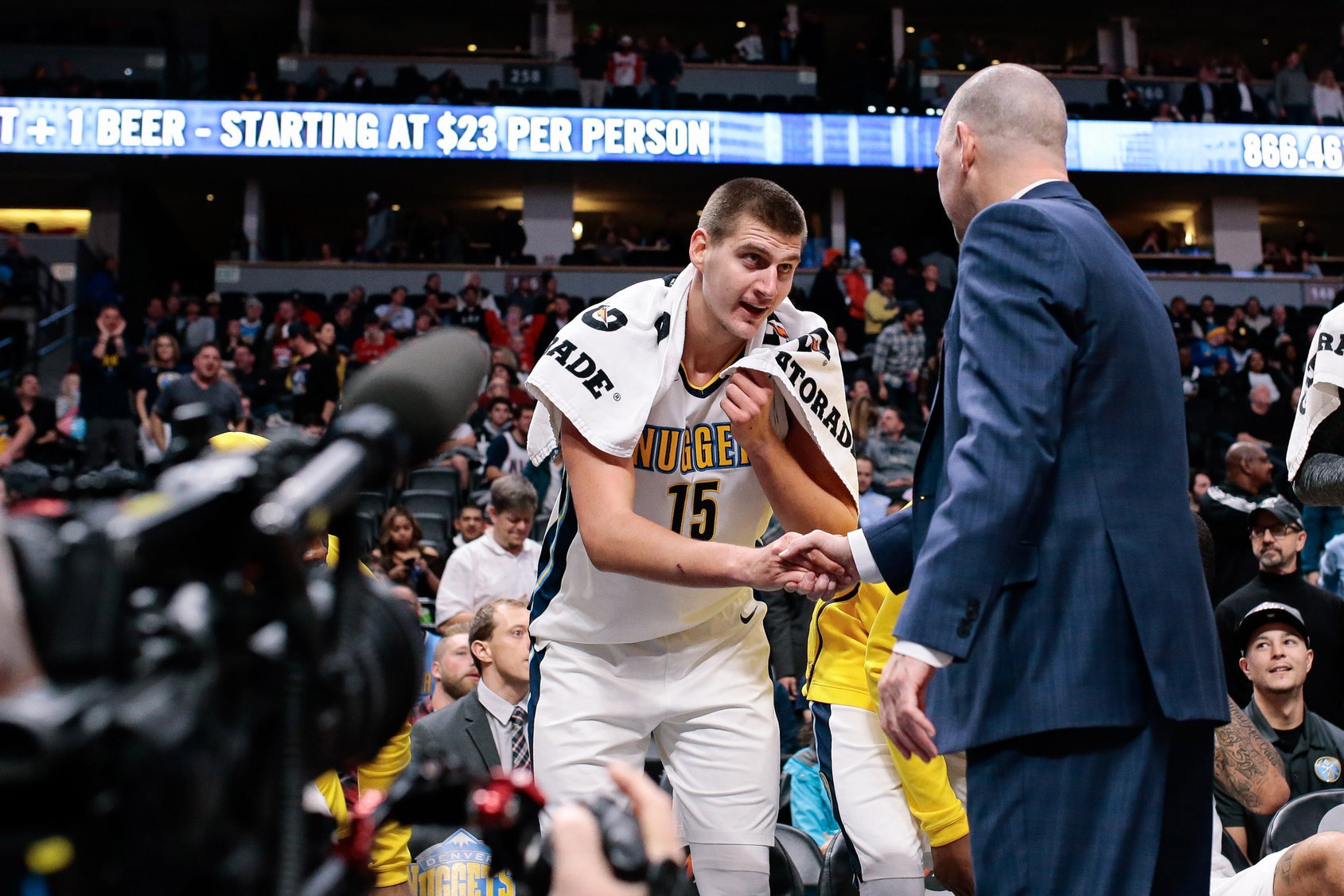 As Nikola Jokic was posting a career-high 41 points in the Denver Nuggets victory over the Brooklyn Nets, "MVP" chants reigned down from the stands at Pepsi Center. When asked about the praise Jokic stayed true to his Joker nickname with an iconic response.
"Why so serious?" he said with a grin.
It's the unselfishness and lightheartedness of Jokic that makes him one of the most unique talents in the league. While most players are on lockdown during the season, Jokic doesn't change. He's constantly cracking jokes, telling stories of home and talking about how he likes to play the new Call of Duty with Wilson Chandler.
Basketball is Jokic's priority, but he also understands it's not everything. He takes the time to enjoy and discuss things beyond the hardwood and that is a large reason he's a swiss army knife for Denver on the court.
"I think he has to be who he is," Nuggets head coach Michael Malone said of what makes him great."That's who Nikola is. I hope he never changes. I hope he never tries to be something he's not. Nikola Jokic is genuine, he's real and whether it's scoring 0 points in our home opener against Sacramento and winning, or scoring 41 and a career-high last night against Brooklyn, he's the same kid every day."
Jokic is unlike most NBA players in all aspects. He's not about the spotlight or popularity. Instead, Jokic strives to be an average guy on any given day. As the spotlight has come, the 22-year-old remains himself, always goofing around and boosting the spirits of those around him.
"It's refreshing," Malone said of being around Jokic. "To have a guy who is as talented as Nikola is, who's having the impact that he is here in Denver, but also throughout the NBA, I think he's become a household name and he did that last season."
Jokic's selfless play and team-first mentality has allowed Denver to build a fluid unit around him and has given the team flexibility in a multitude of areas. It's his willingness – or lack of desire to be a star – to buy into the team first system that has the Nuggets trending upwards in the Western Conference.
"Nikola's all about team," Malone said. "But I think really he gets greater enjoyment out of making everybody about him better and he's not about the spotlight, he doesn't have an ego, he's just a fun loving guy who needs a swift kick in the ass once and a while and he's got a chance to be a hell of a player."
Jokic has been sharp this season, averaging a double-double per contest with 17.9 points and 11.6 rebounds per contest. In addition to his averages, Jokic is shooting 54% from the field and has been red-hot from beyond the arc, owning a 44% 3-point percentage.
"I am going to stop saying he is a hell of a young player because I don't care how old he is; he is one of the best players in the NBA." Malone said.
For more on Jokic and the Nuggets check out the video below!
#Nuggets practice report 11/8. Jokic, OKC, and more with @TJMcBrideNBA https://t.co/rY8ueWA9JE

— Aniello Piro (@APiroSports) November 8, 2017