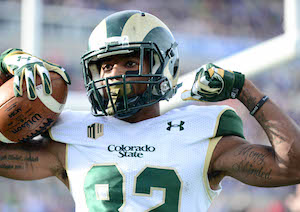 The Colorado State Rams have four wins, with three games left on the schedule, and two of the those games are very, very winnable. Adding one more game to the schedule is a distinct reality for the Rams, should they reach six wins.
In fact, you might even call it a disappointment if the Rams don't grab a bowl bid this year, especially considering the beatdown administered to the rival Wyoming Cowboys on Saturday.
Highlights were aplenty, both on offense and defense for CSU:
Wyoming is bad, but still, the win was convincing. The Rams rumbled for 228 yards on the ground, and held the Cowboys' Brian Hill, who has the second-most rush yards in the country with 1327, to 65 yards.
CSU should have no problem reaching a bowl if they continue to dispatch bad teams with the same fervor. UNLV and Fresno State, which combine for five total wins, constitute the two winnable games for the Rams. The Rebels bring a competent rushing attack that averages almost 210 yards a game, however the Rams have proven that they can handle the run, as shown by their silencing of Hill this past week and also against Air Force earlier in the year.
Latest from @cofelix7: Offense wins games but defense could lead #CSURams back to a bowl https://t.co/OLBGtYXTyb pic.twitter.com/3QRNdNlxz0

— BSNRams (@CSURamsNews) November 8, 2015
Fresno State allows an average of 39.7 points per game, the ninth-worst of any team in the nation, and have lost seven of their last eight games.
These games sandwich a date with the formidable New Mexico Lobos, who eked out a 14-13 win over Utah State last week. Meanwhile, the Aggies put together a convincing performance to beat the Rams 33-18 in early October. That's why it's difficult to realistically entertain any illusions of a Ram victory of the Lobos. If CSU got handled that badly by Utah State, imagine what New Mexico will do to the Rams (in Albuquerque, no less).
Even with a loss to the Lobos, the Rams are in prime position to pick up two wins against the dregs of the Mountain West and return to a bowl for the third year in a row.
---
Calvin Jouard is an intern at Mile High Sports and a student at the University of Denver
---