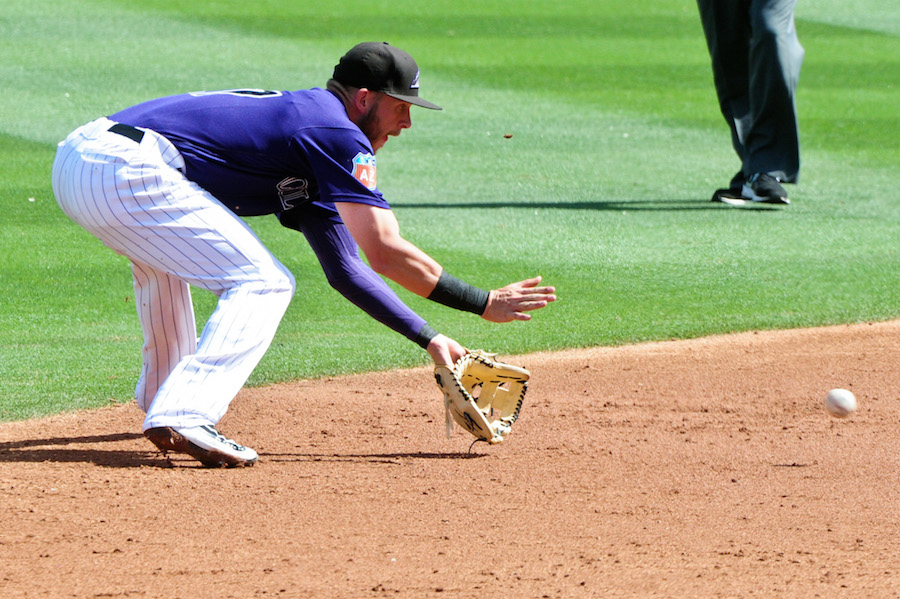 The ever-evolving storyline at shortstop has become even more complicated for the Colorado Rockies just before Opening Day. One day after the club announced that Trevor Story earned the starting position at shortstop following a monster Spring, the Associated Press is reporting that charges against Jose Reyes are being dropped. The prosecuting attorney said that Reyes' wife would not talk to prosecutors or return to Maui, Hawaii, where the alleged incident took place.
Reyes was scheduled to appear in court on April 4, which is also the road opener against the Diamondbacks. This news does not jeopardize Story's first major league start, though. Reyes missed all of Spring Training and his return with the team is in question at best. He was placed on paid leave until the completion of the criminal proceedings based on Major League Baseball's new domestic violence policy.
Now that the proceedings have been suspended, there is no guarantee Reyes' return will be immediate. Just because there was no legal action taken out on the shortstop doesn't mean MLB can't implement punishment. New York Yankees closer Aroldis Chapman, the first player to be disciplined under MLB's new Joint Domestic Violence, Sexual Assault and Child Abuse policy, received a 30-game suspension for allegedly choking his girlfriend and firing shots in his Florida home.
In Chapman's case, the left-hander was not prosecuted because of conflicting accounts and insufficient evidence making it difficult to lead to a conviction. While these technicalities make it difficult for legal action, by no means does it look like MLB will back down from implementing punishment to Reyes with precedent in Chapman's incident and the numerous NFL domestic abuse cases. Every league needs to set the standard that there is zero tolerance for this behavior. Major League Baseball has the right and obligation to set a precedent with Reyes.
In what would likely be a best-case scenario for Reyes, he would receive a suspension similar to Chapman's. That would make him eligible to return on May 6 against the Giants. Still, that doesn't mean Reyes we'll be starting by then, or any time soon after. Even if with the charges being dropped, Reyes has another obstacle to overcome: Trevor Story.
There is no questioning that Story earned his Opening-Day role by batting .378 with six home runs and 1.362 OPS. He also handled himself solidly with the glove. By promoting the 23-year-old shortstop, Jeff Bridich and the front office have created a scenario that is not especially encouraging for Rockies fans. The promotion of Story means the team thought three weeks of play was more important than gaining a full-year of control in 2022. This means the Rockies likely have plans on defying the experts and competing in one of the toughest divisions in 2016; otherwise, they would have let Story begin the season in the minors before promoting him back up to the big leagues in a few weeks.
The Rockies can technically get that year of control back; Story would have to be sent down to the minors for a stretch of at least four weeks. But with the way he's been playing — and given he comes without the side-antics of Reyes — the Rockies would be right to hand over the keys in full to Story.