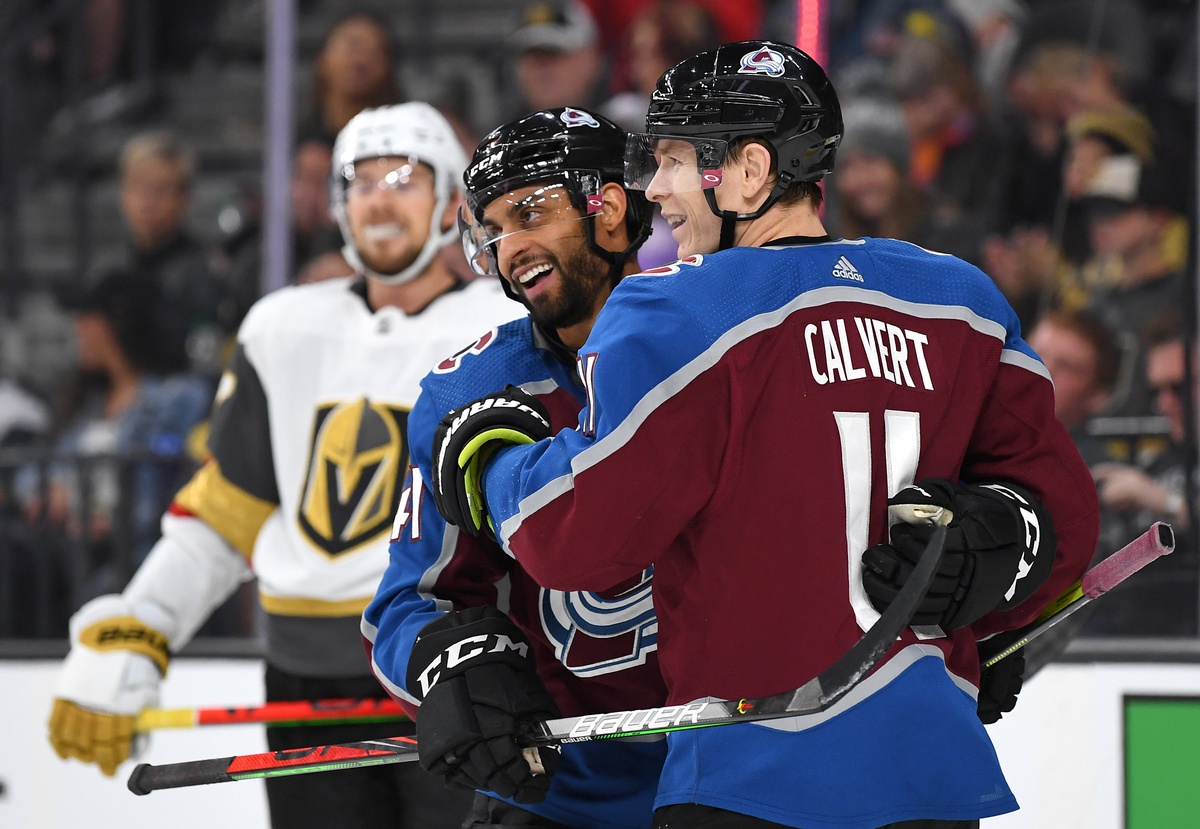 The question for many was, how are the Avalanche going to respond without All-Star winger Mikko Rantanen in the lineup? Rantanen was lost to a lower-body injury in Colorado's first regulation loss of the season on Monday in St. Louis.
The response? A 6-1 drubbing of the Vegas Golden Knights at the T-Mobile Arena.
The Avalanche (8-1-1) scored early and often, highlighted by a goal 28 seconds into the contest from former Golden Knight Pierre-Edouard Bellemare to get the scoring started. The Avs' depth would've been in question in recent years, but they stepped-up today, just as they have all season.
In fact, the Avalanche's fourth line delivered in a big way. Bellemare, Matt Calvert, and Matt Nieto combined for three goals and three assists with Bellemare amounting for half of those points. The trio was on the ice for the opening goal, and Calvert added the last two of the game, one of which was shorthanded, to blow the game wide open.
Nathan MacKinnon's season-opening point-streak reaches 10 games. Even though the depth was the story, MacKinnon still found his way onto the scoresheet, recording an assist on two second-period goals. His first point was the secondary assist on a play that eventually led to a goal from defenseman Cale Makar, and his second was a beautiful feed to forward Nazem Kadri on the power-play that was one-timed past Knights goalie Marc-Andre Fleury.
Speaking of Makar, that his first career NHL regular-season goal. Makar had recorded eight assists coming into tonight. With the goal, the rookie now has nine points in his first 10 regular-season games after playing in 10 playoff games last spring. Makar was paired with Ian Cole today after spending a majority of the season playing alongside Nikita Zadorov.
Calvert wasn't the only player to record multiple goals. Kadri's two goals, one of which was the eventual game-winner late in the first period, was his first multi-goal game in an Avalanche sweater. After starting the season slow offensively, Kadri now has seven points, including five goals, in his last seven games.
The Avalanche return to action against the Anaheim Ducks at 7 p.m. MT on Saturday at the Pepsi Center.
Avs coach Jared Bednar told reporters prior to the Vegas game that the plan is to start Pavel Francouz against the Ducks on the back end of the back-to-back. Francouz was in goal in Colorado's last home game two weeks ago.