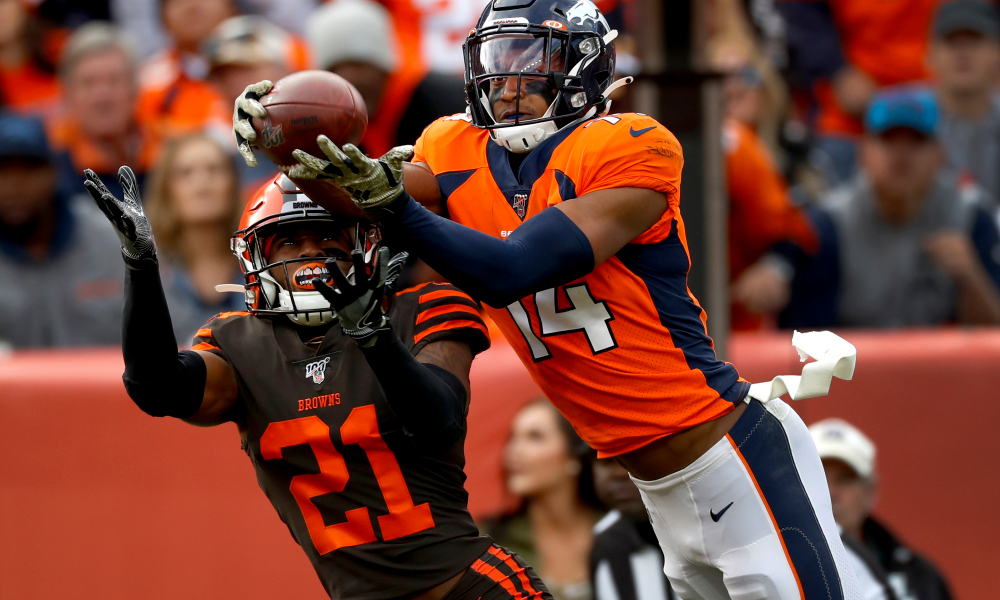 Yesterday, another Denver media company published an article which claimed the narrative that Elway's recent draft classes have been an improvement on a slump he suffered in the mid-2010s, is entirely false.
In regard to the notion of Elway's draft classes improving, the author, 104.3 The Fan's Dan Jacobs wrote, "I often have fun with silly statements like these, routinely thrown out by what I affectionately call 'The John Elway lapdog, suck-up media.' I've come to expect such silliness from a great deal of the media, long afraid to run afoul of the great John Elway and the Broncos organization."
That's a bold statement to make about a large group of your peers, so let's do our best see if Jacobs' claims hold any water, or if he's just another hot-take artist formulating lazy takes to drum up clicks and attention.
Spoiler alert: The results will not surprise.
Elway's Drafts 2015-2017
These are the years people are referring to when they mention the bad years of Elway's drafting.
Now viewer discretion is advised. Readers that either have sensitve stomachs or are faint of heart, you may want to avert your eyes here.
It started in 2015, when the Broncos drafted Shane Ray, Ty Sambrailo, Jeff Heuerman, Max Garcia, Lorenzo Doss, Darius Kilgo, Trevor Siemian, Taurean Nixon and Josh Furman.
Shane Ray was largely ineffective in Denver, totaling just 14 sacks and 33 hits on the quarterback over his four seasons with the team. It came as no surprise when the Broncos rejected his fifth-year option, and let him sign elsewhere. Although he did sign with the Ravens, he was cut before the regular season and has never played in an NFL game since.
Ty Sambrailo was the Broncos offensive tackle bust before Garett Bolles, though now with Bolles' recent play, Sambrailo may go down as Denver's only offensive tackle bust of the 2010s.  After being drafted in the second round, the Broncos traded him to Atlanta — where he would become a career backup — just two years into his career for a fifth-round pick.
Jeff Heuerman and Max Garcia contributed to the Broncos, but neither was ever an above-average starter, and injuries often prevented Heuerman from playing.
The only pick that lived up to, or exceeded, expectations was the seventh-round selection of Trevor Siemian, and even in that case, he was a subpar starter for the majority of two seasons and has been a borderline career backup ever since. Good for a seventh-round quarterback, but that's not really moving the needle much for your franchise.
Onto 2016, when Elway drafted Paxton Lynch, Adam Gotsis, Justin Simmons, Devontae Booker, Connor McGovern, Andy Janovich, Will Parks and Riley Dixon.
This time, we'll start with the positive. Justin Simmons has developed into arguably being the best safety in the entire league, making that selection a home run. Also, in the later rounds, the Broncos did pretty well, finding an eventual solid starting center in McGovern, a high-end fullback in Janovich, another excellent safety in Parks and a punter they never should have gotten rid of in Dixon.
However, the much more important early-round selections were a collosal blunder.
Paxton Lynch is the worst quarterback bust since either Johnny Manziel or Jamarcus Russell, and that is not a club you want to be apart of. Adam Gotsis wasn't a bust necessarily, but he never lived up to expectations, and at his best, was a well-below-league-average starting defensive lineman. Devontae Booker was expected to be the team's bell-cow, but outside of one game against the Houston Texans, barely looked like even a quality backup running back.
Finally, we've reached 2017, another draft where Bolles' recent successes has shifted the narrative some, but this class remains the biggest doozy.
The highlights of the class are first and second round picks Bolles and defensive lineman DeMarcus Walker. Before the season, Bolles might have been the most reviled man in the state of Colorado, and yet still was no worse than the third-worst pick in this class. This season, he's looked like a Pro Bowler and was subsequently rewarded with a contract extension.
Walker has struggled to crack the starting lineup his entire career, thanks to Vance Joseph horribly mis-utilizing him, but under Vance Joseph we've seen occasional flashes of the talent that made him a second-rounder.
Outside of those two, this class is one big mess of YUCK.
Third round pick Carlos Henderson never played a game for the Broncos while fellow third-rounder Brendan Langley flamed out at cornerback before also flaming out at wide receiver. Jake Butt might've ended up being a great tight end, but injuries robbed him of his career. Wide receiver Isaiah McKenzie might be the best player on this list, but the Broncos traded him to the Bills after one season, where he's stuck around as a rotational piece. Running back De'Angelo Henderson was a fun practice squad piece that made some minor appearances for the Broncos, but he was quickly off the team and out of the league. As for seventh-round pick Chad Kelly, well, let's just say things didn't work out there.
So, is it true that, "Perhaps the greatest spin job Elway and Company have delivered is the notion that after years of flat-out disastrous drafts, they rebounded and have delivered solid draft classes for the last several years," as Jacobs wrote?
Short answer, No.
Long answer, let's take a look.
Elway's drafts 2018-2020
2018 was the supposed turning point of Elway's draft, but let's see if that's nothing more than spin as Jacobs claims.
The class started off with Bradley Chubb and Courtland Sutton, both of whom project to be superstars at their respective positions in the coming years. Really the only knocks you can have on their play are torn ACL's, drops in Sutton's rookie season, and Chubb's slow start to this season that was almost instantly erased by two months of dominant play.
Two picks in and we're already much better off than any of the past three draft classes I reviewed.
Jacobs' critiques of Sutton and Chubb are also fairly ridiculous.
He argues that Sutton isn't an elite wide receiver because, "The truth is that Sutton finished in the 20-30 range in most major statistical categories."
In other words, he box-score scouted and didn't like what he saw compared to the rest of the league.
Perhaps catching passes from three different starting quarterbacks, two of which were noticeably worse than a rookie Drew Lock who had barely practiced due to injury, and being the offense's only legitimate pass-catching threat at the time played a factor?
He criticizes Chubb for, "his up-and-down play in his third season."
Chubb did get off to a slow start this season, but he has been anything but 'up-and-down' since Week 4.
Next up is Royce Freeman, who you could compare to Devontae Booker, but whereas Booker was one of Elway's best picks from 2015-2017, Freeman is arguably one of his worst from 2018-2020. That's not even a dig at Freeman, more just an acknowledgement that Elway hasn't missed much with high picks lately.
Isaac Yiadom is another member of the class that didn't work out for the Broncos, much like Sam Jones, Keishawn Bierria, David Williams, and arguably Troy Fumagalli, but the Broncos still added far more value to their roster with Bradley Chubb, Courtland Sutton, Josey Jewell and Phillip Lindsay, than most teams did with their respecitve 2018 classes.
Arguing that this class is even in the same ballpark as Elway's blunders from 2015 to 2017 is comedic.
Another comedic point, is arguing that Elway doesn't deserve credit for landing Phillip Lindsay because he was an undrafted player, as Jacobs implies.
This may come as a surprise to some, but the NFL doesn't randomly assign undrafted free agents. Instead, the teams and therefore the GMs scout UDFA's and offer contracts to the ones they like the best. That's what Elway did with Lindsay, and Lindsay elected to play for the Broncos instead of the other teams that offered him. Elway still deserves credit for that addition.
The 2019 and 2020 draft classes are too recent to get an excellent idea of, because the hardened vets of those classes have played 30 games in their career at most, but we can still point out how ludicrous it is to say these classes are as bad as Elway's prior stretch.
At this stage in his career, it feels like Noah Fant's floor is becoming Evan Engram, a hyper-athletic yet inconsistent tight end that's still near the top 10 in the league at his position. Meanwhile, his ceiling is sky high. Before he was injured this season, he was the Broncos' best skill-position player, and to be honest, it wasn't too close.
Dalton Risner and Drew Lock are having down years (and it's no secret that I'm not the biggest Lock fan), but finding a player that could be your franchise quarterback for the next decade in the second-round is a good pick, even if Lock doesn't realize his potential.
Meanwhile, Risner has been forced to play with NFL's worst center next to him (per Pro Football Focus) and had a truncated off-season to prepare, which could explain his year of regression, though it is certainly still a concern.
Dre'Mont Jones might even end up being the best player of the bunch, as he's played well enough over the last two seasons to make the possibility of cutting perennial Pro Bowler Jurrell Casey in order to give Jones a starting role instead next season a near-certainty.
The two later-round picks, Justin Hollins and Juwann Winfree, are both off the team now, but you can live with that after killing the early rounds.
It also helps when you add an undrafted stud at what is arguably the sport's second-most important position with Malik Reed, though for some reason, Jacobs wouldn't want to give Elway credit for signing an undrafted player.
2020's class could prove to be the best of the bunch. Jerry Jeudy and K.J. Hamler haven't had quite the impact we expected, but anyone who believes that lack of production is a result of a lack of talent is sorely mistaken. Both players have ability that leaps off the screen, and the Broncos appear to be set at wide receiver with a new incarnation of the 'Three Amigos.'
Lloyd Cushenberry and Michael Ojemudia have each had their fair share of struggles this season. Cushenberry has been PFF's worst starting center, as previously mentioned, and Ojemudia was benched for a stretch this season. But, if you're surprised that a rookie cornerback and center who barely received an off-season and were asked to start from Week 2 (at the latest), are struggling in year one, you need to re-calibrate your expectations for third-round rookies.
Cushenberry's struggles are a legitimate concern this off-season, but it also wouldn't be surprising if he made a big leap in year two, considering he'll have a normal strength and conditioning program, off-season, and he'll receive a ton of coaching from Mike Munchak.
With Denver's other picks, they found a DeMarcus Walker replacement, a sub-package linebacker, their No. 2 tight end of the future in Albert O — who looked fantastic before tearing his ACL — the best developmental lineman prospect in the draft, a practice-squad edge rusher, and Tyrie Cleveland — who has flashed and should be a special teamer for at least the remainder of his rookie deal.
Now tell me. Do those three classes look anything remotely similar to Elway's classes from 2015, 2016, or 2017?
The answer should be no.
How did Jacobs come to the conclusion that Elway's draft classes were still really bad?
Now that, is the real mystery.