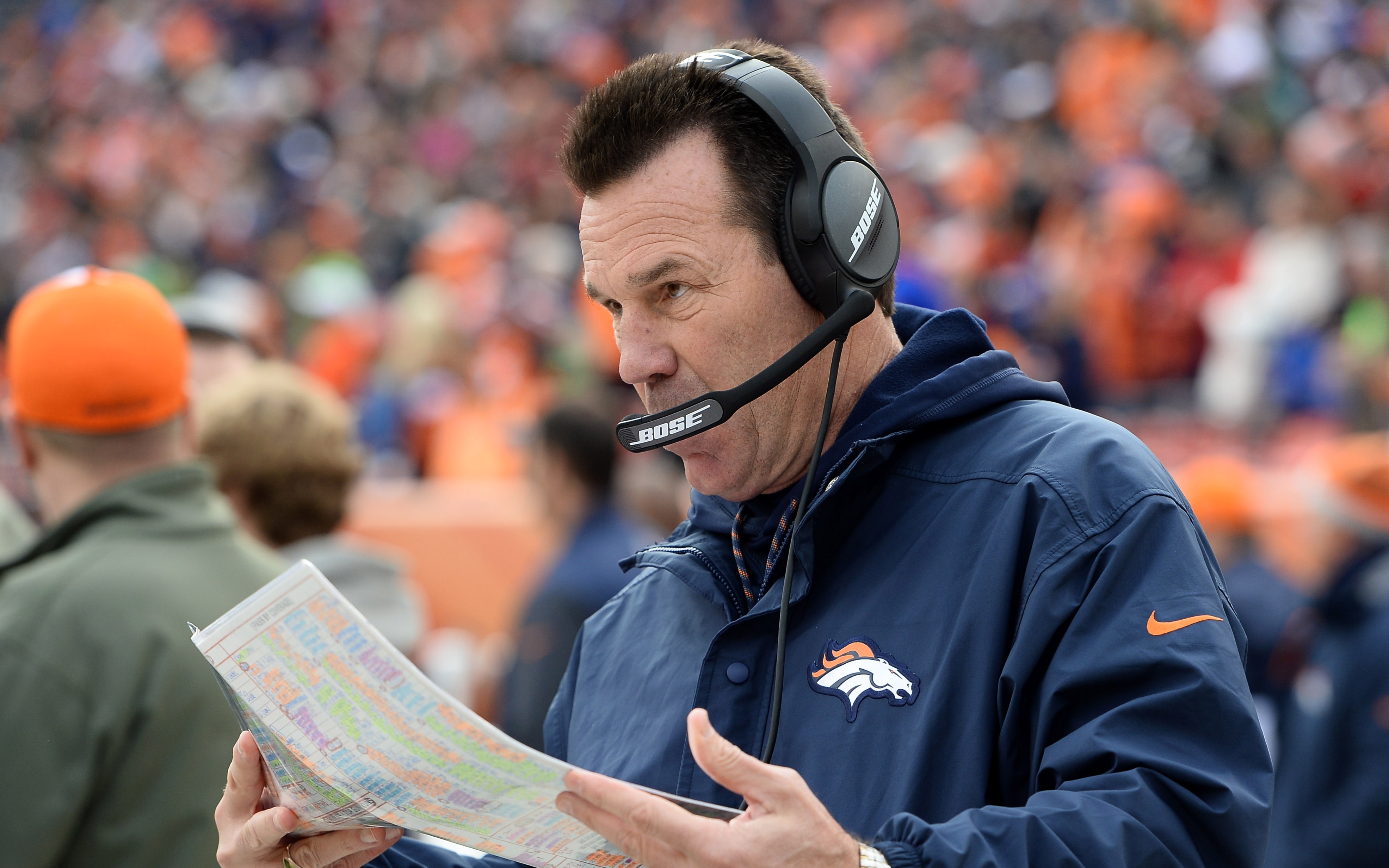 Gary Kubiak is one of the biggest, most influential people in the history of the Denver Broncos. Especially when you're talking post-1983, when both he and John Elway were drafted by the team to play quarterback.
Kubiak played for nine years as second fiddle to the Duke of Denver, and then was Elway's offensive coordinator from 1995-1998, enjoying two Super Bowl victories together during the team's heyday.
"Kubee" stayed on as OC through 2005 when he took over the Houston Texans as their head coach, and then returned in 2015 to help lead the Broncos to their third Vince Lombardi Trophy. After 2016, Kubiak retired due to health reasons, but only six months later he came on as Senior Advisor, and now, he'll take the reigns of the offense one more time.
That, however, is a bad thing for the Broncos offense.
If you're a nostalgic Broncos fan, you may be upset with the idea that Kubiak shouldn't be the offensive coordinator. But, has the game passed by his bootleg-dominant, play-action passing, tight end-heavy offense?
Yes and no. While many teams are still utilizing West Coast offenses, many of them are now incorporating the run-pass option. Will Kubiak do so? It's likely he will not.
Last year, Kubiak was "heavily involved" in the offense, as then-offensive coordinator Bill Musgrave explained early on in the season.
Denver's offense in 2018 was awful; they finished No. 24 in scoring (20.4 points per game) as most of the lack of success came in the passing game. The Broncos run game was actually very good, but under-utilized, at No. 4 in rushing touchdowns (18) and yards per attempt (4.9).
Musgrave's play-calling was frustrating bordering on maddening; he didn't hand the ball off enough to Phillip Lindsay and didn't use nearly enough play-action passing with Keenum. Then, later in the season, Musgrave routinely dialed up passes within two yards of the line of scrimmage, which teams saw in film and easily shut down.
Going back to the play-action, though; Keenum thrives when he moves in the pocket and when he fakes a handoff only to throw the ball. So, in that way, Kubiak's old-school offense will be perfect for the quarterback who really needs to prove himself in 2019.
Kubiak's a bit of a quarterback whisperer, too. He coached Steve Young in San Francisco before Elway, helped Brian Griese and Jake Plummer play their best football, coached-up Matt Shaub, Joe Flacco and even Peyton Manning.
Talk about a resume!
So, while his 25-year-old scheme may leave a lot to be desired in terms of creativity, Kubiak's biggest positive is his experience and ability to push quarterbacks to reach their potential.
But back to the scheme for a minute.
While it wasn't "his" offense in 2018, being heavily involved in that terrible offense hurts his case.
So does the offense in 2015 — even with Manning at quarterback — and certainly 2016. (It should be noted that Rick Dennison was the offensive coordinator of those teams, another long-time Broncos player and coach.)
In the Super Bowl 50-winning season, Kubiak's offense was No. 19 in scoring (22.2 PPG), No. 14 in passing and No. 17 in rushing yards that year. And they turned the ball over way too often, with 31 on the season, which was 29th in the league.
The next year was much worse: They were 22nd in scoring (20.8 PPG), 27th in yards and 31st in 3rd-down conversion percentage (34.2). It seemed, in 2016, the game had passed Kubiak by and even he couldn't whisper the right words to Trevor Siemian, Paxton Lynch or Brock Osweiler.
That last part is key.
Really, how good is Keenum? Most would agree he's better than Siemian, but only slightly so.
Play-calling will be crucial in helping Keenum play to his best-ever level, the 2017 gun-slinger that helped Minnesota reach the NFC Championship Game. But, a coach can only do so much.
If Kubiak is to be a smart choice at offensive coordinator, it will be chiefly because he is able to coax the absolute best out of Keenum.
And then we get to the final piece of why Kubiak shouldn't be the offensive coordinator; his health. He walked away from the sidelines once, in 2016, because of serious health issues and putting him back in the line of fire isn't smart for his present, nor his future.
In 2013, Kubiak suffered a "mini-stroke" and was not only carted off the field during halftime but he was taken to a Houston hospital in an ambulance.
For someone so near and dear the hearts of Broncos fans — as not only one of the best head coaches in franchise history, but as a key figure in the team's story — having that happen to Kubiak in the Mile High City would be disastrous.
Without a doubt, putting Kubiak back on the sidelines — or even in the booth — as the offensive coordinator comes with major risks, both for the team and for "Kubee" himself.
Inserting Kubiak as the offensive coordinator only shouts one thing: That Elway is not only in complete control of the team, but that the Duke's fingerprints will be all over every bit of the organization.
"No one man should have all that power."