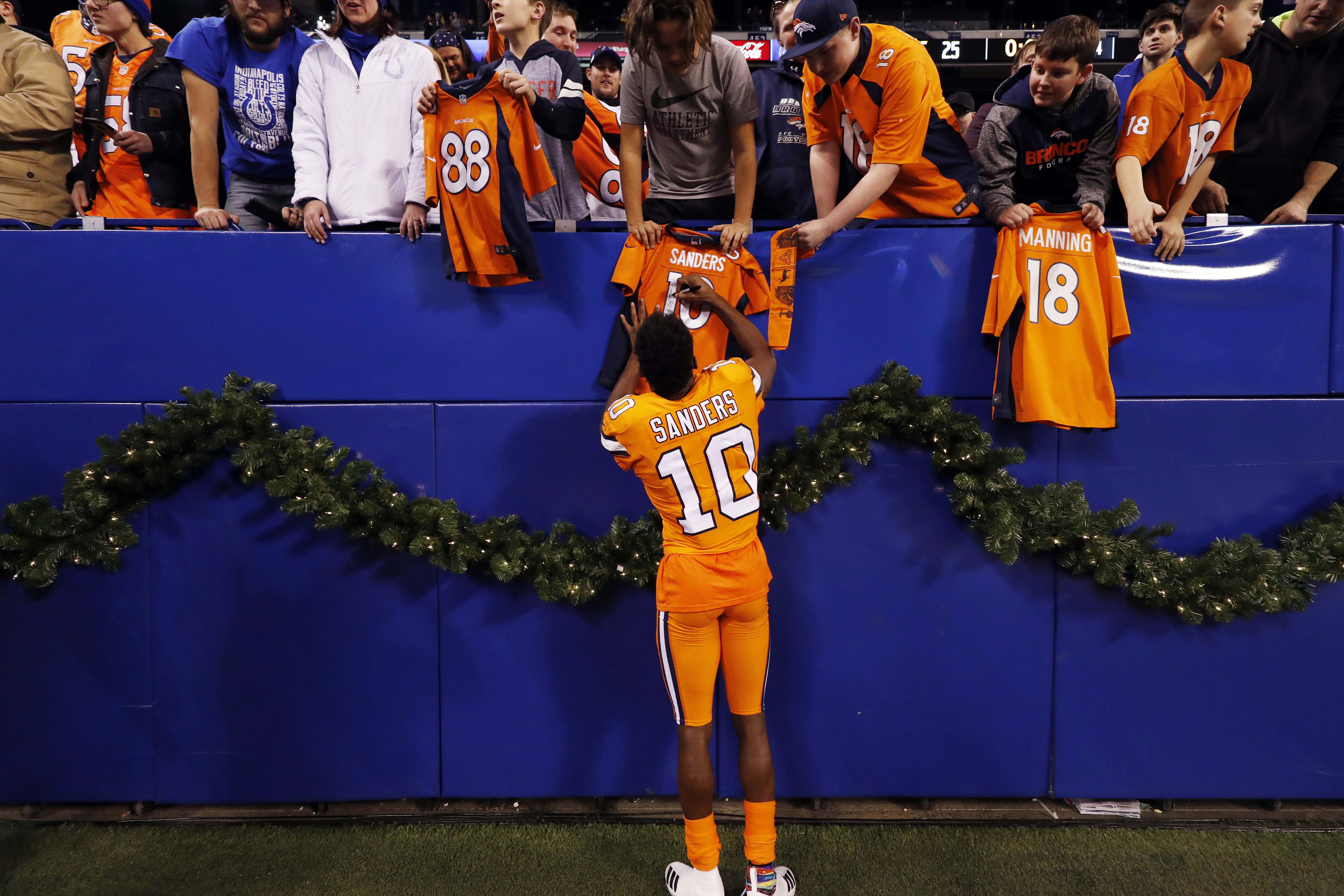 The Denver Broncos had a wide receiver issue last year.
Emmanuel Sanders dealt with injuries, Demaryius Thomas struggled for stretches, and combinations of Cody Latimer, Jordan Taylor, and Bennie Fowler were not enough to fill in the rest of the gaps.
While the wideouts on the roster would have benefited from improved play at the quarterback position, there was clearly a hole and it needed to be addressed so John Elway drafted Courtland Sutton out of SMU and DaeSean Hamilton out of Penn State; a pair of receivers who share a stark resemblance to the pair of receivers they will be learning from to start their NFL careers — Thomas and Sanders.
Sutton already is buying into the comparisons between how similar he and Hamilton are to the combination of Sanders and Thomas.
"DaeSean is a guy that can play the position very well," Sutton told DenverBroncos.com. "He has unique talent trait when it comes to playing the wide receiver position. He and I are going to be able to come in and learn. I think he is more so like 'E-man' (Sanders). I am more like Demaryius."
That could be a very good thing for the Broncos. Having a dedicated and hardworking duo of receivers who fit together well on the field, that are this young, and were just drafted together gives the Broncos a great chance to have their next era of receivers already in the fold and learning from some of the best.
One of the people most excited about the acquisition of Sutton and Hamilton? Sanders himself. He could barely contain his excitement when talking about the opportunity to begin coaching up the young wideouts.
"I'm going to teach those guys everything that I know," Sanders told DenverBroncos.com. "That's my job. You see a lot of these cats; when they get up in age, they kind of shy away from the rookies. I will never, ever be that type of receiver that says, 'No, I'm [not] going to teach this guy.' I'm going to teach you everything that I [possibly can]."
It is good that Sanders views his leadership responsibilities this way because, from the sounds of things, he may not be able to avoid Sutton, who is chomping at the bit to begin working and learning from Sanders.
"I'm going to come in, I'm going to find out what E-Man does [and] what Demaryius does," Sutton said. "What do they do to make them All-Pros and to make them dominant people at their position? I'm going to follow them and figure out what it is that's going to get me to that level so I can be able to perform day in and day out at a very high level."
All that is left is just to get to work. Regardless, the Broncos finally have a chance at a  legitimate future at the wide receiver position beyond Sanders and Thomas while also adding some much-needed depth and talent for the upcoming 2018 NFL season. Sutton and Hamilton realize it and you probably cannot find two people more excited about their opportunity than the combination of the two of them.
"We are going to be able to take from them what they do at a high level and add that to our games so that whenever they need a break or whatever the situation is on the field, we can come on the field and there won't be any drop off at all," Sutton said in the same interview with DenverBroncos.com. "It is going to be the same talent level on the field whatever [the situation] is."