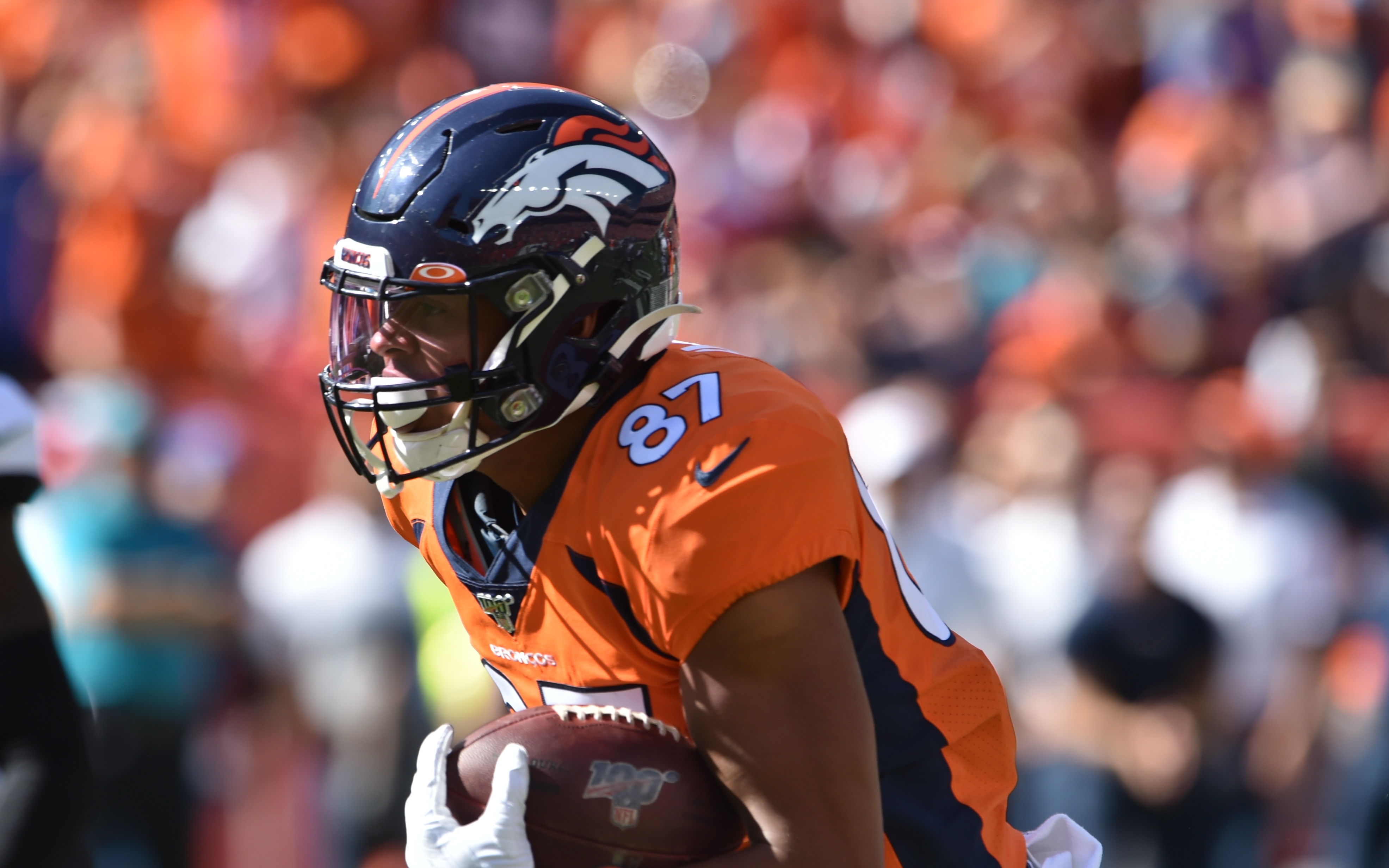 Noah Fant was fast, strong and sure-handed in Denver's big win over the Cleveland Browns on Sunday. Simply, he was fantastic.
In fact, he lived up to the billing of first-round pick; this was the Fant every Broncos fan hoped they'd be seeing this year.
In the Broncos' win over the Cleveland Browns, a game which Denver led throughout, the rookie tight end played his best football to date in the NFL. He enjoyed three catches for a team-leading 115 yards and one touchdown.
That touchdown play was something of legend, in which Fant caught the ball in stride and lowered his massive shoulder to throw Browns safety Jermaine Whitehead to the turf with a fury. Fant wasn't done there, though. He ran through a weak arm tackle attempt from fellow rookie Greedy Williams and he was too strong for linebacker Adarius Taylor, too.
#Browns are in trouble.

(via @NFL) pic.twitter.com/DgPSukbN4D

— NFL Update (@MySportsUpdate) November 3, 2019
That highlight reel worthy catch and run by Fant wasn't just spectacular, it came at a key moment of the game. Denver was leading 7-3 at that point and their early momentum fizzled out due to a 3-and-out on the previous drive.
Immediately, with Fan't strength and speed, the Broncos led 14-3 and were in complete command of the game. He looked unstoppable on that particular play, striking fear into the Browns defense and setting the tone for Denver to capitalize on. Which, they did.
"Obviously, it's a medium pass that turns into a 75-yard touchdown and those are big plays," head coach Vic Fangio said of the play. "It's hard to, in [former NFL Head Coach] Hank Stram's words, to matriculate down the field all the time. You need some big plays. Noah's a guy that's been up and down, but he's a young guy with talent. It's our job as coaches to develop talent and we're going to keep trying to do that with all of them and nice to see him have a good day today."
Early in the second half, with the Broncos leading 17-12 and needing to again extend their lead, Fant reeled in two more clutch catches.
The first was an absolute beautiful throw by Brandon Allen, over the top of to Browns defenders and into the hands of his tight end for 16 yards. Later in that same drive, Allen's great touch showed again as he tossed a ball over the linebacker and into the awaiting arms of Fant for 24 more yards.
That last catch set up Phillip Lindsay's 30-yard run to the end zone to push the lead to 24-12; it was eventually the game-winning score.
What Fant did on Sunday was provide two things Denver hasn't had in a tight end for a long time. First, he brought the big play ability. That 75-yard play not only set the tone for the offense — which has struggled mightily all season long — it helped the Broncos take a 5-to-3 advantage in the explosive play department.
And second, Fant was the go-to guy when Allen needed him to be the most. He found space in the middle of the field and acted as that security blanket which can help any quarterback flourish.
For Fant, the win over Cleveland not only doubled his touchdown production on the season but nearly his yard total (300), too. We all expected it to take a little while for the rookie tight end to catch onto playing in the NFL, and that seems to be happening now before our very eyes.
Let's hope Sunday's game was the new normal for tight ends in Denver and not an outlier.