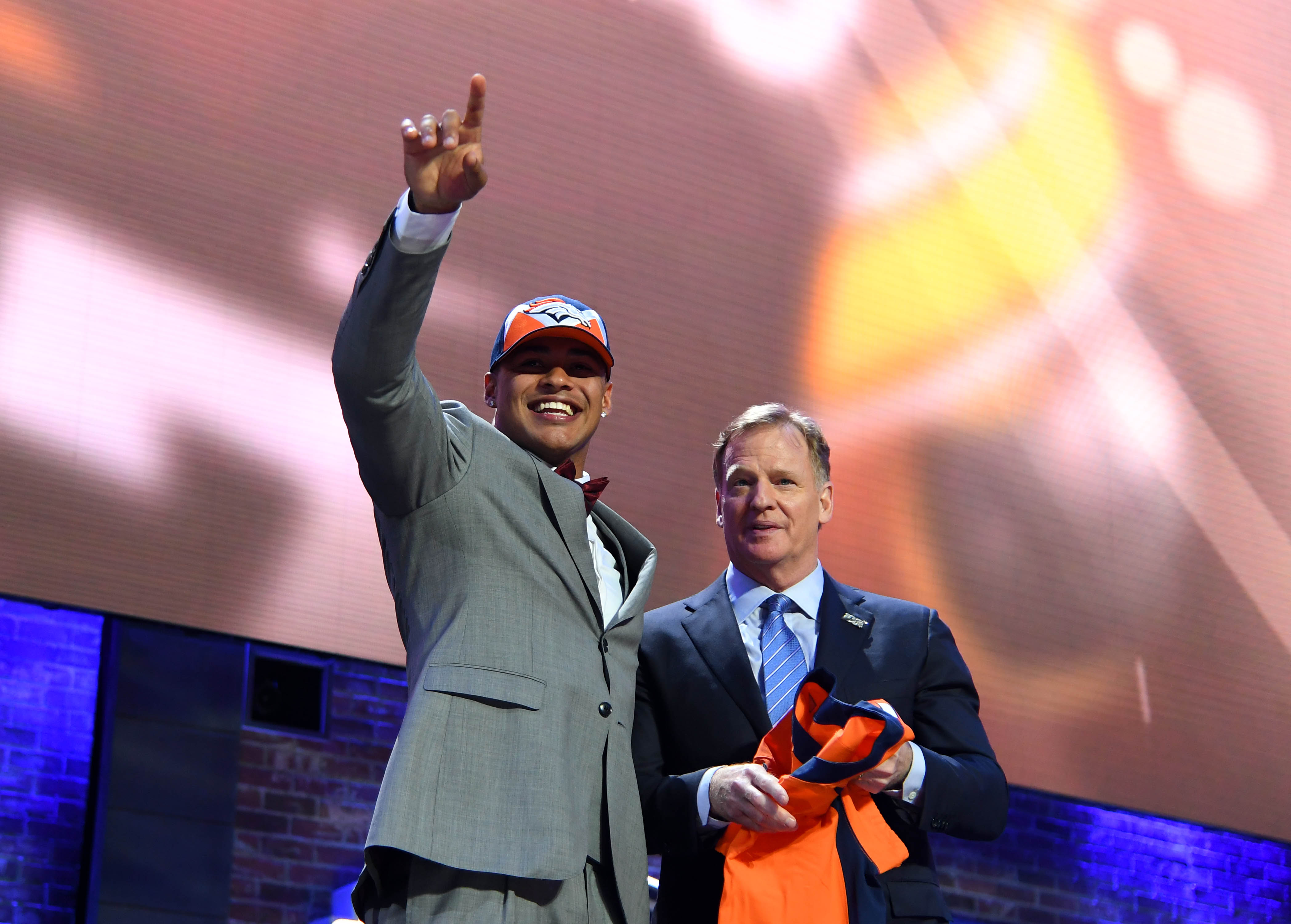 Noah Fant may be the X-factor for the Denver Broncos in 2019. The 20th-overall pick in this year's NFL Draft, Fant, has superstar pass-catcher written all over him.
Listed at 6'4″, 249 pounds, Fant has the size to be a dominant presence in the red zone. This is huge – considering the Broncos haven't had a legitimate threat at tight end in years.
What makes Fant so appealing in this offense, though, is the fact that he's a mismatch nightmare in the open field. At the NFL Combine, Fant ran a 4.5 40-yard dash and recorded a vertical of 39.5 inches. He also repped 225 pounds 20 times on the bench press and ran the three cone drill in 6.81 seconds.
Following the first day of OTAs on Monday, Broncos quarterback Joe Flacco commented on Fant's potential and what the veteran expects of the young tight end in Year 1.
"He can obviously run," Flacco said. "The tight end in this offense, I think can be a big-time playmaker if he can run and get a feel for we run a couple of routes that we have in."
Flacco explained that Fant's athleticism obviously jumps out, but contrary to popular belief, he believes Fant is actually pretty skilled on the line of scrimmage. According to Flacco, Fant is physical and does a nice job getting his hands on the defenders. Where he'll be most dangerous, though, is as a pass-catcher in the open field.
In the system that Broncos first-year offensive coordinator Rich Scangarello hopes to run this season, the tight end will be a big factor. Flacco feels that Fant is the man that consistently produce for the Broncos in this role.
"I think it is naturally part of this offense," Flacco said. "I've been around a couple of good tight ends. I've been fortunate in that respect. When you have a guy that can get matched up on the linebacker and he's in the middle of the field right in front of you, I think it can be be big plays and they can be easy completions that turn into big plays. I think he's the type of guy that can do that."
In 2018, Scrangarello's 49ers made tight end George Kittle the team's No. 1 option in the passing offense, as he racked up 88 receptions on 136 targets, recorded 1,377 yards and scored five touchdowns. Comparatively, the Broncos tight ends combined for just 68 total receptions all season.
It will be interesting to see how Scranrello works Fant into Denver's offense. It would be ludicrous to expect him to match Kittle's 2018 production – but considering how Flacco has favored tight ends throughout his career, it wouldn't be surprising at all to see Fant have a monster rookie season.