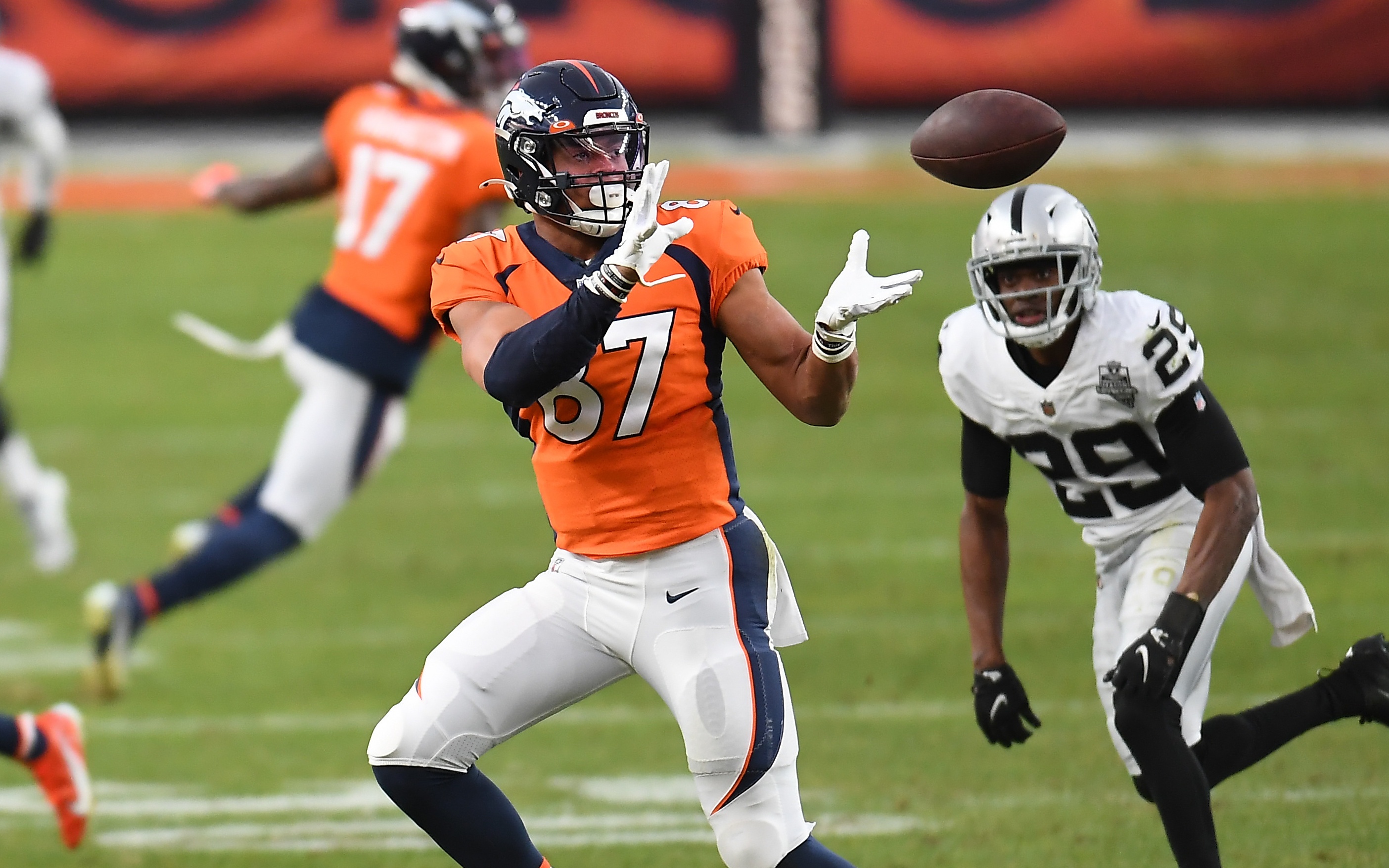 With the Broncos in the middle of a quarterback competition, it's sure to be a hot summer in Dove Valley.
Drew Lock in Year 3 gets a chance to make or break his tenure in the Mile High City to this point, but only if he beats out Teddy Bridgewater first.
"He's been great for us—he and Drew [Lock] both," rising star tight end Noah Fant said on Thursday of Bridgewater after Broncos OTAs. "I'm excited to see them compete through camp and through the preseason to help our team be better."
Lock has gone through a rough first two years in the NFL. He's injured his throwing arm in each season, and was only allowed to play five games in his first year, followed by 13 games in 2020.
What piqued Broncos' fans interest in Lock was his stellar performance against Houston in '19, and then his great game in Carolina in 2020 as well as the finale against the Raiders. Unfortunately, Lock's wild inconsistency as a QB leaves Denver with arguably the worst player at the position last year.
In steps Bridgewater, a veteran who's led both Minnesota to begin his career and then Carolina last year. He's a man who looked to be the QB of the future with the Vikings, but then suffered a supreme setback when he blew out his knee in practice in 2016. Since then, he backed up Drew Brees and earned himself a starting job with the Panthers where he was elite in one category: Accuracy.
"I've gotten the chance to throw with Teddy these last couple days of OTAs," Fant said on Thursday. "You can definitely tell that he's a vet. Ball placement and things like that are very important to him."
Ball placement is crucial because it allows receivers to run after the catch. Bridgewater's accuracy in 2020 was fifth-best in the NFL, at 69.1 percent, and that was with a group of subpar receivers. With Fant, the return of star Courtland Sutton, youngster Jerry Jeudy and the stable Tim Patrick it's possible Bridgewater could see his stats skyrocket in 2021.
Conversely, Lock's 57.3 completion percentage was 35th in the league last year. He frustrated Jeudy, who looked to be an immediate impact player at the position, although Lock and Fant have connected for multiple big plays including this beautiful touchdown against Buffalo.
Even with the solid connections to Fant, inconsistency and inaccuracy by Lock partially led to the 28th offense (20.2 PPG) in the NFL. And, the Broncos also came in at 26th in passing yards and 25th in passing touchdowns.
His lack of accuracy also helped him lead the league in interceptions (15) while throwing more uncatchable passes than any other QB.
So, while Lock brings the highest of highs and lowest of lows with his play, Bridgewater is more in the middle, more consistent and more accurate. And really, that may be all this incredible group of playmakers needs, someone to get the ball in their hands and let them create.
While Lock has the upper hand for now in terms of chemistry with his receivers, Bridgewater asking his tight end — and likely other receivers — where they like the ball will go a long way. Delivering it to that spot will only help him gain favor in the locker room going forward.
Earlier last week head coach Vic Fangio said he expects the competition to go on through training camp and into preseason, so don't expect either Bridgewater nor Lock to be named starter anytime soon.