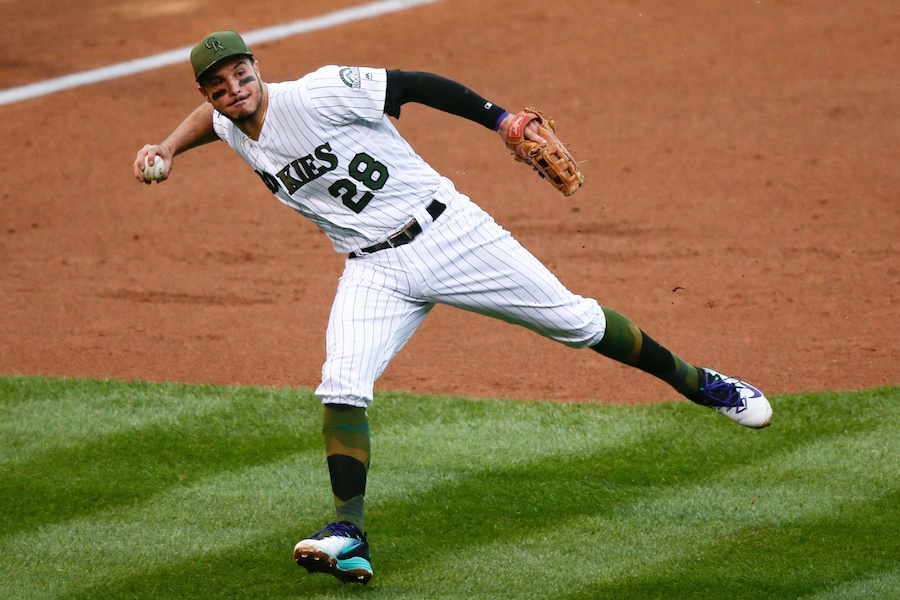 Nolan Arenado on Tuesday night became the sixth third baseman in National League history to win at least five Gold Glove Awards, being named the 2017 Rawlings Gold Glove Award winner at third base. It is Arenado's fifth Gold Glove award in as many seasons in Major League Baseball, making him the first infielder in MLB history to accomplish that feat.
Arenado joins Ken Boyer (5), Doug Rader (5), Scott Rolen (8), Ron Santo (5) and Mike Schmidt (10) as winners of at least five NL Gold Glove awards at third base.
The #Rawlings #GoldGlove Award Winner – NL 3rd Base – Nolan Arenado pic.twitter.com/3JcjOdwPzH

— Rawlings Sports (@RawlingsSports) November 8, 2017
In 2017, Arenado led NL third basemen both in games played at 157 (156 starts) and fielding percentage at .979 (tied with Washington's Anthony Rendon). His 423 total chances this season were a full 44 more than Cincinnati's Eugenio Suarez in second place. His 103 put outs tied for first, while his 311 assists and 39 double plays were outright leaders among NL third basemen.
Arenado, along with teammate DJ LeMahieu, helped lead the Colorado Rockies to a team fielding percentage of .987, just .001 percent behind Miami for tops in the National League in 2017.