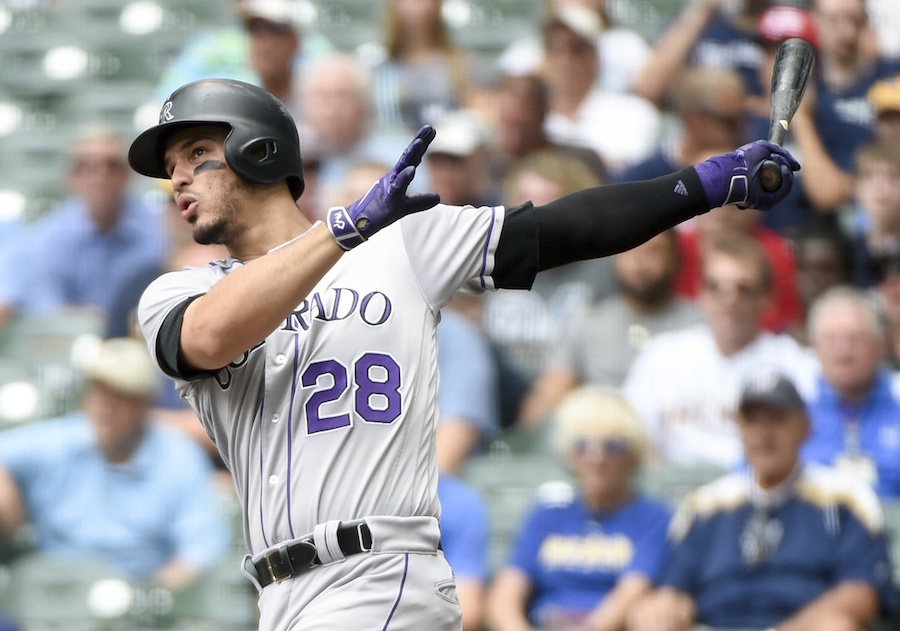 Nolan Arenado is fresh off his best overall year as a professional, but he still says there's room for improvement.
Arenado, 25, played in a career-high 160 games for the Rockies in 2016 and batted .294 (182-for-618) with 35 doubles, six triples, 41 home runs, 133 RBI, 68 walks, 103 strikeouts and two stolen bases. The 41 home runs were tied for most in the National League, tied for sixth-most in the Major Leagues and tied for the seventh-most in a single season in franchise history. It was his second consecutive season in which he surpassed the 40 home run plateau, having hit 42 home runs in 2015. The 133 RBI were the most in the Major Leagues (his second consecutive season leading the Major Leagues in RBI), and were the most for a Rockies player in a single season since Matt Holliday's 137 RBI in 2007.
But coming off an outstanding year and a new two-year, $29.5 million contract that helped avoid arbitration, Arenado isn't taking anything for granted.
"I can drive in runs, hit home runs, but overall my game needs to get better. I can find ways to get better," Arenado said on MLB.com Friday. "I can walk more; I can have more quality at-bats … last year in the first half I only made one error, in the second half I made like 10 or 11, so that's something that's kind of been bothering me the whole offseason."
The consummate perfectionist, Arenado says the money isn't what's driving him.
"I did a two-year deal, but really I'm going to be here for three years, so no, money doesn't do anything. I'm going to be putting pressure on myself because I want to be the best," he said.
It's hard to imagine Arenado being much better than he was in 2016, but he's fully intent on proving he can be.
"I want to be good at this game. I take a lot of pride in it. I don't like to let the fans down and I don't like to let my teammates down. That's why I'm my hardest critic. When I found out I got this contract, all I could think about was getting into the cage and getting some work in because I need to get better."