Whether it is the faulty starting pitching or the untimely hitting, the Rockies are playing poor baseball as of late and it is starting to take a toll on star third baseman Nolan Arenado.
"I gotta believe that probably everybody right now is feeling the pressure to perform," said MLB scout and Rockies insider Ed Henderson when he joined Weekend Drive with Sean Walsh on Mile High Sports AM 1340 | FM 104.7. "Nolan is a guy who puts a lot of pressure on himself both offensively and defensively to go out there and get it done."
In years past Arenado has been a player who does not show his emotions, but during the Rockies' last series against the San Diego Padres, he let his frustrations be known.  He got in the face of catcher Nick Hundley and voiced his opinion about the pitch calling after the team gave up a home run.
It was a rare emotional outburst in the Rockies dugout. The team historically takes its cues from manager Walt Weiss, an even keel type of guy who does not like to stir the pot. But Henderson thinks it may be just what the Rockies need.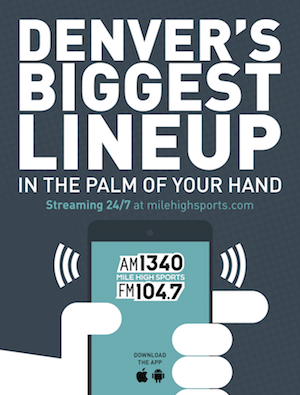 "I don't mind seeing that every once in a while," said Henderson. "One guy getting fired up and maybe chewing some tail in either the clubhouse or in the dugout may not be a bad thing."
The Rockies' struggles over the past couple years have taken an extra toll on Arenado because he is one of the lone Rockies that has been successful. This year Arenado is again leading the NL in home runs (18) RBIs (47). In 2015 he led the league in both of those categories as well. Putting up those kind of numbers while your team loses a combined 125 games over the past two seasons would be just cause for frustration.
The Rockies have played some tough teams as of late. First, they played the always strong Pittsburgh Pirates away from home then stayed on the road to play the AL East-leading Boston Red Sox. It's understandable that they lost four out of those six games, but when they played two of the worst teams in baseball in the Cincinnati Reds and the San Diego Padres, and ended up losing five out of seven games, the lax attitude becomes a lot less forgivable.
"It lets the other guys know that, 'Hey if your complacent about this, if you're content to have this team going in the direction it's going, that's not acceptable,'" Henderson said about Arenado's recent dugout outburst. "He is a very very competitive guy, as we know, and I think a guy that really really wants to win."
The Rockies ultimately lost Saturday's game to the Padres, but they turned around on Sunday and had one of their most complete games of the season in a 10-3 victory to avoid a sweep. Arenado was 3-for-3 with a home run and three RBIs. Now, that's really the kind of example the rest of the team needs to follow.
Listen to the full conversation, plus discussion about the Rockies' continued pitching woes, in the podcast below…
Catch Weekend Drive with Sean Walsh every Saturday and Sunday from 2-4 p.m. on Mile High Sports AM 1340 | FM 104.7 or stream live any time for the best coverage of Colorado sports from Denver's biggest sports talk lineup.