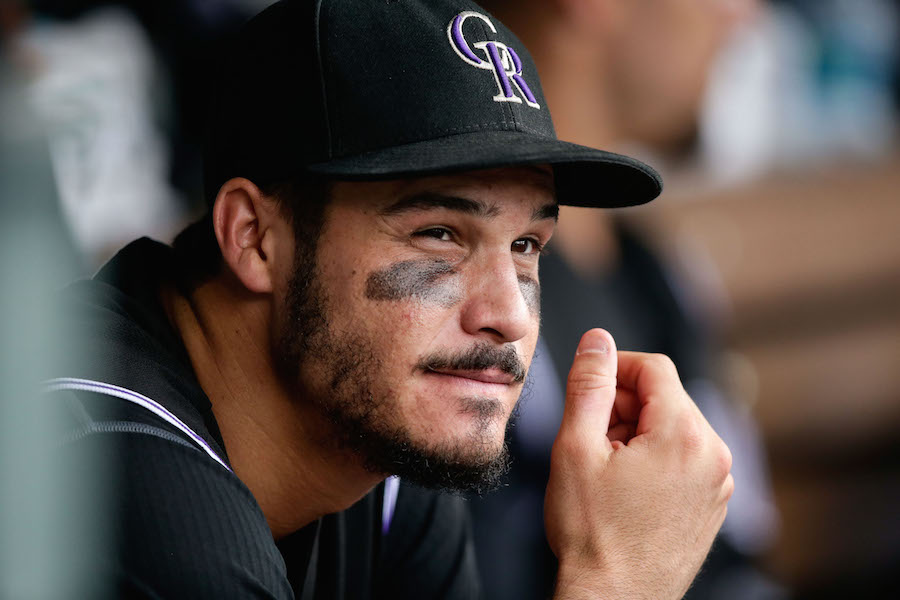 For just a moment, indulge me.
In the real world, Nolan Arenado and LeBron James – and the respective games they play – are totally unrelated. One has no influence on the other. Tough to say if these two megastars have ever even met. They're both somewhat pertinent to Denver, however, as both athletes have been in the headlines of late here in the Mile High City.
Lately, both stars have had us dreaming.
Arenado already has a Colorado address; he's in possession (so to speak) of the Colorado Rockies. He's a homegrown product that's provided incredible yield for the Rockies. At just 27 years old, he's arguably one of the top-five talents in the game. He's also grossly underpaid relative to his abilities. Arenado currently makes $17.75 million, but enters his fourth year of arbitration next season, where he should earn north of $30 million if he indeed plays on a one-year contract in 2019.
Unfortunately, he's seemingly entered the "publicly not happy" phase of his career in Colorado. Last week, Arenado's frustrations became public and subsequently a big topic of discussion in Denver. During Arenado's time with the Rockies, he's been a part of one playoff team – actually one playoff game. Unlike the last disgruntled superstar who played at 20th and Blake, Troy Tulowitzki, there's no grey area as to Arenado's worth to the team. Quite simply, Arenado has done it all: He hits for average and power; he does it consistently and consistently in clutch situations; he's the finest defensive third baseman in Major League Baseball (maybe in the history of Major League Baseball); he's been extremely reliable in terms of his health. There's nothing not to like about Arenado.
The Rockies would like to make Arenado a big part of their future.
There's nothing not to like about LeBron James either. Rather than wasting words on his merits, it's easier just to state the facts: He's the best player in the game; he's worth whatever he says he's worth; he instantly gives whatever team he chooses  a legitimate shot at an NBA title.
The Denver Nuggets thought they'd like to take a shot of making James a part their immediate future.
Problem is, LeBron James wasn't as interested in that meeting as the Nuggets were. On Sunday, it was announced that the King had come  to an agreement with the Los Angeles Lakers; four years, $154 million.
Hey, it's good work if a guy can get it.
But, hypothetically, if you wind back the clock and had a chance to only ink one, Denver, who would you take? (Remember, especially you, Guy who is going to Tweet me and remind me that both teams are owned by different owners, LeBron is now a Laker and that all of this hypothetical nonsense is already ruining his fireworks, this is an exercise in fun). Play this like we're building a GoFundMe campaign that will take care of the annoying dollars and sense of it all. Even if the money did matter, and it likely does, it's not ours anyway.
Arenado's future contact, as some have speculated, has the potential to be worth more than $300 million – maybe $400 million (sorry, LeBron, you just don't hit for power). Should Dick Monfort and Jeff Bridich somehow find a way to meet those needs, would Arenado's contract be one that cripples the Rockies for years to come? Todd Helton was a great Rockie, but it could be argued that he simply made too much, and that his number prohibited the Rockies from signing other needs. Recently, the Rockies have been anything but cheap, but $300-400 million for one player could be troublesome to any team that isn't the Dodgers or Yankees.
In the NBA, there's a salary cap, sort of. Bringing James to Denver, as was the plan or so it seemed Sunday morning, would have instantly placed the Nuggets payroll well into the luxury tax. That would have been supposedly okay – all part of the plan – but even the biggest spenders in the Association (Cleveland last season, followed by Golden State and Oklahoma City, and now the Lakers) can't spend unlimited amounts. Realistically, to bring in James, the Nuggets would need to part with one or more pieces of their much-ballyhooed "core." More than likely, they'd be saying goodbye to Paul Millsap or Gary Harris, potentially both. Who knows, maybe Michael Porter Jr., too.
Would you have been okay with that? Personally, I not only would have, but I'd have thrown a parade as well. So much for the parade now.
If the Rockies ink Arenado, as great as he is, winning a title is anything but a lock. As fans and followers of the Rockies, we know that by default.
But, one thing is for certain, like Cleveland, Miami and now L.A., if the Rockies can somehow find a way to keep Nolan Arenado at home on 20th and Blake, we know that that we'll be watching greatness on the regular. There's something to be said for that, especially when there are 162 games in a major league season.
If you – like me – got caught up in the wild and crazy notion that LeBron James might somehow come to Denver, the dream is over.
But there's a superstar already here that should be the focus. While the Nuggets return to building a championship the old fashioned way, the Rockies and Nolan Arenado have some thinking to do.
What can each party learn from LeBron James?
Tough to say. It seems that in 2018, talent travels wherever it wants.