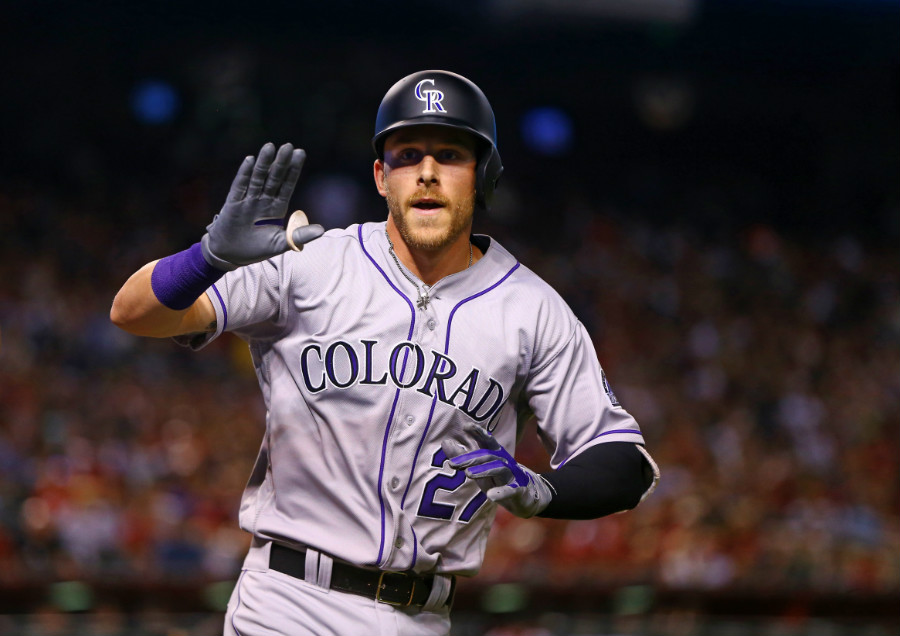 Colorado Rockies fans came up short in voting any of their favorite team's players into the 2016 MLB All-Star game (then again, just about every team not from the North Side of Chicago is in that same boat), but there's still time for them to vote rookie shortstop Trevor Story into the Midsummer Classic.
American and National League All-Star Team managers Ned Yost and Terry Collins, in conjunction with Major League Baseball, announced the candidates for the 2016 Esurance MLB All-Star Game Final Vote (#FinalVote), which is held exclusively on MLB.com and the individual Club sites.
Fans began casting ballots immediately and can continue voting until 2 p.m. MDT) on Friday, July 8.
Story is one of five National League candidates vying for the final slot on the NL roster.
National League
Brandon Belt (SF) – #VoteBelt (N1)
Ryan Braun (MIL) – #VoteBraun (N2)
Jake Lamb (ARI) – #VoteLamb (N3)
Starling Marte (PIT) – #VOTEMARTE (N4)
Trevor Story (COL) – #StoryTime (N5)
Heading into Tuesday's game with San Francisco, Story was hitting .264 (7th among shortstops) with 19 home runs (1st), 53 RBIs (2nd) and 18 doubles (t4th). Story lit the baseball world on fire in April when he hit seven home runs in his first six games in the big leagues, shattering several rookie records that week and in his first month.
Story hopes to join Nolan Arenado and Carlos Gonzalez, who were named to the 2016 NL All-Star roster through player voting.
HOW TO VOTE
Voters can cast ballots at MLB.com/vote or via text message. To receive the ballot, text the word "VOTE" to 89269. To vote for Story, fans can text "N5" to 89269. Message and data rates may apply. Text "STOP" to end and "HELP" for information. Mobile voting in Canada also is available and fans should text their choices to 101010.
TWITTER VOTE BACK FOR FIFTH YEAR – FRIDAY, JULY 8 ONLY
For the fifth consecutive year, the MLB All-Star Game Final Vote will include social balloting, as Twitter support from the 10 candidates' fans over the last six hours of balloting will count toward their final vote totals. From 10 a.m. – 4 p.m. (EDT) on Friday, July 8, any tweet that includes a designated player hashtag (noted above) will be tabulated as part of the official vote total used to determine the AL and NL winners.
WINNERS ANNOUNCED ON A SPECIAL EDITION OF MLB NOW – JULY 8, 4PM EDT
The winners, as chosen exclusively by online fan voting totals, then will be announced during a Final Vote-themed telecast of MLB Now featuring commentary from political analyst Jeff Greenfield, live on MLB Network and MLB.com from 2-3 p.m. (MDT). MLB Network will provide extensive coverage across all of its studio programming during the Final Vote, including interviews with the candidates, hourly updates, heat maps indicating the cities where votes are being cast for each candidate, updates on player and club campaigns and a running countdown clock leading up to the announcement.