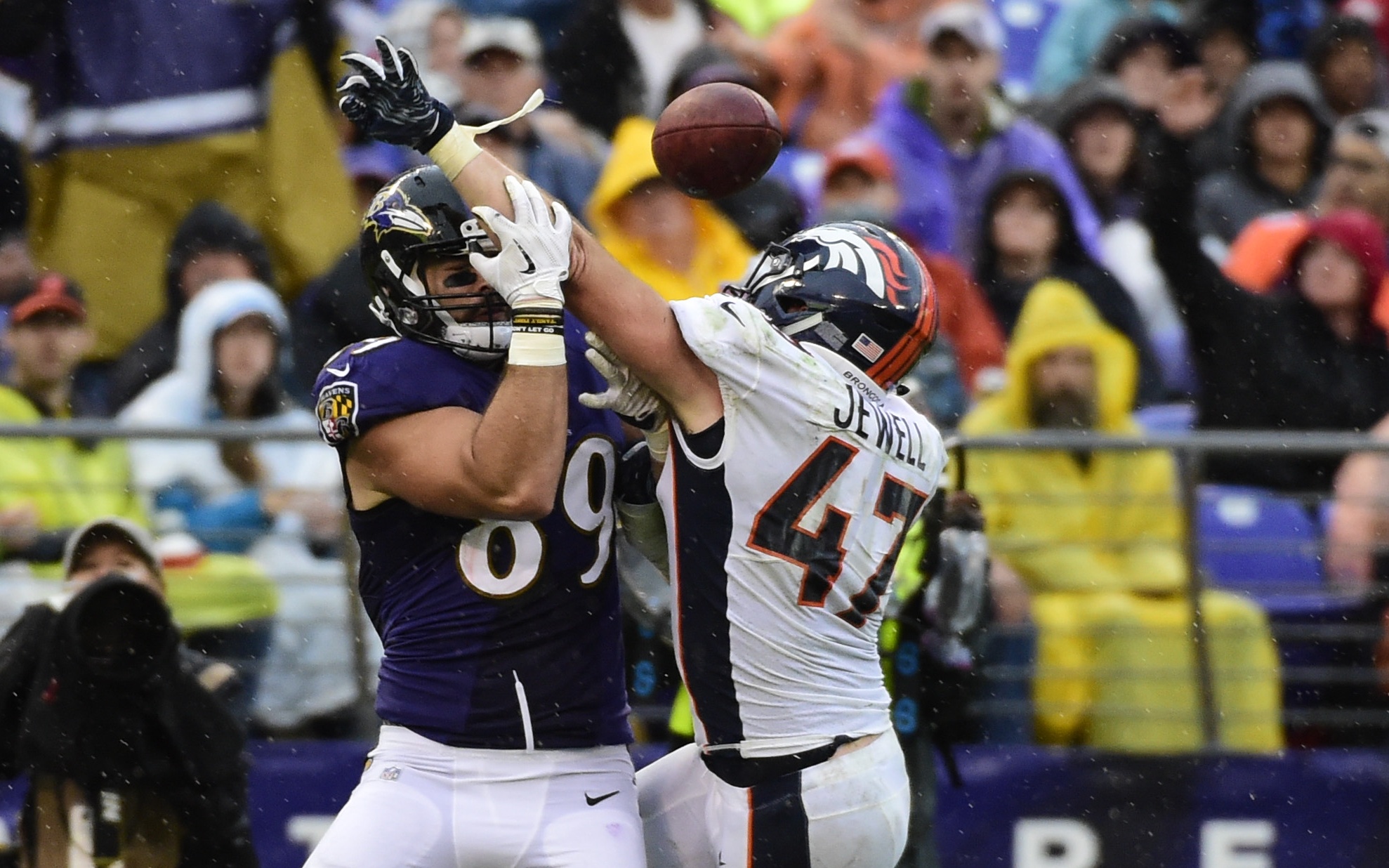 Denver Broncos inside linebacker Josey Jewell is rumored to be replaced every offseason. People outside of Dove Valley make assumptions of what head coach Vic Fangio's "type" of an inside linebacker is. Adjectives fast, athletic, and coverage skills describe traits Fangio needs for his inside linebackers.
Analysts make the jump to assume that Jewell cannot be the answer inside because of the traits he may not have. Instead, we need to look at the traits he shows in spades.
What we fail to realize is the 26-year-old's rise to starting ILB in the NFL has been steady and right in front of us.
Pro Football Focus ranked Jewell as the 19th overall inside linebacker in the NFL. "He wasn't the most physically imposing specimen or the most spectacular athlete when he was drafted, so he lasted until the fourth round, but he has been an incredibly productive player at the NFL level, similar to what he did in college."
All Jewell does is produce.
However, that does not seem to be enough.
How Jewell became "undervalued"
The Iowa Hawkeye product earned a starting spot in his second season.
Jewell, then starting next to Todd Davis, seemed out of place. His skill set was not utilized well and his deficiencies stuck out like a sore thumb.
Davis and Jewell were carbon copies of one another. Heady players who excelled playing downhill. The team needed players with complementary skill sets.
Jewell was replaced by Alexander Johnson in Week 5 of the 2019 season. Johnson held on to that spot, and Jewell was regulated to backup and special teams duties.
No. 47 for the Broncos was written off and presumed to be regulated to the bench in 2020.
During training camp last season, Jewell seemed to be an afterthought. John Elway brought in free agent Mark Barron and drafted Justin Strnad in the 5th round.
The writing seemed to be on the wall.
Not so fast. The aforementioned narrative about "The Outlaw" was not accurate. Jewell is a much better player in all three phases than most people realize. He has coverage skills that fit Fangio's defense, and the ability to read and react in the run game, and also showed some flashes as a blitzer.
Josey was impressive during the 2020 training camp. Broncos released Davis and Barron never challenged for playing time.
Yet again, many wanted the Broncos offseason plan again to replace Jewell with a first-rounder. Penn State linebacker Micah Parsons was linked to Denver in nearly every mock draft.
George Paton and Fangio feel so confident in Jewell that they did not draft a linebacker until the final selection in the 3rd round (Baron Browning).
However, Browning is not ready to play yet. This defense asks a lot of its inside linebackers, and Browning needs time.
So, fans should get used to seeing the painted face of Jewell stacked behind nose tackle Mike Purcell early and often.
Here is why that is a good thing.
Jewell is stellar in the run game
Last season, Jewell racked up 113 tackles, with 5 tackles for loss.
Jewell is not the most imposing linebacker in the NFL, he relies on his intelligence and savvy to maneuver through traffic.
"The Outlaw's" ability to read and react is phenomenal. He sifts through blockers and meets the running back in the hole. Once he gets there, Jewell used tremendous form tackling to bring down the ball carrier.
Just because Jewell is not the most physically gifted linebacker, doesn't mean he won't pack a punch. Just ask Derrick Henry, the world's largest running back.
OKAY, JOSEY JEWELL!

📺: #TENvsDEN on ESPN
pic.twitter.com/seY4D3MPYO

— Denver Broncos (@Broncos) September 15, 2020
Jewell's ability to play well in the run game is necessary as the Broncos plan on using more nickel and dime defenses this season.
His stout play allows Fangio to mix and match personnel in the secondary without sacrificing run defense.
The Outlaw can get to the quarterback
Jewell surprised last season with an above-average pressure rate when he blitzed the quarterback.
Not known as a pass rusher, Jewell had timely sacks and pressures last season.
Josey Jewell wanted that SACK 😤 @Broncos pic.twitter.com/wcCEne4AgD

— The Checkdown (@thecheckdown) October 2, 2020
Utilizing linebacker blitzes was something Fangio did much in previous seasons. However, the Broncos did it well in 2020. After injuries to Von Miller and free-agent addition, Jurrell Casey, Johnson and Jewell were used at pass rushers to supplement pressure missing.
Towards the end of the season, Fangio used Jewell and Johnson on blitzes less due to injuries in the back end.
Having the option to rush his inside linebackers again might just be in Fangio's plan this season.
Josey can be blitzed more with the support of a top-flight secondary behind him. And when he has, he's shown he gets home.
The man himself wants to do more blitzing. "I haven't been saying too much yet. Maybe we'll wait until camp comes and see how many times they blitz me. But yeah, I'm OK with doing that more and bringing in the backfield and screw some things up. Hopefully, we will but we'll see as the year goes along."
Jewell has coverage skills that fit this defensive scheme
From his days in Iowa, Josey Jewell did not rely on speed to cover top-flight tight ends and running backs in the Big Ten.
Like Fangio's scheme, the Hawkeyes play a lot of zone concepts. That's why schematically, Jewell fits this defense well. He effectively diagnosis plays with his eyes and instincts against more physically gifted opponents.
Let's take a look back at @josey_jewell's lone @HawkeyeFootball TD. 👏#TouchdownTuesday pic.twitter.com/B0HaUFYCpp

— Iowa On BTN (@IowaOnBTN) June 1, 2021
In years past, "The Outlaw" seemed to be near the pass, but unable to make the play. Last season, he was more consistent in his technique and broke up his fair share of passes. With 4 passes defended, Jewell showed adequate ability to make plays in the passing game.
No slouch last season, "Jewell was targeted 70 times this past season and allowed only 9.6 yards per completion."
However, he is not comfortable with just adequate, and neither are his coaches.
"As a linebacker group, we need more takeaways this year," Jewell says.
Jewell can do just that without playing differently. His instincts and this system allow him the opportunity to turn the ball over, just as he did in Iowa when he was a turnover machine.
"To be able to read eyes… and just understand it and understand how to put ourselves in a better situation – maybe on a wide receiver, on a tight end, to get that interception."
Jewell has also worked on his short-area quickness and speed to be better in pass coverage.
Expect a higher level of play from the Outlaw in pass defense this season.
Conclusion
In the end, the starting job is Jewell's to lose. "I feel pretty good right now. I feel like it's your job to lose pretty much [in] this scenario, at this situation. So I'm just going to keep on going out there every day and try to get better and try to show the team that I'm a good leader, a great player, and a great person out there. It's just going to be day-in and day-out keep on working and hopefully that works out."
To cover unicorns one-on-one like Travis Kelse and Darren Waller, you need a unicorn. Since they do not grow on trees, the team rightfully took other routes to match up with the game's elite tight ends.
Lastly, the Broncos are comfortable with their top-20 inside linebacker, and we should be too.