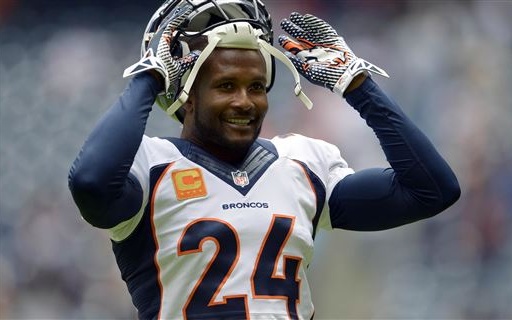 At long last, Pat Bowlen will soon be inducted into the Professional Football Hall of Fame.
The same could be said for Terrell Davis after his long, 16-year wait to get in just due, complete with a bronze bust as the latest Denver Broncos player to be placed in the hallowed halls in Canton, OH.
So, who's next?
Yesterday, the Hall of Fame announced a list of 102 players as nominees for the 2019 class, and there were a ton of former Broncos players included. Getting the recognition and landing on this list is nice, and it's nothing new for many, but which modern-era players deserve it most?
Here's a quick GIF montage of the 10 former Broncos players and Dan Reeves, who are all possibilities for the 2019 class:
The @ProFootballHOF released its 102 modern-era nominees for Class of 2019, and several former #Broncos made the list. ?

⁰RT to congratulate this year's nominees!

? » https://t.co/Bh9ARxEHEj pic.twitter.com/Dxfh1PXltX

— Denver Broncos (@Broncos) September 13, 2018
Champ Bailey, Steve Atwater, Dennis Smith, John Lynch and Ty Law; what a secondary! Karl Mecklenburg and Dennis Smith; to incredibly intimidating big boys up front on defense.
Then, there's Rod Smith — the greatest undrafted receiver in NFL history — and Tom Nalen, who led the Broncos' best offensive lines in the late 90s. And we can't forget about Jason Elam, who was not only nearly automatic as a field goal kicker, his long leg helped him tie Tom Dempsy's 63-yard kick, which was then the longest in the history of the league.
And, Reeves finishes off the list as Denver's head coach from 1981-1992, which included three Super Bowl appearances and losses.
Which of these 11 players deserves to make the Hall of Fame first? That's definitely difficult to say for sure, because every one of these men is worthy.
Bailey seems to be the most likely to get in immediately, partially because he's the most recent player to retire. After playing five years with the Washington Redskins, he was traded to Denver in part for Clinton Portis in one of the most noteworthy, blockbuster trades in recent years. Bailey played 10 years for the Broncos, picking off Tom Brady in the AFC Championship Game and returning it 98 yards, and he also enjoyed a 10-interception season in 2005. In total, he had 34 interceptions in orange and blue and was a true lock-down cornerback.
Smith should have already been inducted — along with a lot of these other guys — if for nothing else, his persistence. No. 80 went undrafted out of Missouri Southern State and when he retired as a two-time Super Bowl champion, his catches (849), yards (11,389) and touchdowns (68) were all Broncos franchise records, and they still are.
Dennis Smith and Steve Atwater were part of the hardest-hitting safety duo in Denver Broncos history. They struck fear into any receiver who faced them, no doubt, and also racked up a combined 54 interceptions and 20 sacks.
Mecklenburg is arguably the biggest void in Broncos history to not already be included in the Hall of Fame — Randy Gradishar is up there, too — as "Meck" was the leader of the Orange Crush defense of the 80s that helped lead Denver to three Super Bowls. Those appearances all came with Reeves as the head coach.
During the 90s back-to-back Super Bowl victories, Nalen was the center and leader of the offensive line which helped revolutionize how offensive lines play football. The zone blocking scheme, brought to Denver by Alex Gibbs, is now used by every team in the NFL some 20 years later.
And the kicker on those teams was automatic Elam, who made a then-NFL record 371 consecutive point after touchdown kicks, as well as enjoying an 80.6 career percentage on field goals.
Lynch, Law and Dennis Smith were all strong players for the Broncos, too, although later in their careers, while the previously mentioned guys played all or most of their careers with the Broncos.
So, after looking through the list and their accomplishments, who deserves to be in the most?
That's up for debate. What's not is the fact that Denver's been looked over far too many times — with John Elway being their first inductee in 2004 — and the Broncos need a ton more players in the Hall of Fame immediately.