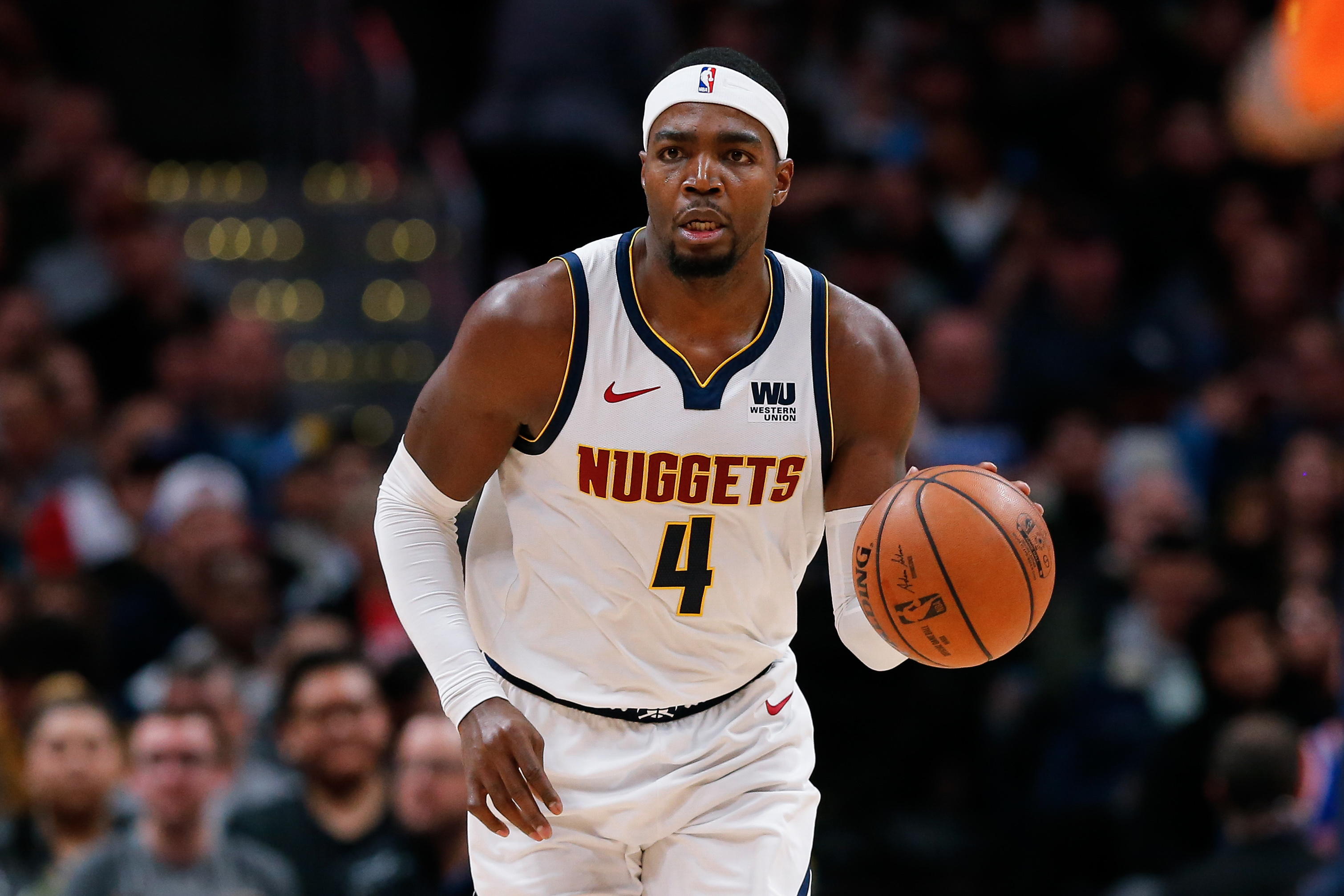 On Tuesday night, the Denver Nuggets took on the Oklahoma City Thunder in downtown Denver for what was arguably the most important game of the season so far.
You see, if the Nuggets found a way to secure a victory at home against Oklahoma City, it would benefit them in a plethora of ways. First of all, a win would secure Denver's tiebreaker over the Thunder. Secondly, Oklahoma City is not only another Western Conference team, but also a divisional opponent so if Denver came away with a win, it would improve their tiebreaker scenarios against all other Western Conference hopefuls. Lastly, a win would further separate Denver from the rest of the pack and make them the favorite to finish with the second seed in the Western Conference.
That does not mean that the third-seeded Thunder were going to make it easy for Denver to accomplish their goals. After the Nuggets managed to extend their lead to 18 points with 35 seconds left in the third quarter, Denver suddenly found themselves down three points to the Thunder with just under six minutes left in regulation after a furious comeback by Oklahoma City. Denver gave up a 27-8 run to the Thunder and the young Nuggets core fell into in panic mode — well, everyone other than Paul Millsap.
"This is my 13th year so I have been there," Millsap explained after Denver secured their massive 121-112 win over the Thunder. "I have seen a lot of situations and a lot of scenarios. I can feel how the game is going. I can feel what I need to do to help our team win."
That is when Millsap's veteran leadership shined brightest. When Denver was reeling after an incredible comeback by the Thunder, they needed someone to steady the ship. So Millsap did what he has done for years — lead.
"He is our leader," Nuggets head coach Michael Malone explained. "There was one time in the middle of that run during free throws where he grabbed all of the guys together on the foul line. He was talking to them, huddling them up, telling them to calm down, and making sure we understand what we need to do to get out of this run they were on."
That conversation that Millsap had with his teammates resonated in a huge way and was the catalyst that propelled the Nuggets to such a monumental win.
"He was talking to all of us because we were kind of panicking; not panicking, but we were kind of rushing, and rushing, and rushing, and we needed to calm down," Jokic stated.
"They went on a big run and he pulled us all together and told us all to calm down and to get back to playing Nuggets basketball and staying together," Will Barton said when reflecting on Millsap's pep talk. "Then he went out there proved it and took the first effort upon himself by getting on the glass, stealing some possessions and blocking shots. He was just everywhere."
"I was just telling them to stay calm and keep our composure," Millsap explained when asked about his speech. "I know things were not going well at that time so if we keep our composure, good things will happen."
That is when the Nuggets $30 million man stepped up and delivered when his team needed him most. It only took Millsap a total of 94 seconds to single-handedly take a Nuggets team that was completely collapsing and carry them to their most impressive victory of the 2018-19 season.
"When Paul came back onto the court, I think he won us the game," Nikola Jokic said after accumulating 36 points, nine rebounds, and 10 assists in Denver's win. "He picked up the energy, he had those two blocks, he had a couple of offensive rebounds, and he drew a charge. We need to thank him. He won us the game."
Let's just go step by step and see exactly why Millsap is so incredibly valuable to the Nuggets even if his stat line does not jump off the page.
With 5:53 left in the fourth quarter, the Nuggets found themselves down 100-97.
This play was the beginning of the end for the Thunder on Tuesday night.
The Nuggets, who were on the tail end of the aforementioned 27-8 run, were in desperate need of a bucket, but when Nikola Jokic drew a foul and went to the charity stripe, he ended up missing both gimmes — that is, of course, until Millsap came out of nowhere to not only grab an offensive rebound, but to also get fouled later in the possession. After getting fouled, Millsap hit both of his free throws to bring his Nuggets team back within one point.
"We missed a second free throw, Paul comes out of nowhere and gets a loose ball," Malone explained. "I thought all of his hustle plays down the stretch were tremendous for us."
But Millsap was just getting started putting his fingerprints all over Denver's win.
With 5:39 left in the fourth quarter, on the very next possession, the Nuggets found themselves down 100-99.
After hitting both free throws, Millsap and the rest of his team desperately needed a stop on the other end of the floor.
Not only did Millsap come up in a big way on the defensive end of the floor by deterring Dennis Schroder's layup attempt, but he also corralled the rebound, dribbled the ball the length of the court, drew two defenders, and then kicked the ball out to Jamal Murray who hit a huge 3-pointer from the corner.
"Those plays changed the momentum of the game," Jamal Murray explained.
That 3-pointer gave Denver a 102-100 lead with 5:28 left in the game, but the Nuggets needed more breathing room than that. The game was still far from over, but Denver was beginning to take back some momentum.
With 5:08 left in the fourth quarter, the Nuggets lead 102-101.
After Nerlens Noel was fouled and hit one of two free throws on the previous possession, the Nuggets found themselves up one-point with just over five minutes left. That is when, as expected, the Nuggets went to their best player in his best spot on the floor. Jokic is lethal from the low block so Malone drew up a play to get Jokic the ball down low.
Even though Jokic is the primary option, Millsap is still paying extremely close attention to the play as it develops in front of him. Millsap knows that Jerami Grant is going to stunt down to help Noel defend Jokic so instead of staying in the corner and waiting for a pass, Millsap cuts down the baseline and gets in perfect position to corral the offensive rebound.
"Down the stretch, they were pressuring (Jokic) and trying to make it tough on him," Millsap explained after the game. "I sensed that so I tried to get inside position and try to get the ball."
After Millsap grabbed the offensive rebound and went back up to covert the layup, the Nuggets suddenly found themselves up three points and on a 7-1 run. Still, Denver was going to need more out of Millsap and he knew it.
"My only thought was just win by any means necessary," Millsap said when reflecting on the final five minutes of the game.
With 4:26 left in the fourth quarter, the Nuggets lead 104-101.
After both teams trade misses back and forth, the Nuggets ended up with the ball with the same three-point lead still intact.
With the shot clock nearing zero, Jokic attempts to drive into the paint using a spin move against Noel. Once Jokic gets to the rim, his layup attempt touches nearly every part of the rim before rolling out, but there was Millsap once again. For the second time in just about 40 seconds, Millsap individually beats out both Grant and Noel — who are both longer and taller than him — to the ball to get his third offensive rebound in just over 90 seconds.
"When you see one of your oldest players on the roster outworking every body on the floor, that can only inspire you," Malone said passionately. "It inspires me on the sideline."
Once Millsap grabbed the rebound, he was fouled and he managed to hit one of his two free throws, giving Denver a four-point lead. In those 94 seconds, Millsap accounted for eight-straight points which put the Nuggets ahead of the Thunder 105-101 with 4:19 left while also stealing back nearly every last shred of momentum..
From that point forward, the Nuggets used the momentum Millsap created to take complete control. Denver went on a 20-7 run in the last 4:19 of game time which ultimately led to the Thunder losing 121-112.
Without Millsap carrying the load and lifting up his teammates when they needed him most, the Nuggets likely would have suffered a home loss in their most important game of the year.
Now, because of Denver's $30 million man and his veteran leadership, the Nuggets are the favorites to finish as a top-two seed in the Western Conference.
"Paul Millsap understands what time of year it is," Malone explained. "He knows what time it is because he has been there and done that."