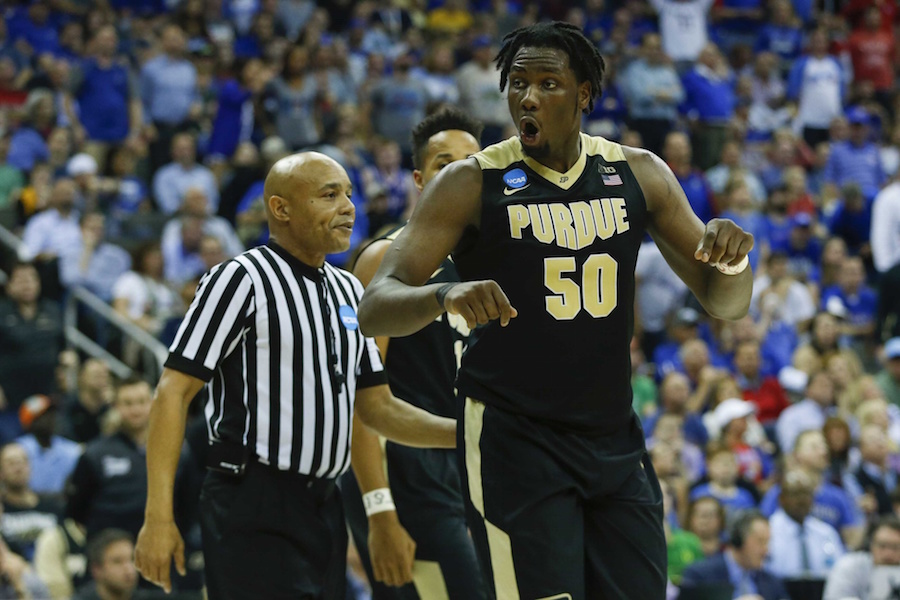 Versatility and charisma. That's what the two top draft prospects at Monday's Denver Nuggets pre-draft workout say they'll bring to the NBA.
The workout was intense. Likely first-rounder John Collins from Wake Forest came to put on a show.
.@jcollins20_ brings down the house at #Nuggets workouts, this time–a windmill pic.twitter.com/0g2rHAnCWG

— Duvalier Johnson (@DuvalierJohnson) June 5, 2017
After the workout Collins spoke to reporters about the workout and what he saw from the other prospects.
"We had a lot good talent here," he said before talking about what it is he needed to work on most.
"I'm just working on being versatile, that's probably the biggest thing with the way the game is changing, where the game is going."
The 6-foot-10, 225-pound big man led the nation in PER (Player Efficiency Rating) last year averaging 19.2 points and 9.8 rebounds a game his sophomore year after only averaging 7.3 points and 3.9 rebounds per game as a freshman. These improvements earned him as the 2017 ACC Most Improved Player and also got him on the 2017 All-ACC First Team and 2017 NABC All-District (2) First Team.
The other big name at the workout was Caleb Swanigan out of Purdue.
Swanigan was named the Big Ten Player of the Year while earning first-team consensus All-America honors.
The big man averaged 18.5 points and 12.5 rebounds per game and also shot well from beyond the arc, finishing the year shooting 44 percent from deep.
He showcased his improved three-point shot at the workout with Denver.
Big man out of #Purdue Caleb Swanigan knocking down his shot at #Nuggets workouts this morning. pic.twitter.com/0OLyF4zhC0

— Duvalier Johnson (@DuvalierJohnson) June 5, 2017
His list of accomplishments include receiving the 2017 Lute Olsen Award, 2017 Pete Newell Big Man Award, 2017 Big Ten Player of the Year and also being named on the 2017 All-Big Ten First Team.
After the workout he spoke to media about what he'd bring to a NBA team.
"I'm going to bring charisma," he said. "Things that make you want to watch a NBA team. Playing hard. Because sometimes shots aren't going to go in, sometimes you aren't going to play well but nobody wants to come watch a team that's uninspired and doesn't compete. So I'm going to bring that."
The workout also included: JeQuan Lewis – G, VCU; Landen Lucas – F, Kansas; Hassan Martin – F, Rhode Island; and TJ Williams – G, Northeastern.
The 2017 NBA Draft will take place on Thursday, June 22 at the Barclays Center in Brooklyn, New York. The Nuggets currently hold the 13th, 49th and 51st selections.