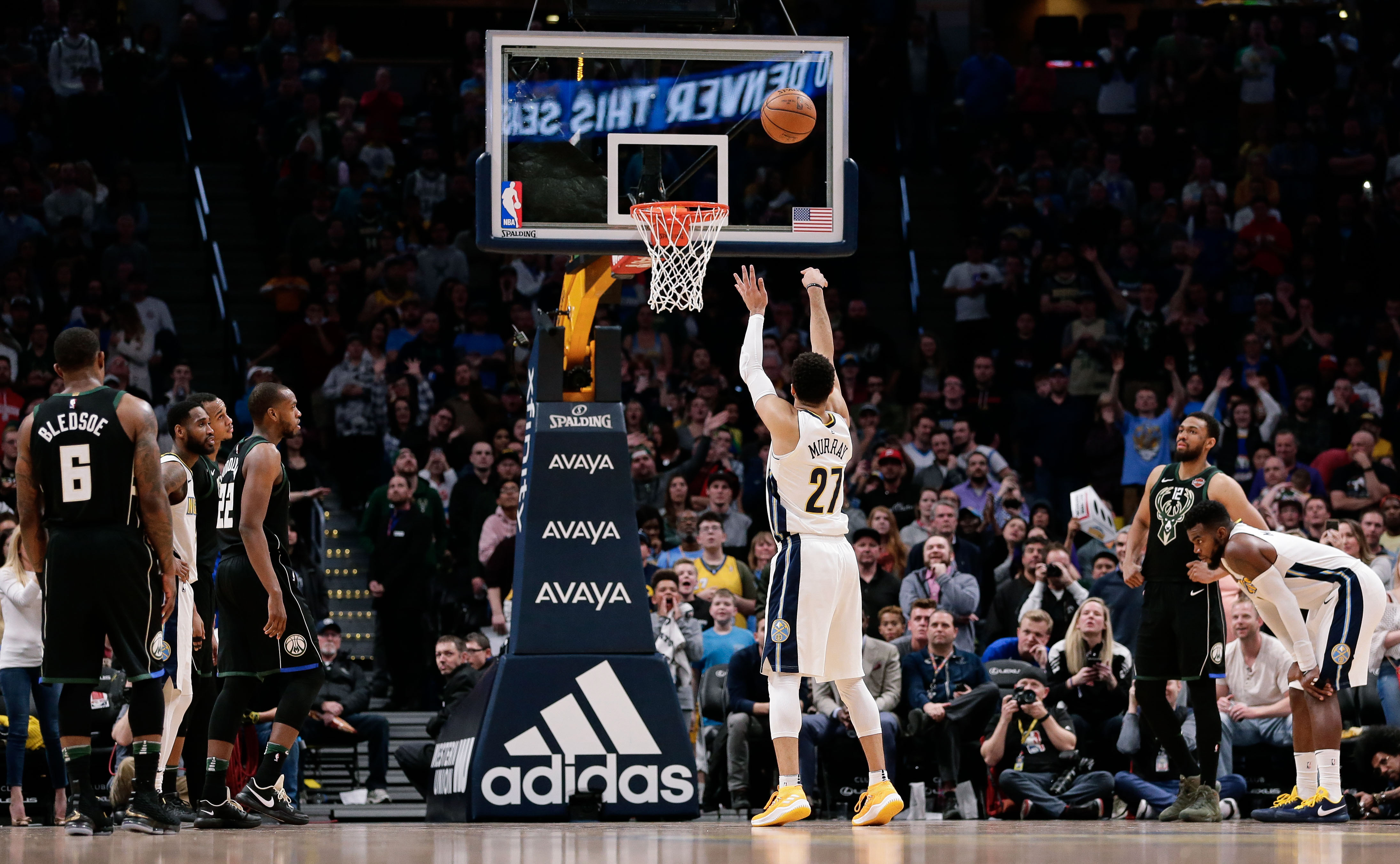 So, a Nuggets fan and his friend walk into a bar…
Wait for it…
Apologies. There's no punch line. That was just a statement of fact. Truth be told, lots of Nuggets fans walked into a bar — or perhaps they should have — sometime during the second half of last night's Nuggets-Bucks game at Pepsi Center.
This game could have driven just about anyone drink.
Up 12 with 1:12 remaining the second quarter, the Nuggets somehow managed to find themselves down 18 with 7:09 remaining in the fourth quarter. The _enver Nuggets (it's an oldie but a goodie, and particularly useful when describing Sunday night's defensive effort) were outscored 32-22 in the first quarter and 38-16 in third quarter.
Ahem, bartender? Go ahead and make that one a double.
Denver was down 8 with 1:06 remaining in the fourth quarter.
'Nother round, please.
Turn out the lights, this party was over. And it wasn't just the game that was done, so was the season. Struggling mightily to stay alive in the Western Conference playoff picture, the Nuggets could hardly afford to lose to the Bucks. The margin heading into the game, while sitting 1.5 and 2 games back of New Orleans and Minnesota, respectively, was razor thin. Too thin to drop this one.
With 2.9 seconds left, the Nuggets were down by 3. But they didn't have the ball; a good one-third of the crowd on hand was justifiably headed for the doors (see, bars), if they hadn't already. This was one of those games that could easily define the season, and more precisely, why this team had no business being in the playoffs.
They can't stop anyone. They don't have a take-charge superstar, like Giannis Antetokounmpo or Eric Bledsoe. They don't execute when they have to. They don't have timeouts when one or more would be nice. And they darn sure don't play a full 48 minutes – ever.
This game was just about to say it all.
But then something magical happened. Jamal Murray leapt out of nowhere…
Timeout.
Denver is supposed to be the team that can't inbound the ball. Denver couldn't do it against the Lakers in 2009. Denver couldn't do it with 5.8 seconds left on the clock against Milwaukee. Denver did what it always does – flubbed up the inbounds play. After Michael Malone effectively told the entire Bucks team to back away from the baseline corner – sure enough – the inbounds play went there. Amidst a bit of traffic, Paul Millsap fumbled it out of bounds. Milwaukee ball. Game over. It was soooo Denver Nuggets, one just had to laugh.
So, back to Murray leaping out nowhere, Mr. Bartender….
…out of nowhere, Murray leapt and intercepted Khris Middleton's inbounds pass.
All fine and well, but down three with 2.9 seconds, only a three-pointer would do. Well, Murray took one alright. And missed.
But he was fouled!
It was the right call, a miracle "bailout" if you will, but correct nonetheless. Any bets on the Bucks treating the officiating crew to a round of postgame drinks at Blue Sky (or whatever it's called these days)?
Murray makes all three. Overtime, here we come. Free basketball!
In overtime, the Nuggets had a seven-point lead with 47.4 seconds left and somehow managed a to let it all come down to a game-tying, three-point attempt from Jabari Parker.
Parker's shot didn't go in.
"Nuggets win! Nuggets win!" says the guy who walked into the bar – or at least it's safe to assume he said that.
It would take a novel to explain how the Nuggets ever got to overtime, and a sequel to explain how they almost lost in OT despite having a seven-point lead with less than a minute to go, but you don't want to read one, and I don't want to write one. How they ultimately won can best be explained the way former Mile High Sports Radio star and current Nuggets postgame show host Josh Dover put it: "The Nuggets were outplayed for 36 minutes and won."
"I don't think I've ever said that," he said 100 percent seriously.
Somehow, these fools could be playing deep into April.
No joke.